In Server Hosting — Rent vs. Buy? I solicited opinions on whether it made more sense to continue renting our Stack Overflow servers, or to buy them. Thanks for everyone's feedback on that! Now the die is cast -- check out these sexy glamour shots of the two (soon to be three) new Stack Overflow servers: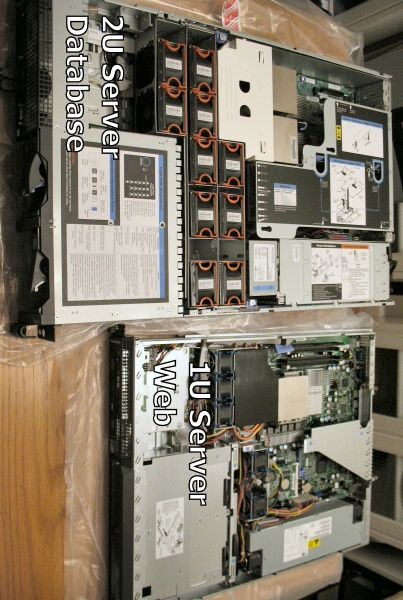 Feast your eyes on that hot, sweet server hardware! We plan to have three servers for now, but we did secure a half rack at our hosting provider for future expansion, as necessary. Here's what we'll be shipping to them initially:
The 1U web tier servers are modest: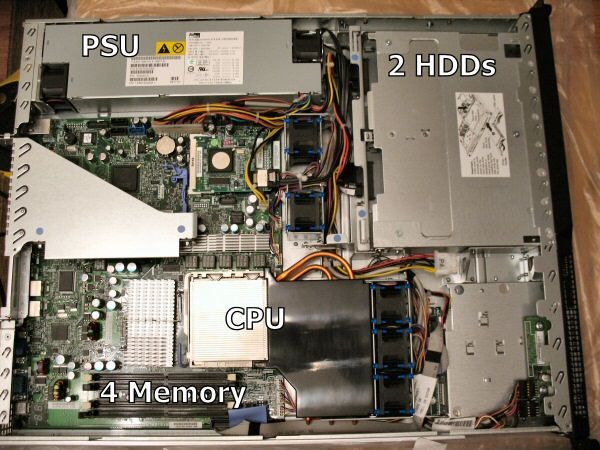 1 Lenovo ThinkServer RS110 barebones $630 4 2 GB RAM 240-pin DDR2 800 $70 2 eBay drive brackets $50 2 500 GB datacenter hard drives, mirrored $160 1 Intel Xeon X3360 2.83 GHz quad-core CPU $350 Grand total of $1,260. Plus another 10 percent for tax, shipping, and so forth. The 2U database tier server is considerably beefier: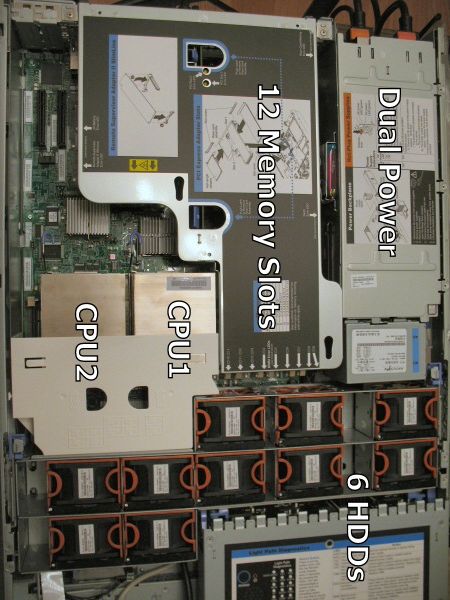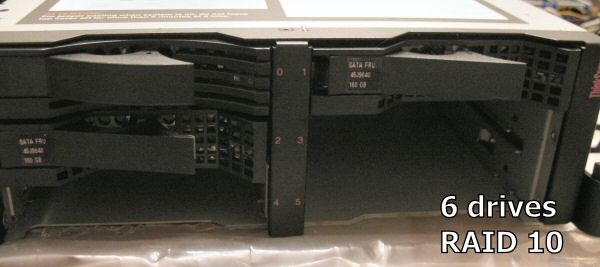 1 Lenovo ThinkServer RD120 barebones $1,490 12 2 GB RAM 240-pin DDR2 667 FB-DIMM $600 6 eBay drive brackets $150 6 500 GB datacenter hard drives, RAID 10 $480 2 Intel Xeon E5420 2.5 GHz quad-core CPU $700 1 aftermarket IBM heatsink for 2nd proc $90 1 aftermarket IBM VRM for 2nd proc $120 Grand total of $3,630. Plus another 10 percent for tax, shipping, and so forth. I can sell the low-end Xeons and dinky amounts of (incorrectly sized) memory that I pulled out and replaced in every server, to defray the costs a tiny bit. So, in a nutshell, for around $6,000 we'll end up with the following: Web Tier Database Tier two servers one server 4 cores, 2.83 Ghz, 12 MB L2 cache 8 cores, 2.5 Ghz, 24 MB L2 cache 8 GB RAM 24 GB RAM 500 GB RAID 1 mirror array (hot-fail, cold-swap) 500 GB RAID 10 array (hot-swap, up to 2 drives at once) dual redundant power supplies (I am taking to heart the comment advice I got in my previous blog entry; we'll be shipping multiple spare hard drives down to the hosting provider, and I added that second 1U server just as a backup in case anything weird happens. We technically didn't need two web tier servers, yet.) Sure, $6,000 sounds like a lot. But if you take a typical $800 per month hosting bill for renting dedicated servers this powerful, and then cut it in half because you're no longer paying every month for servers -- we save $4,800 per year, every single year! This one-time investment in server hardware pays for itself in a year and a half. Compared to our current two identical dedicated servers, which aren't exactly chopped liver, this gives us:
1.5x the overall speed (faster CPUs, faster memory bus, more L2 cache)
2x the memory on web; 8x the memory on database
larger and faster storage with bigger drives and RAID 10 option
What this means to you is a faster Stack Overflow! As far as I'm concerned performance is a core feature; we can never be fast enough, and I'm constantly on the lookout for ways to make pages load faster. Having these new servers in place (hopefully sometime in early-ish February) also enables us to expand, which I'll be blogging about in more detail tomorrow. Improving performance and server hardware are important skills for any company. If you have them, you check out our postings for network engineering jobs.