Last week, we bid farewell to Winter Bash and packed our Greatest Hats back into their boxes. It's always a little sad to see the hats get put away for the year, but I always like to soothe my sorrows by reminiscing. (It's only been a week and I'm nostalgic already.)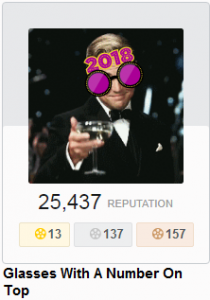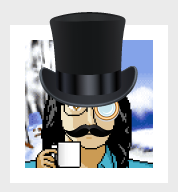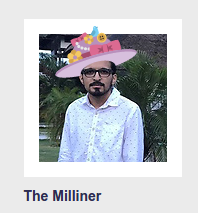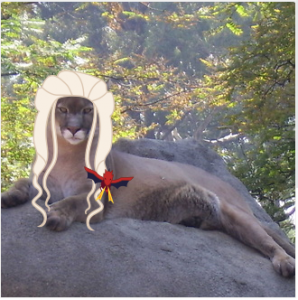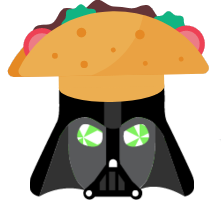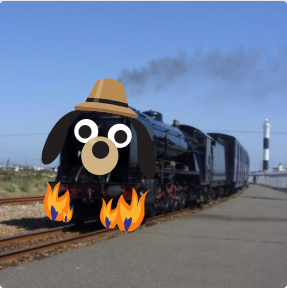 These hat shots came from the MSE community. Check them all out here! The very first hat to be earned was Foot of the Rainbow, earned by Eran on Stack Overflow mere minutes after the event began. The first secret hat (spoiler alert) was awarded almost immediately thereafter: Ooh, Shiny! went to Olaf, also on Stack Overflow. A whopping 23 hats were discovered on that very first day, with the remaining hats trickling in over the next few days (except for the date-based hats like Row Of Many Candles, Glasses With A Number On Top, and a handful of others, which were awarded on their corresponding dates, naturally). The most-awarded hat was And YOU Get A Hat!, which was awarded to every user on a site as soon as 20 other hats had been unlocked on that site. The hat was awarded 197,452 times to 170,786 distinct users. The first site to unlock it was Stack Overflow, followed by Mathematics, Science Fiction & Fantasy, Movies & TV, Meta Stack Exchange, and Unix & Linux. The last sites to unlock it were Webmasters, Pets, and Parenting, who all squeaked in under the wire on January 2. That's enough stats for one post, but there's a ton more where that came from on the public stats page, new for this year (thanks @balpha!). Now, Winter Bash isn't really a competitive event, but why should we let that stop us from having a leaderboard? Please join me in congratulating the #1 hat earners network-wide. This year it was a 4-way tie between A J, David, alecxe, and JonathanReez.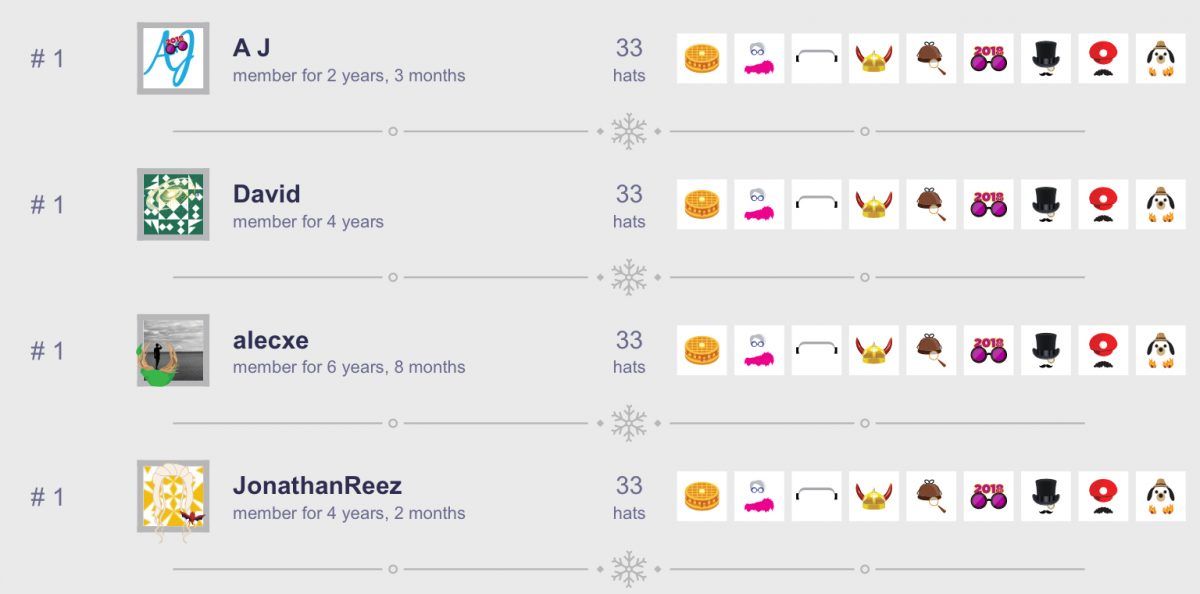 This is alecxe's second appearance at the top of the hat podium (first was in 2016) and David's third (2015 & 2016). Congratulations to alecxe on the repeat and to David on the hat trick! For the first time ever (to my knowledge but don't hold me to it), Winter Bash featured an IRL hat component this year. They're punny, festive, and even downright delicious. Check them out - you might even see some of them make their way into Winter Bash 2018... From all of us at Stack Overflow/Exchange, thank you for everything you do throughout the year to build the amazing communities that make up our network. We hope you enjoyed this year's trip down Hat-Related Memory Lane and the chance to spread a little merriment around the sites. That's all for Winter Bash 2017: Greatest Hats. See you next year!