It's here. After months of designing, building, testing, and beta-ing, we're happy to announce that as of today, Stack Overflow for Teams has launched and is available to everyone!
The What & Why Of Stack Overflow for Teams
It often feels like developers have to know everything, constantly juggling dozens of tools, languages, libraries, and frameworks. To do this, they have to be able to quickly find the information they need in order to get back to writing software. When that information is public, all you need is a quick search on Stack Overflow to turn up an answer and be on your way. But when that information is internal and private, it's a maze of stale wikis and lost emails.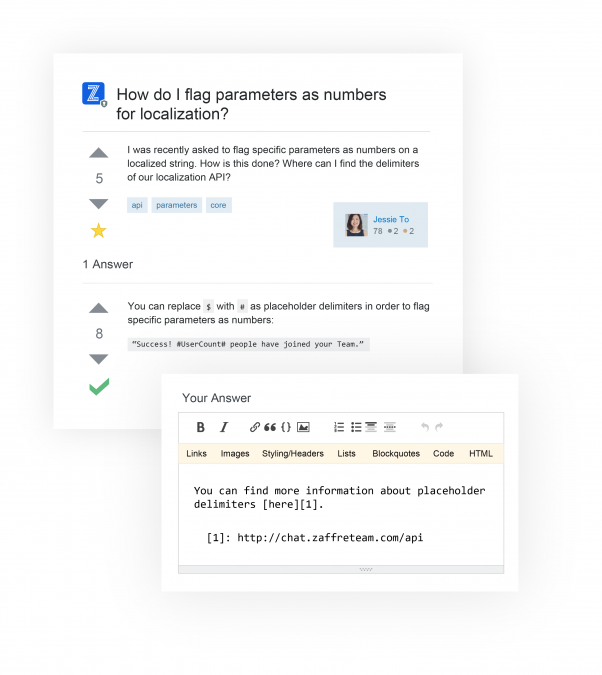 Stack Overflow for Teams helps bridge that gap by bringing the power of Stack Overflow Q&A to a private space just for you and your team on stackoverflow.com. Ask and answer questions about all those proprietary, top-secret things that you can't post to a public audience and create an accessible set of knowledge that you can come back to time and again. (No more having to re-answer the same question over and over again in chat!) It uses the same Q&A format, organization, and experience that you know from SO to help your team easily capture, organize, and find information. Stack Overflow for Teams doesn't just provide you with the existing feature set of Stack Overflow, it also has new features that make it easier for new users and entire teams to use it, like guided onboarding for getting started, revamped tag watching and email notifications, and Slack integration. You can also access all of your team's data through our API. Best of all, this all happens on stackoverflow.com — which your team probably already visits daily. When you search on stackoverflow.com, the private Q&A is also integrated into those search results so you can access both your private information and the wealth of knowledge from the existing community all at once.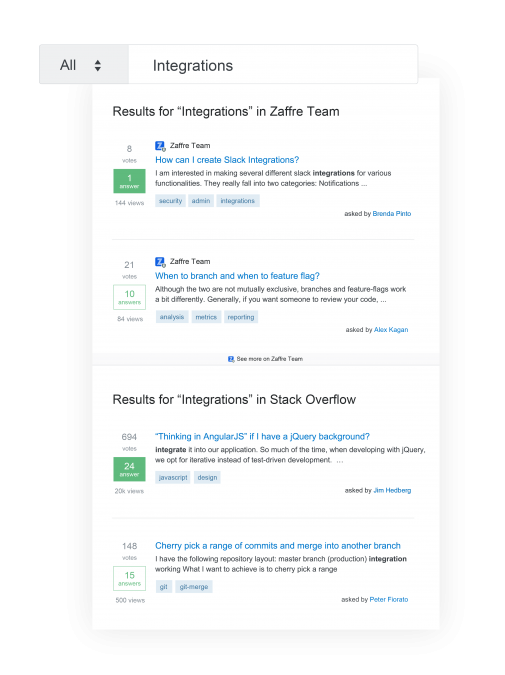 Making Knowledge More Accessible
Over the last two years, dozens of large companies have adopted Stack Overflow for Enterprise for their own standalone, internal knowledge sharing communities in order to make proprietary information more easily discoverable. While Enterprise works great for these large (500+ developer) organizations, we needed to do something different for smaller teams. Anyone who has deployed new software, particularly anything involving a knowledge sharing or community building, knows how hard it is to get users to come and show up in a new place. You need a lot of users and a lot of activity at the right time or you end up with a ghost town that nobody has any interest in. Drawing from our own experience in building hundreds of public and private communities, we built Stack Overflow for Teams to overcome many of these traditional challenges with adoption by placing the knowledge in a private space on stackoverflow.com. The combination of our onboarding tools, integrations, and hosting everything in one central location, means Stack Overflow for Teams works for any size group. During beta, we've seen teams as small as five and as large as 200 adopt Stack Overflow for Teams successfully. Tim Golen, Engineering Lead at Expensify, summed it up pretty well: "We needed a good way of passing down knowledge between team members, because we saw the same questions being asked over and over in our instant message channels. Almost immediately, we found that the Search function in Teams returned relevant results in a quicker, more accurate way than chat would. We anticipate Stack Overflow for Teams increasingly becoming our go-to resource for knowledge-sharing." We see similar results not just at our other beta users, but also internally through our own usage of Stack Overflow for Teams.
Get Started Now
Stack Overflow for Teams is available to everyone now — there's a 14 day free-trial and after that it's only $10/month for your first 10 users (additional users are $5/month). All you need to get started are a few teammates and questions that you know come up over and over again — we'll guide you through the rest. So go create your Team and let us know what you think! PS: You can read up on the prior work we did building out Teams and keep up with new developments by following the For Work tag here on the blog.