IBM and Stack Overflow are partnering to bring learning and development to the AI community. As of today, the Artificial Intelligence site on the Stack Exchange network is sponsored by IBM. The site, featuring "questions about life and challenges in a world where 'cognitive' functions can be mimicked in purely digital environment", is home to over 2,200 questions and 3,200 answers. The partnership aims to expand awareness of the AI industry, encourage innovation within the AI space, and help developers solve complex problems in the field. We spoke with Peter Moskovits, Program Director of Worldwide Developer Advocacy at IBM, on the partnership's impact on the AI developer community.
The Importance of Online Communities to Developers
"As one of the world's largest open source contributors, IBM has a lot of respect and appreciation for fellow developers", says Moskovits. "In addition to speaking at conferences, meetups, and running workshops, our developer advocates around the globe spend a lot of time in online communities; first and foremost on Stack Overflow. On the one hand we come to Stack Overflow to help professionals and enthusiasts who use our technologies (products or open source projects) become successful. On the other hand, we come here to learn. This perpetual learning is what makes a developer advocate's job so desirable."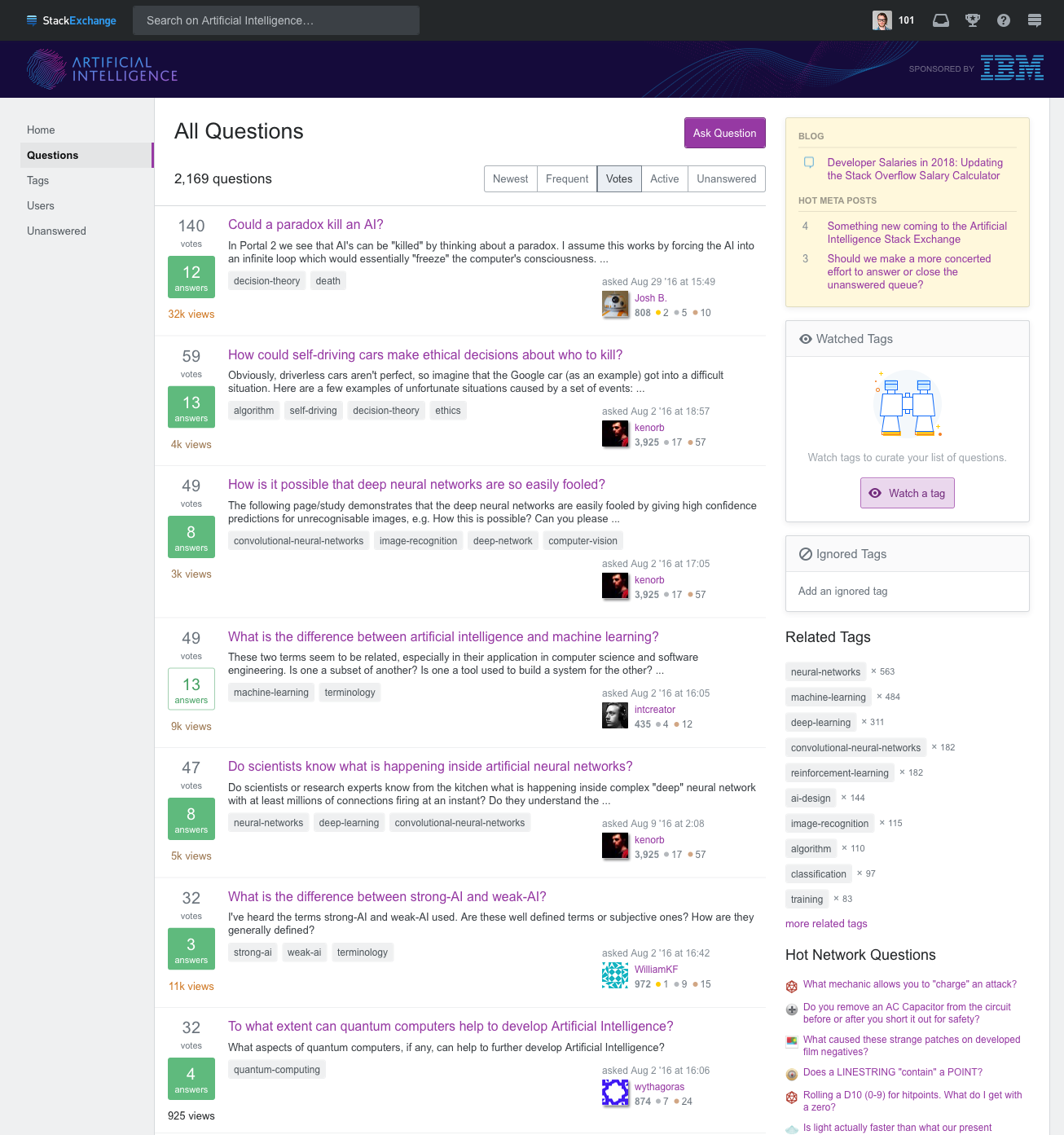 Benefits of the AI Site
"Fostering meaningful conversations in technology communities is critical. The sheer number of AI developers and the scope they cover has reached the critical mass. Having a dedicated forum for us is a major step forward. Such a forum can help developers get answers to high-level 'strategic' questions (build vs. fork vs. buy) as well as very specific integration or interoperability issues." AI developers face a number of challenges in their daily workload, including creating training strategies, optimizing computing power, building trust in the system, legal and moral constraints, or simply finding experienced engineers to solve those problems. Moskovits says, "Having an open discourse with our peers is what makes Stack Overflow [and the subsequent Stack Exchange sites] such a great place to hang out." Additionally, IBM's flagship business and technology conference, Think 2019, is happening on February 12, 2019 in San Francisco. Through hundreds of labs, attendees can take deep dives into AI, cloud, data, security, and other emerging technologies. You can find more information on site sponsorships in general or this specific site on Meta.