I'm excited to announce the public release of Custom Filters, a new way of navigating Stack Overflow and discovering questions that are relevant to you. In the past, you had a few predetermined options on question list pages to discover content relevant to you: Newest, Active, Bounties, Votes, and Frequent. In addition to these options, we also had the Unanswered questions tab for people looking to answer questions. These options have gone untouched for a long time, leaving search as the remaining option for any non-trivial needs. These tools left a lot be desired: it was unclear what the predetermined options meant, our search syntax wasn't easily understood by many of our users, and our tools for question discovery weren't unified. We knew we could do better. That's where Custom Filters comes in. We've been iterating on this feature and getting feedback from users in public alpha. Today, we're thrilled to be taking this feature out of alpha, and you can use it immediately. Here's what you can expect:
Unified options for question discovery
You now have a single unified location within the question list interface to discover questions. We've updated the user interface for question list pages so that our previous options for question discovery like Newest, Active, and Bounties are all in a single place. This user interface also brings in the most-used options from the previous Unanswered tab.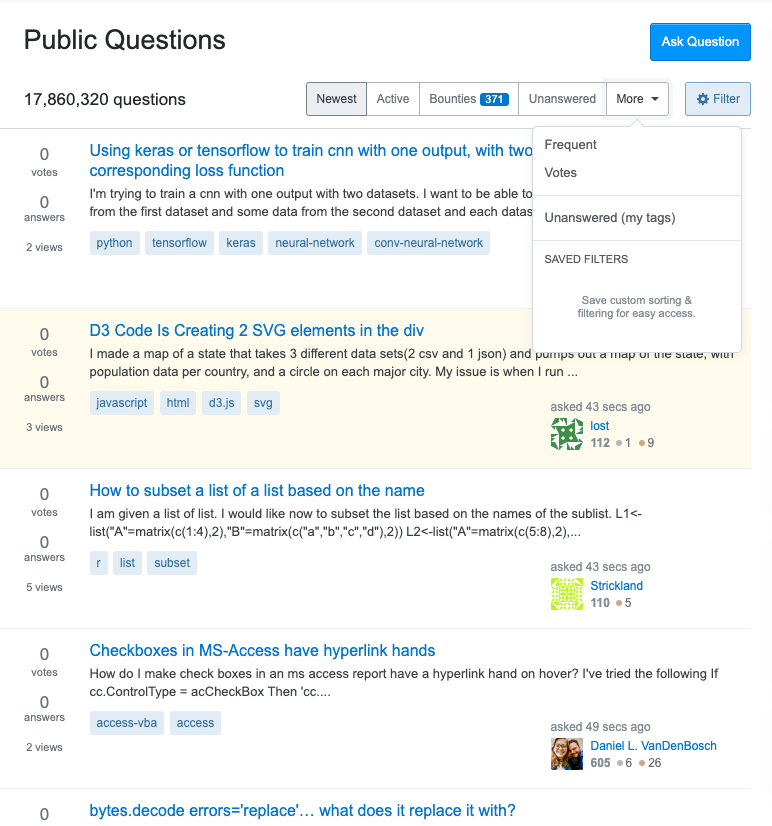 Fine-grained control over question discovery
In addition to making it easier to discover questions by consolidating predetermined options in one spot, we've also surfaced the filter and sort combinations that power these options. You can see exactly what's going on under the hood when choosing the predetermined options. Now filters, sorts, and even tag options are available for you to adjust and modify. Not only is it easier to view the predetermined options, these different filters and sorts give you more control over what questions you see in ways that weren't possible before.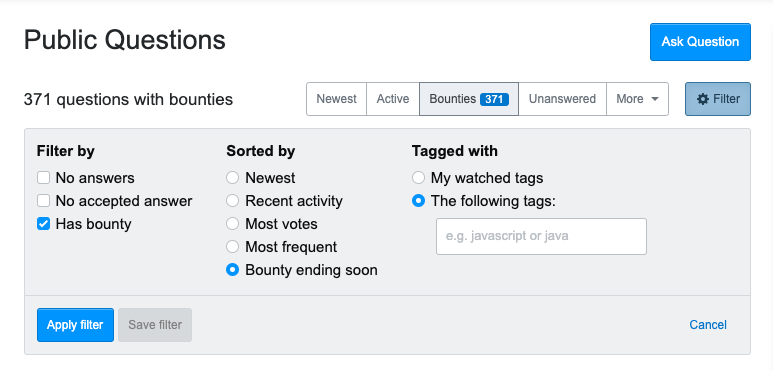 Saved Filters and Notifications
With your ability to customize searches based on filters and sorts, you can save the combinations you use most frequently with a feature called Saved Filters. Once you pick the combination of options you want, you can name it and save the filter for future use. You can access your Saved Filters on the right hand sidebar of question list pages and you will be notified when there are new questions added to your custom filters.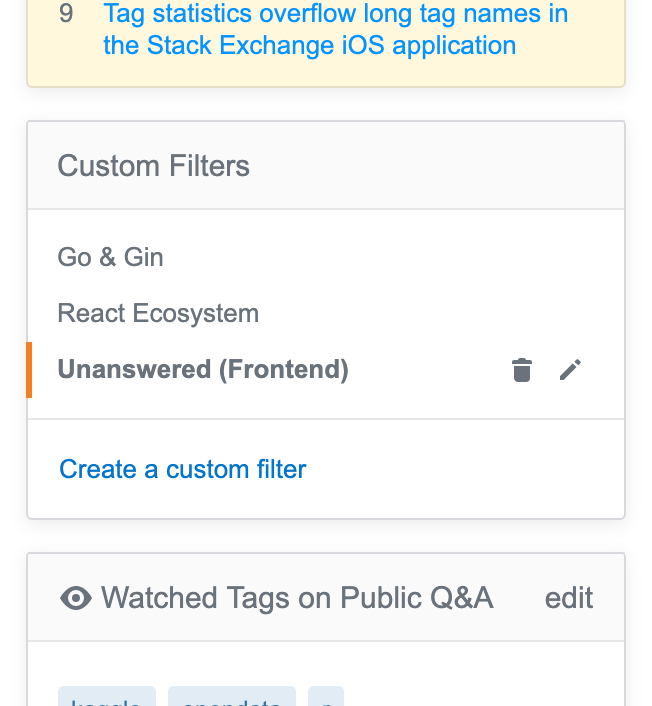 We've been working hard on this feature in partnership with the community and our alpha testers, and we want to thank everyone that has been involved during the development and feedback process. Custom Filters are available to public Stack Overflow users today, and our Stack Overflow for Teams customers will see the feature later in the year. This rollout is part of our continuing efforts to make the core Q&A experience on Stack Overflow better, and we're looking forward to improving this feature and many more with your help. Enjoy!