Editor's note: You can discuss this post on Meta here: https://meta.stackexchange.com/questions/344178/the-q1-2020-community-roadmap-is-on-the-blog/344209
As we work to improve our relationship and communications with our users, we want to share with you our community roadmap each quarter, so once every three months. Even though we are halfway through this quarter, we wanted to share with you what we are working on currently. In March, we will share our roadmap for the second quarter so that you can see what is coming. After talks with employees, community managers, and community members, we chose four themes for our roadmap this year:
Understand our community
We will seek to better understand our community and the user segments within it.
We will work to identify the pain points and needs of our users and deliver solutions to them through our features and initiatives.
By being increasingly transparent, we aim to regain trust with everyone—from brand new users to you, our most dedicated community members.
Engage with our community
As we better understand our community, we will share these learnings with the teams within the company whose decisions and actions impact you.
The employees at our company come from a variety of backgrounds and seek to grow with the community. We commit to helping everyone in the company learn about all of you and the site to empower them to make better decisions.
We will develop a community language, segmentation and metrics to educate the company and bring them along on the journey.
Improve feedback metrics
Our users have shared that they don't feel heard by Stack Overflow. We will define a dashboard for the various types and methods of feedback and dedicate time to processes and outreach that identify ways we can be serving our users better and facilitating better two-way communications.
Increase community engagement
Though our active user base continues to grow, our engagement has remained the same. What this means is that while more users are coming to the site every month, the number of users who engage meaningfully in the site does not increase proportionally.
To change this dynamic, we will balance investing in improving our tools and features that benefit our long-term users with initiatives that convert new users into engaged ones.
We want to build long-term impact for as many of you as we can by providing useful features that deliver value to you. If engagement is not growing with the overall user base, a lower percentage of you are getting value from these interactions each year.
Working directly with targeted groups through UX research, we will identify and invest in features and tools that will improve the experience.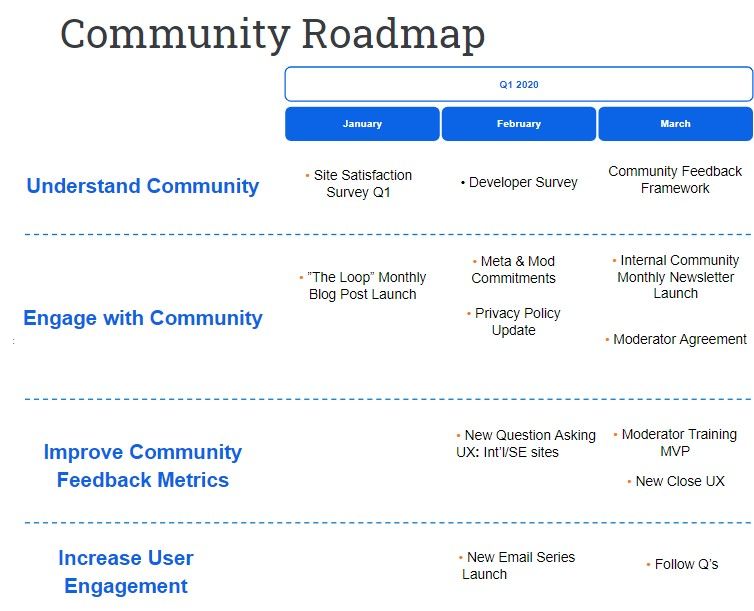 Understand community
In January, we launched our quarterly site satisfaction survey. This month, we launched our annual Developer Survey. Next month, we will be building out our Community Feedback Framework to identify all the various methods and data sources we will use to collect and analyze feedback from our users. Our goal is to ensure that we have balanced, consistent feedback from across the different segments of our community.
Engage with community
In January, we launched our monthly blog series "The Loop" to share research and feedback insights and methodology. Here you can find January and February's posts. This month, we updated our privacy policy and shared an update on Meta. This week we will be sharing our commitment to responding on SO Meta, SE Meta, and to our moderators through the publication of our new Meta engagement policy. Next month, we will be launching an internal company newsletter to share community knowledge and updates with our colleagues across the whole company. We will also be working with our moderators on our updated Moderator Agreement in March.
Improve community feedback metrics
Elements of the improved question asking experience that was shipped to Stack Overflow last year will be rolled out to the international and network sites this week and next. This new UX provides a better question-asking flow that unifies the traditional and guided ("Ask Question Wizard") modes and works equally well for users of all reputation and experience levels. The goal is to help users write better questions and set expectations once their question is posted. This should positively affect the question asking experience across the network, as well as give us a solid platform for potential future improvements in this area.
We are making fundamental changes to how our close question system works so that it's a friendlier experience and more educational for post authors, while making it easier to edit and reopen closed questions, and reduce the burden on curators. Questions that get voted to be closed will be hidden, giving authors the opportunity to improve their questions in private. Our hope is to make it easier on everyone by providing clearer guidance and encouraging better questions. This project is broken down into a series of improvements that will be rolled out iteratively over the next few months, during which time we'll be measuring to ensure each change contributes to overall question quality and to improved reopened questions.
We are hard at work putting together content for our moderator training and finding the right way to deliver our MVP version. For more details, check out the "Working with and supporting our moderators" section of February's The Loop.
Increase user engagement
We are launching a series of educational email campaigns for new users, non-active users, question askers, and question answerers. These series are designed to take a proactive approach in providing guidance and support for all users.
Next month we will release our Follow Questions capability (something that has been discussed by the community for years).This feature will allow users to "follow" or "unfollow" questions. You'll be notified on new activity for questions you follow and have the ability to silence questions you no longer want to be notified about to reduce the noise you receive in your inbox.
We are sharing our roadmap to create transparency with our users. As with any product development, unanticipated complications may cause our dates to slip on occasion, but we are committed to delivering these initiatives and features to you as soon as we can.