It's been a little over 100 days since the first cases of a novel coronavirus emerged. As the world copes and we've settled in to be at home for the long haul, we have seen the shifts of this "new norm" reflected across the Stack Exchange network, one of the largest groups of websites in the world.
Along with Stack Overflow and the developers of the world, the Stack Exchange platform is a network of 172 communities focused on everything from cooking to writing to electrical engineering. We have seen an incredible spike in activity across a number of these sites as users and members of the general public turn to the internet for answers to questions and try to spread knowledge about age old practices and cutting edge research.
Some sites are growing for obvious reasons. Biology has seen a wave of engagement as people seek to understand the nature of viruses and what we can do to stop them. For example, people have been discussing what it means that humans caught this disease from animals, and now big cats like tigers are apparently catching it from us. You can also find informative answers on what it will take to develop an effective vaccine for COVID-19, how to visualize the virus at a genetic level, and what immunity for those who have recovered could look like. There has been a tremendous 45% uptick in traffic on one of our beta exchanges, Medical Science.
The growth in traffic and activity hasn't all been focused on the hard sciences. People around the world are sheltering in place to help flatten the curve, and a lot of normal activities, like group sports, movie theaters, and in some cases even playgrounds, are closed or suspended. So how do you have fun and boost your mental health at home? Games of course! There has been a roughly 300% surge in visitors to our puzzling site, and a 106% and 85% surge to our video game and board game sites respectively, and a 75% raise in poker, as people stuck at home try to find fun ways to pass the time. If you're in the mood for something fun, see if you can solve this emoji puzzle.
With people spending more time at home, folks are eager to learn new skills and become more self-sufficient. We have also seen 100% spikes in traffic for sites like gardening and cooking, an 82% jump for homebrewing, which teaches folks how to make beer, mead, and cider in the comfort of their apartment. Meanwhile, with car traffic at historic lows in most major cities, many people have turned to cycling for exercise and transportation, and we have seen a 72% bump for bicycles.
Some great examples
While all this growth is significant, the biggest surge in activity, alongside puzzling, has been a 245% boost in traffic on Meta Academia. This community was created over eight years ago, and stems from a profound interest among our early users in the pursuit of knowledge and lifelong learning. The recent explosion of usage on this site is a reflection of the fact that students and teachers around the world have seen their in-person classes suspended. Remote learning and collaboration are the new normal, and Academia has been doing this for the better part of a decade.
People are asking questions about how to conduct virtual lessons and how to safely manage video chat. The growing traffic is also a testament to the Academia community, which responded to this pandemic by putting together an amazing list of resources for people who's academic workflow has been disrupted by COVID-19.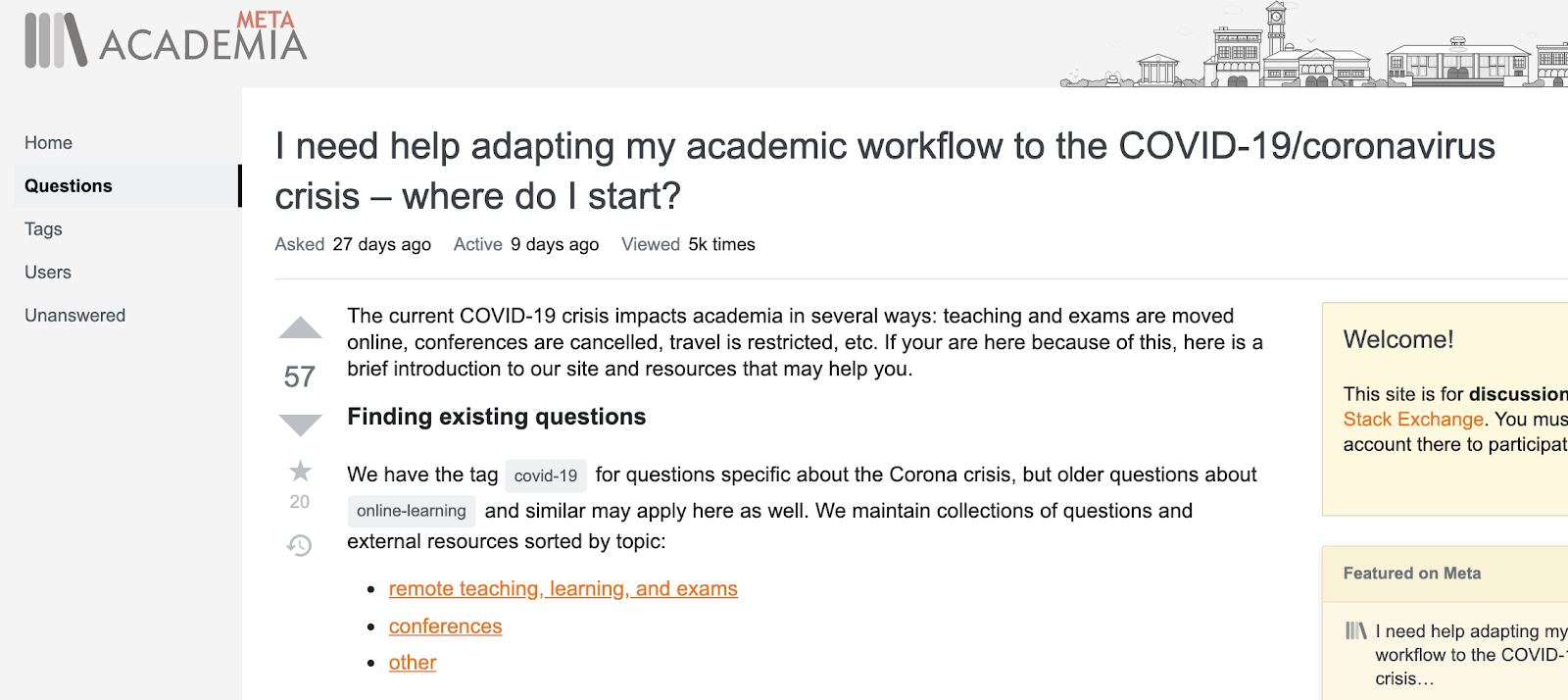 We are seeing similar efforts across numerous Stack Exchanges, as digital communities that have existed for years or, in some cases over a decade, come together in this moment of crisis. As these groups discussed how to tackle the new challenges facing employees, families, individuals and organizations, they created a new chat room where users from across the Stack Network can come to to discuss issues or emotions related to the ongoing crisis.
We want to offer a deep thanks to the moderators, power users, contributors, and visitors who have helped create so many rich and vibrant online communities and who have kept these sites busy over the last three months. The challenge we are facing now, as a global society, is one that will take many more months to understand and defeat. Know that we'll be here, working to support you as best we can.
Update 5/12: A mention of Academia was changed to Meta Academia, where the surge in traffic occurred.