Today, we're pleased to announce the launch of the GitLab Collective on Stack Overflow. Collectives™, which launched in June, is a new offering that creates a set of spaces where content related to certain languages, products, or services is grouped together on Stack Overflow. These spaces make it easier for users to discover and share knowledge around their favorite technologies.
With the launch of its Collective, GitLab will continue to build on the collaboration that already exists with the community of developers and contributors using its platform.
"Community is at the core of GitLab's mission. With more than 1 million active license users and a contributor community of more than 2,400 people, we have a strong community aligned with our mission - to create a world where everyone can contribute," said Brendan O'Leary, Senior Developer Evangelist at GitLab.
"GitLab's Collective on Stack Overflow aligns with our mission. This new space will help us to expand our open source collaboration so contributors and developers can share and learn about version control, CI/CD, DevSecOps, and all-remote workflows. We believe the GitLab Collective will be a place where we can discover feedback and create opportunities for the GitLab community to contribute to Stack Overflow's community."
GitLab's Collective is defined by a set of specific tags related to the company's technology such as 'gitlab' and 'gitlab-ci'. Users who join the collective can easily find the best answers and get in-depth technical product information about GitLab's platform and application through how-to guides and knowledge articles. They can also see how they stack up on the leaderboard, and top contributors can be selected by GitLab as Recognized Members, users the company approves to respond to questions or recommend answers.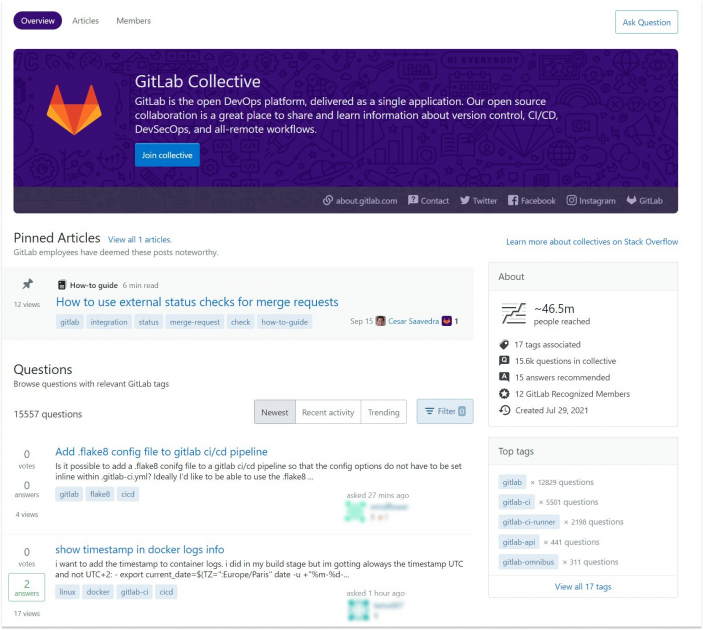 We launched Collectives on Stack Overflow with Google Cloud and Go Language earlier this summer, and have already seen thousands of community members joining in. The contributions of the Collectives' community, taken together, can help the millions of curious question askers who visit Stack Overflow, as well as users looking for a solution to a problem or a way to improve their skills. GitLab's efforts to expand the pool of open source collaborators aligns with our mission, to empower the world to develop technology through collective knowledge.