UPDATE: Thanks to the overwhelming response, we have sold out of inventory! To everyone who ordered a unit, thank you for helping us raise money for a great organization. To anyone who still wants their own copy of The Key, you can continue pre-order on Drop, which expects to deliver another batch of units in December.
Back in the spring of 2021, a group of Stackers began dreaming up our annual April Fool's joke. We wanted to riff on a popular meme about the ubiquity of copy pasting code from our site, to give folks a little scare, then a laugh, and in the end, a fascinating trove of data letting them know that they are far from alone in borrowing snippets when building their software.
Every time someone entered the keyboard command to copy characters from Stack Overflow, we showed them a pop-up warning them they were almost out of free copies.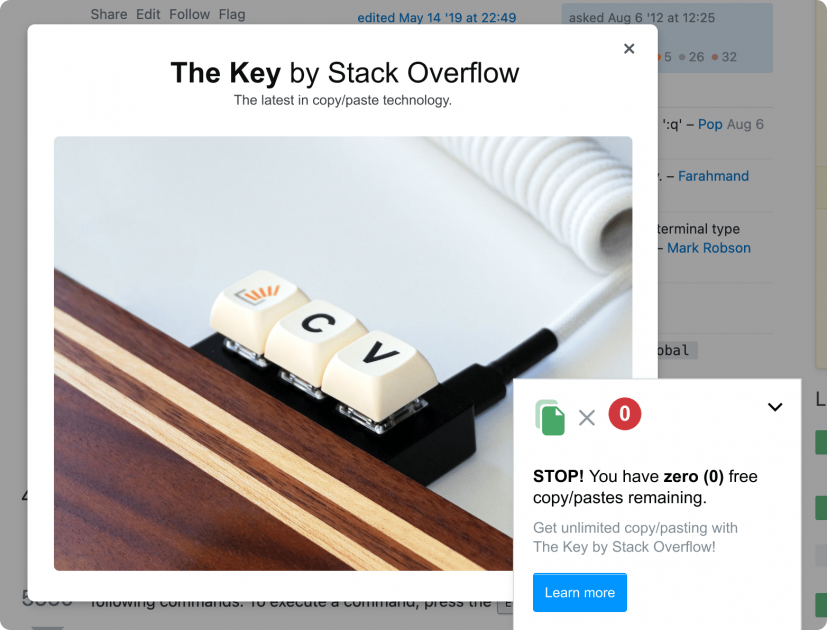 If they wanted unlimited access to copy and paste from Stack Overflow, all they needed to do was purchase The Key.
Lots of people enjoyed the prank, but a lot of people also left comments on our blog or on social media asking if they could actually buy The Key for real. So, over the past few months, we've been quietly working to bring this little dream to life.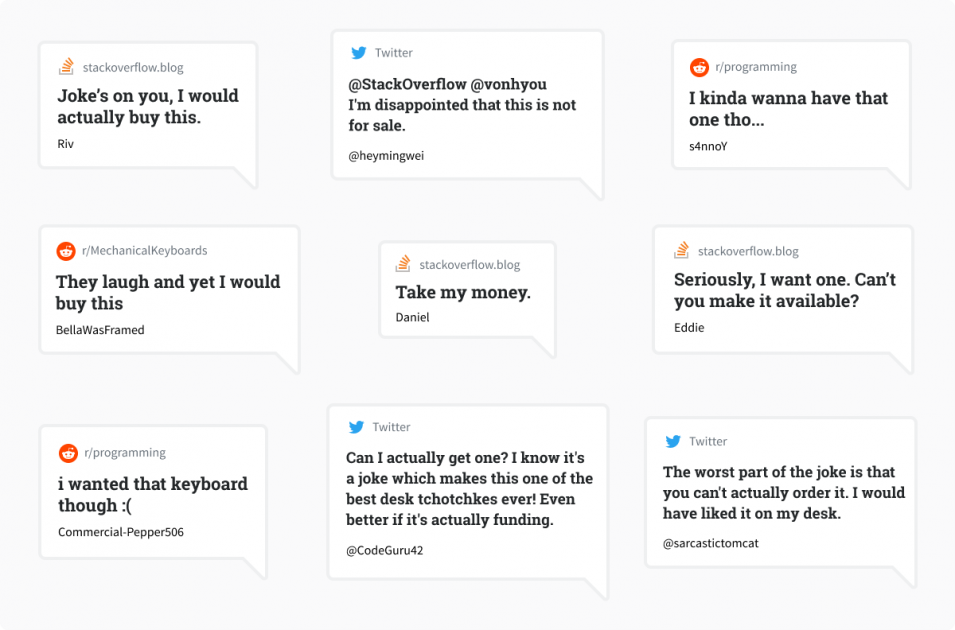 With a little help from some friends, we have created a working version of The Key and made it available for purchase. The design was done by Cassidy Williams, a passionate mechanical keyboard enthusiast who has crafted some custom keycap sets in the past.
Cassidy connected us with Drop, a startup specializing in custom keyboards. They took her design from prototype to finished product. They also had the infrastructure in place to handle sales and logistics. "Our customer base has a lot of overlap with Stack Overflow. The Venn diagram of people who love coding and mechanical keyboards is pretty much a circle," said Steve El-Hage, Founder and CEO of Drop.com. "We are excited to partner with an iconic brand and offer a tool that boosts productivity and puts a smile on people's faces."
The Key is priced at $29 USD and is available through Drop's website here. They also put together a great tutorial on how to configure and customize your Key here. You can get a deeper dive into how we designed and manufactured it in the podcast below.
For Drop, The Key is one of many custom designs that fit their business model and customer base. For Stack Overflow, it didn't feel quite right to profit off a glorious meme born from our community. So we decided to donate our portion of the proceeds to digitalundivided. Drop decided to join us, and will be donating five percent of their proceeds to digitalundivided as well.
"Our goal is to create a world in which all women of color own their work," said Lauren Maillian, CEO of digitalundivided. "Connecting our community with the entrepreneurial resources they need to innovate, build, and grow their businesses is core to everything we do. We are thrilled to work with Stack Overflow, a place so many entrepreneurs in tech turn to for learning, this collaboration is a natural fit as we work to advance our mission."
Founded in 2012, digitalundivided is a non-profit that leverages data, programs, and advocacy to catalyze economic growth for Black and Latinx women entrepreneurs in innovation and technology. The organization is a connector and a catalyst, supporting Black and Latinx women entrepreneurs through best-in-class programming, mentorship, training, resources, community-driven research, and investment.
"We're on a mission to empower the world to develop technology through collective knowledge," said Stack Overflow CEO Prashanth Chandrasekar. "Furthering our mission requires listening to our growing community and leveraging our platform to effect real change. Together, The Key and our work with digitalundivided serve as a friendly reminder that the more we share knowledge with one another, the better off we all become."
It's ok to ask for help, and don't forget:
good artists copy, great artists steal, but greatest artists copy, then paste.