It's been nearly two years since Stack Overflow for Teams launched its integration with Microsoft Teams. As one of our inaugural integrations, we worked closely with Microsoft to form a meaningful partnership that paves the way for future Stack Overflow for Teams integrations.
Since that launch, scores of our customers have used it to get faster access to knowledge within their existing workflows. We've even seen a 137% increase in the MS Teams usage over the past six months within our Enterprise customers.
To make this integration even more helpful to users, we've been working hard to update it. Since the original launch, we've collected feedback from our customers about the most valuable functionalities within Microsoft Teams. Thanks to our product and engineering teams, we're updating this integration to make the native Stack Overflow for Teams experience available to users directly within Microsoft Teams.
With new features and tweaks to the integration, we're sure that the new and improved Version 2 will come in handy. Below you'll find additional context around the evolution of this integration and how it might be useful to your organization!
An integration is born
According toHarvard Business Review, a "collaborative overload trap" is when people schedule and participate in more meetings to be more productive, but these meetings displace focus time and can make employees less productive. That same study noted that "it can take us as many as 23 minutes to get fully back on task after [an] interruption."
Part of the problem could be too many apps, which can contribute to burnout, wasted time, and a general energy drain that permeates the whole company. When fragments of knowledge are stuck in random chat channels in Slack or MS Teams, or hidden away on Google Drive, employees waste time and energy hunting for the disparate information they need.
These interruptions and delays can have real impacts on an organization's bottom line. IDC estimates that Fortune 500 companies lose around $31 billion a year by failing to share knowledge within their organization.
Large organizations use multiple business applications to help teams collaborate and coordinate their work: chat applications,homegrown tools, project management, and code repositories, just to name a few. Once they cross that threshold into too many tools, these platforms that are meant to boost productivity actually become a burden.
We created the Microsoft Teams integration to minimize the knowledge-hunting problem that can lead to context-switching and ultimately burnout.
"Stack Overflow for Teams integration with Microsoft Teams is nice because this is mostly where I do my day-to-day work. I don't have to leave Microsoft Teams to go to another site." - Brandon Camerer, Senior User Experience Designer, CloudFit Software
Solving for collaborative overload
Microsoft Teams is an integral part of many business operations. Our integration with Microsoft Teams removes interruptions and accelerates development time.
Specifically, the Stack Overflow for Teams integration provides quick access to answers and solutions, knowledge retention for future reuse, and awareness of new or updated information. You never have to leave Microsoft Teams to find the information you need.
Microsoft uses both Microsoft Teams and Stack Overflow for Teams to improve communication and reduce repetitive and distracting pings.
"With the integration between Microsoft Teams and Stack Overflow, I'm just super excited to have one place where I can see my questions in an area where I already do a lot of my work today."
Laura MacLeod, Program Manager, Developer Services Division at Microsoft
How it works
The v2 of this integration provides the features you already love, with new enhancements that make your workday better. Let's look at what's new:
Minimize context switching
At Stack Overflow, we've always emphasized the importance of avoiding context switching. With this integration, you never have to leave Microsoft Teams to access your Stack Overflow for Teams knowledge. Our first version of the integration enabled the channel bot action to search all of Stack Overflow for Teams. Search results were then displayed within the channel for quick access to everyone in the channel.
With v2, there's even less context switching:
With the message extension feature, a user can search the Stack Overflow for Teams knowledge base, from within a chat channel in Microsoft Teams. The integration provides the best fitting match, and the user is then free to share it with the entire channel.
With the Personal App feature, users can have the native experience of Stack Overflow for Teams without leaving Microsoft Teams. They'll have the ability to quickly view bookmarked, followed, and personal Questions along with personal Articles.
Users can now reuse existing knowledge before tapping into teammates by viewing a list of Questions or Articles within a channel's tab. This knowledge can be filtered by tags that are applicable to the channel.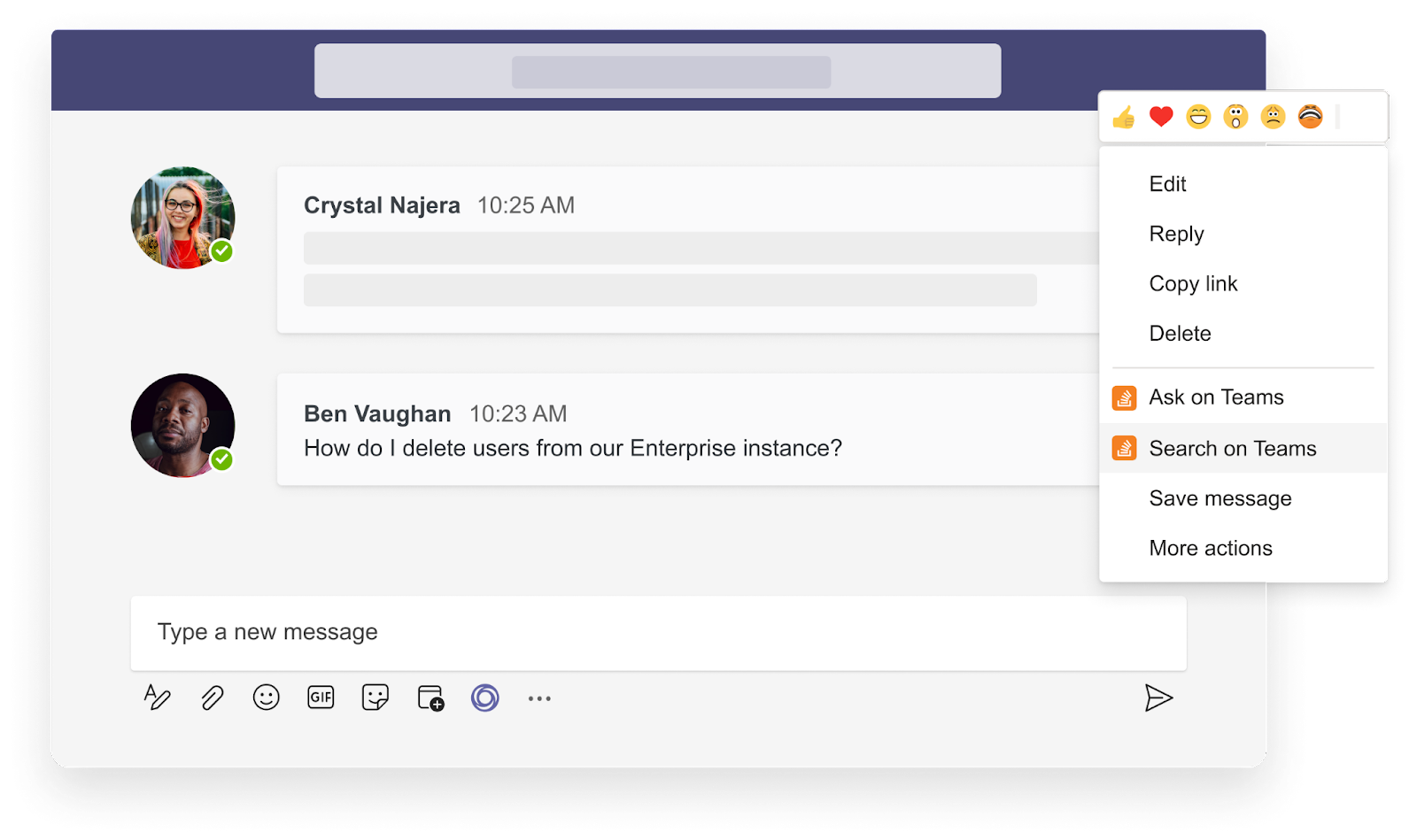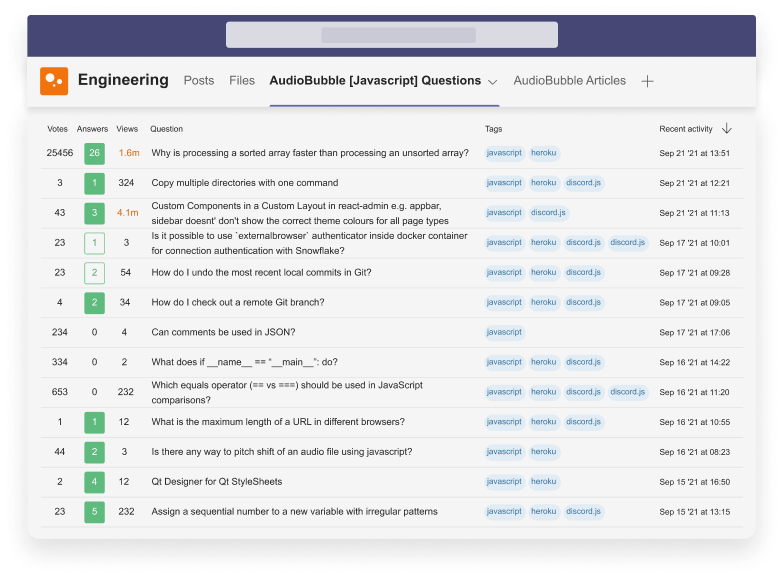 Knowledge capture
A key facet of the Stack Overflow for Teams integration with Microsoft Teams is the ability to capture knowledge directly from Microsoft Teams. This helps users from having to search through long chat threads for critical knowledge. Users can ask questions in the channel bot and receive the best matching result directly within their Microsoft Teams chat. We also prompt users to ask a question on Stack Overflow for Teams if there are no existing matches to a question they've searched.
Now, we've made the knowledge capture functionality stronger through:
Converting posts within Microsoft Teams to a question within Stack Overflow for Teams to reuse the knowledge in the future.
An ask modal displays within Microsoft Teams to capture additional detail and help to minimize the need to switch between applications.
If a user needs help filling out all of the details within the question, teammates can chime in and finish asking the question.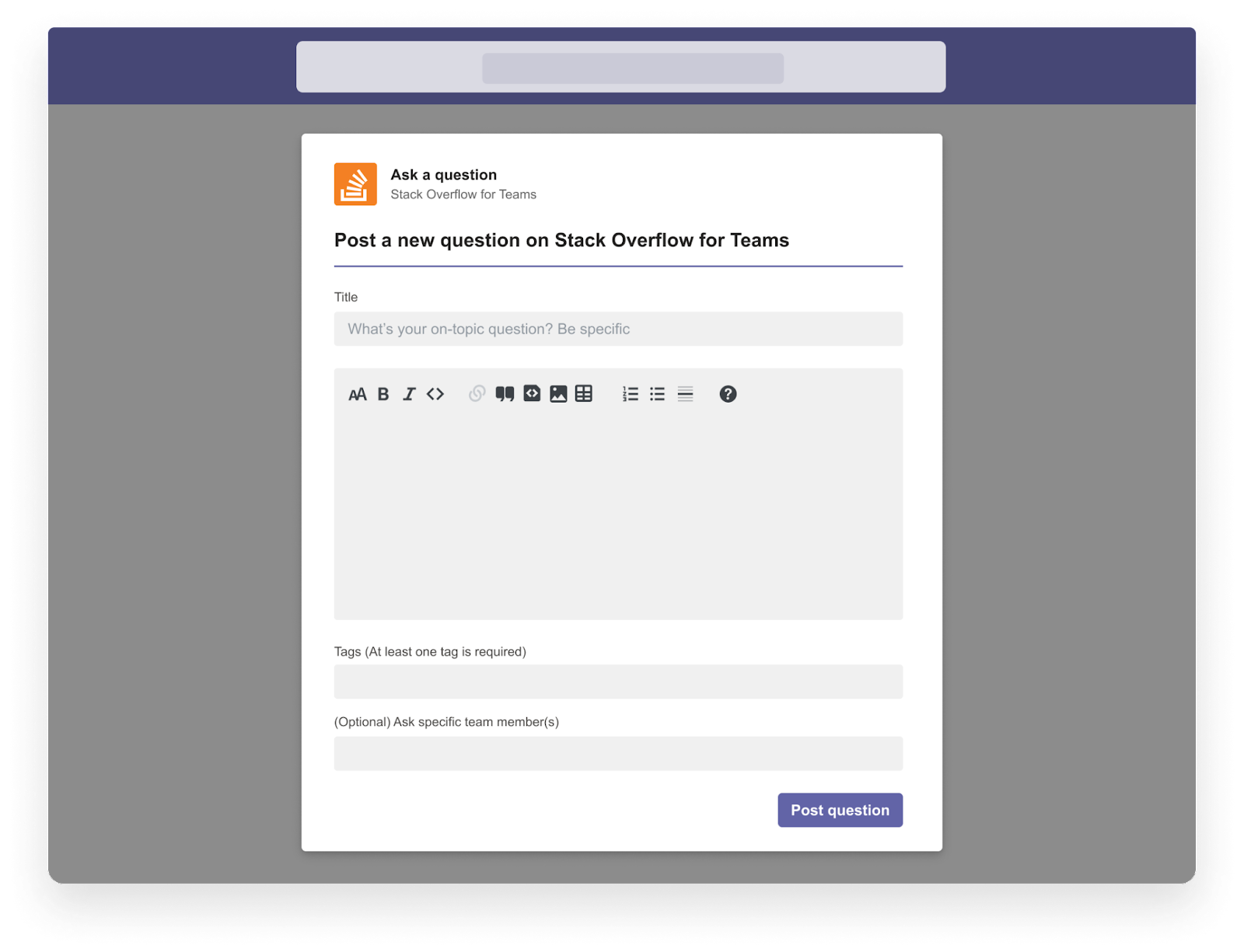 Personal application
This integration now provides a personal oasis of knowledge tailored to a user within a personal app. The personal app links directly to important knowledge including bookmarks, followed Questions, and a user's own Questions and Articles. This quick access to solutions helps users resolve technical issues even faster now.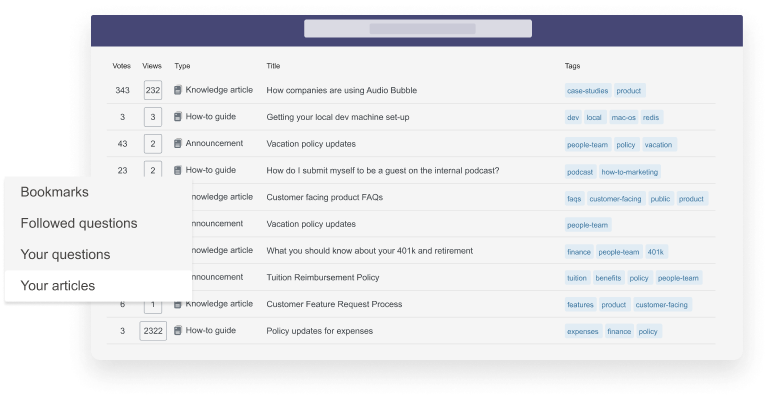 Automated notifications of new or updated knowledge
Our Microsoft Teams integration keeps users up-to-date with automated notifications any time something is updated within the Stack Overflow for Teams instance. Users can set up tag-based push notifications to share new questions, answers, comments, and Articles directly within Microsoft Teams. They can also preview new knowledge related to a Tag without leaving Microsoft Teams. Lastly, users can create new notifications or edit existing notifications quickly by interacting with the channel bot within Microsoft Teams.
Want to try version 2 of the Microsoft Teams integration?
Download it today or, if you're not already a customer, contact us to learn more about it.