Q&A around Intel technologies has been part of the Stack Overflow knowledge base for years, resulting in tens of thousands of questions and answers on the platform to date. We're working with Intel to help you find the trusted answers you need, faster, by centralizing that content and connecting you with Intel product experts and trusted users.
Intel is now on Collectives™ on Stack Overflow. ICYMI, Collectives are dedicated spaces on Stack Overflow where you can find resources (including questions, recommended answers, and technical articles) related to your favorite technologies grouped together.
This Collective will help developers use Intel technologies to support projects across a variety of use cases, from smart cities to gaming and virtual reality, retail, and health and life sciences. It's a space for you to share your own technical knowledge, collaborate with the Intel team, and access the coding resources you need to do what you do best: build.
"Our goal at Stack Overflow is to empower technologists with the knowledge they need, when they need it," said Teresa Dietrich, Chief Product & Technology Officer at Stack Overflow. "Collectives™ enables technology providers, like Intel, and users to forge connections that ultimately make building and operating technology easier for all. We truly believe that through collaboration, we can enable developers and technologists to find the information they need faster and more confidently."
"Developers are crucial to driving innovation and unlocking the full potential of Intel technologies," said Bill Pearson, VP, Internet of Things Group General Manager of Developer Enabling at Intel. "Collectives on Stack Overflow provides easy access to relevant information as well as Intel product experts who can answer questions and help accelerate the development journey. Together with Stack Overflow, we're here to help the growing base of Intel developers to deliver cutting-edge solutions for real-world problems."
This Intel community space is the centralized home for resources covering everything from CPUs to purpose-built AI accelerators and software tools like Intel® Distribution of OpenVINO™ toolkit, Intel® DevCloud, and other Intel-built and supported products and services. You're able to find trusted answers from Intel product experts, participate in the Collective-specific leaderboard and access how-to guides and knowledge articles around Intel technologies.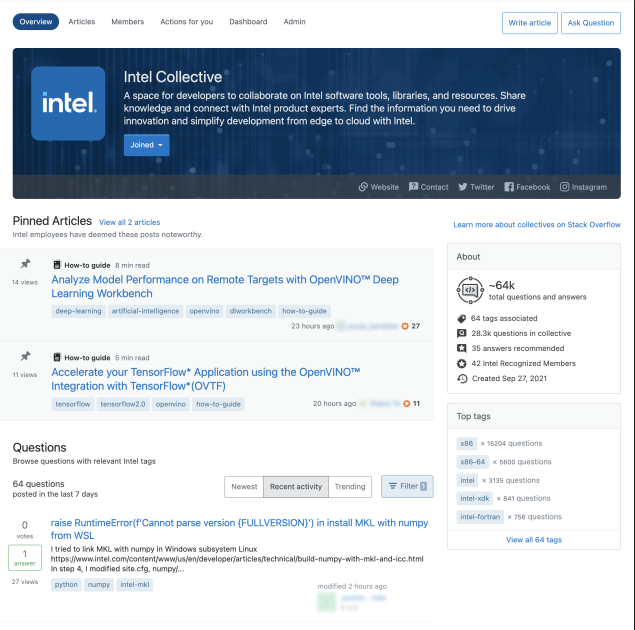 This is the fourth in a series of Collectives™ launching since we rolled out Collectives™ in June. We've already seen over 18,000 community members joining in. To learn more about Collectives, visit https://stackoverflow.com/collectives. To join Intel's Collective, visit https://stackoverflow.com/collectives/intel.