We've all heard the saying, "the only constant in life is change." Both humans and organizations face massive change all the time. Change happens with business objectives, strategies, processes, structure...the list goes on. These changes affect not only future projects but your existing documentation and knowledge. How do teams balance learning new skills and identifying content that requires attention?
We're thrilled to announce a new and foundational feature, Content Health, that helps intelligently identify and surface potentially outdated or inaccurate knowledge—content that needs to change. This programmatic approach to updating knowledge will help your teams curate an accurate knowledge base as your business environment evolves.
We will build upon and enhance this new feature over the months to come, but we're excited to share with you an early version that Business plan customers on Stack Overflow for Teams can use immediately. Our Enterprise customers will get access to the feature with our upcoming 2021.3 release.
Why do I need Content Health?
When your central knowledge base becomes outdated, your employees' and coworkers' trust that they can find the right answers erodes. The moment your team members stop trusting the platform is the moment it has lost its reason to exist! Instead, teams find one-off, piecemeal ways to get accurate information, like asking a coworker or burning hours solving an issue that has already been solved by someone else. The trust problem grows exponentially as users stop coming back to the platform to add new knowledge, causing it to become further outdated.
Our new Content Health feature gives users total confidence in the accuracy of the information on Stack Overflow for Teams.
What the Content Health feature does
Existing features such as upvoting, accepted answers, comments, and notifications both on- and off-platform via our out-of-the-box connectors such as our Slack and Microsoft Teams integrations help teams proactively update their knowledge base and identify the best solutions.
The collaborative aspect of Stack Overflow for Teams makes it easy to tag Subject Matter Experts who have the most accurate knowledge or tag a department when a policy needs updating. This process works well for new knowledge and organically encountered content when users search for specific knowledge. To proactively maintain knowledge, users must either know or look for out-of-date questions, Articles, and other content as part of their project work or a knowledge base cleanup.
Now, we've made this process even easier and more streamlined. Engaged users and experts can take action by reviewing, updating, or retiring knowledge that Content Health flags, rather than manually scouring the knowledge base for necessary updates. This feature helps shared knowledge stay relevant so that Stack Overflow for Teams continues to be a useful and valued knowledge base for your organization.
You'll get an assist in bolstering the accuracy and trustworthiness of bite-sized Q&A and long-form Articles. Stack Overflow for Teams can remain your central source of truth.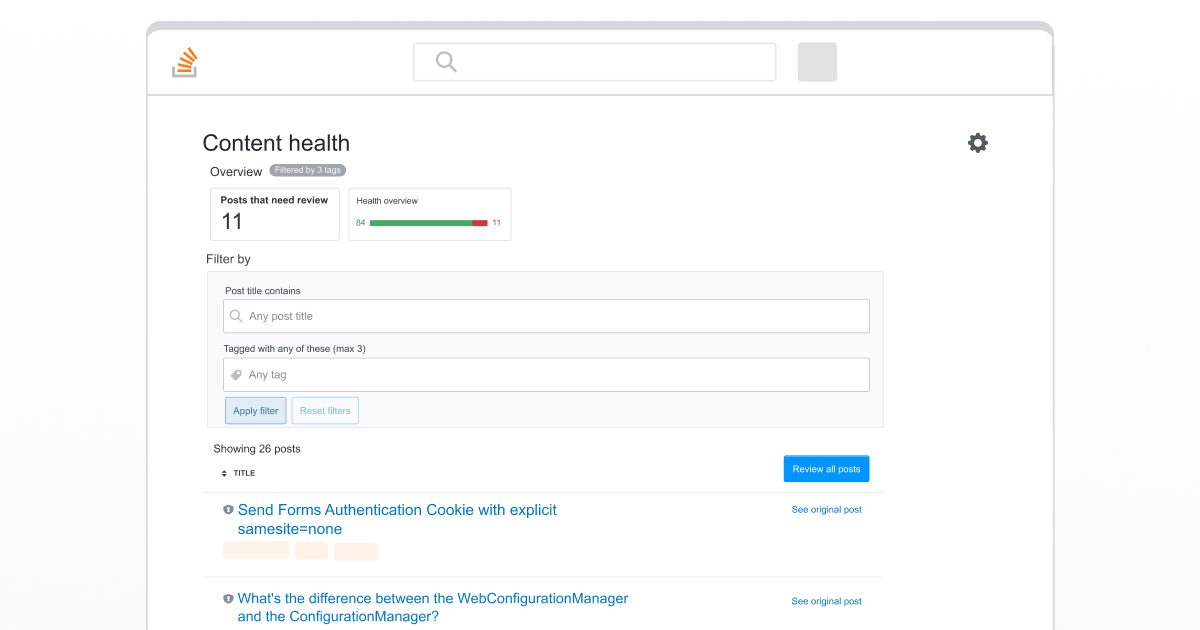 The Content Health feature is specifically useful for experts, curators, engaged users, and Moderators of your Stack Overflow for Teams instance. The Content Health review queue uncovers and prioritizes knowledge that's due for a second look based on its age and usage.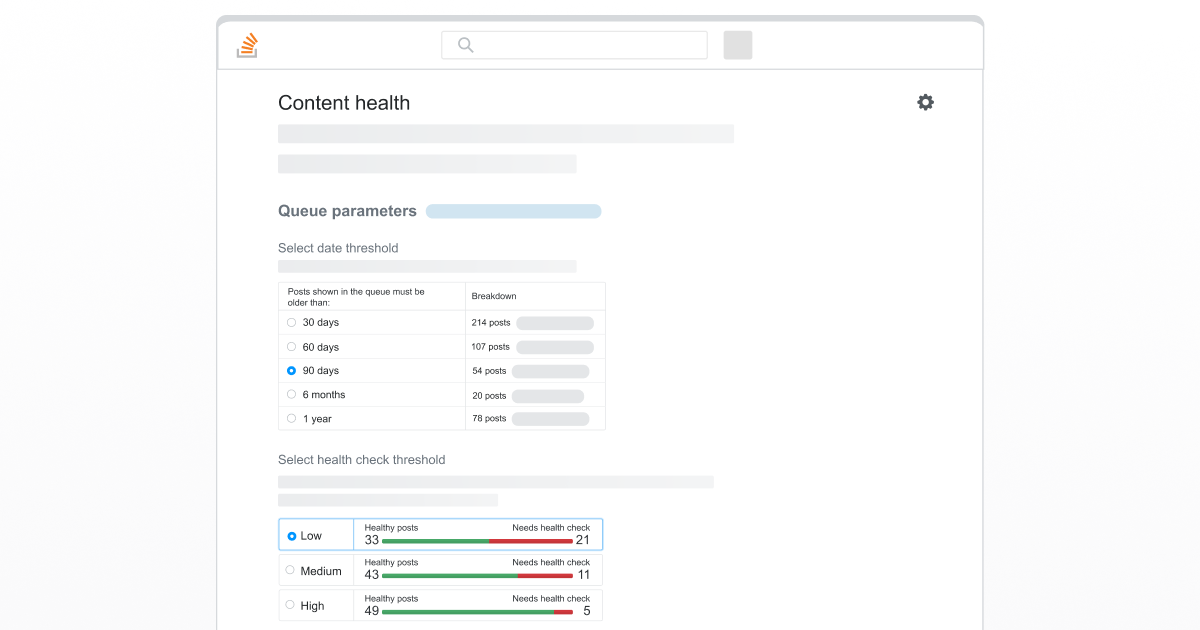 Those with access to Content Health can use Tags to filter the content to divvy up tasks and focus their efforts on verifying areas where they're knowledgeable.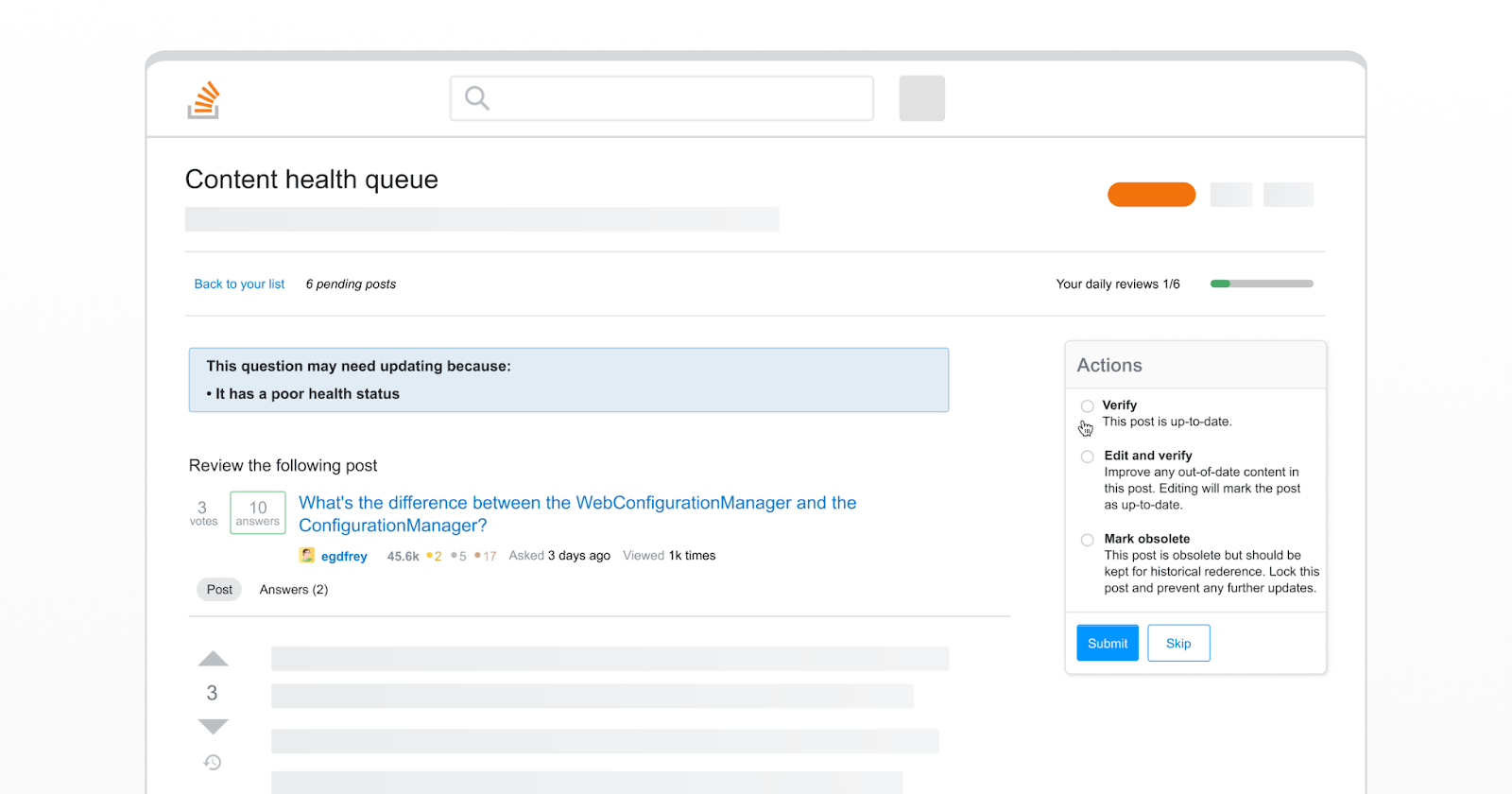 They can verify, edit, or mark knowledge as obsolete. Once a post is verified or edited, it is removed from the review queue.
Available actions to keep your knowledge fresh
Watch the Content Health feature in action.
In conclusion...
The initial Content Health feature is now available to Business plan customers, and we can't wait for our customers to take it for a spin and see the value of this new programmatic and streamlined approach to a healthier knowledge base. And we are just getting started - our teams are already hard at work to enhance this feature in the coming months.
Want to learn more or upgrade? Contact us today.