From the fastest-growing startups to the largest enterprises, developers at organizations around the world turn to Amazon Web Services (AWS) to become more agile and innovate faster. The company offers more than 200 fully-featured services from global data centers and was named a leader in the Gartner 2022 Magic Quadrant for Cloud Infrastructure and Platform Services (CIPS).
Today, we are pleased to share that AWS has joined CollectivesTM on Stack Overflow. Collectives are dedicated tag-defined spaces on Stack Overflow where you can find relevant information from subject matter experts on specific platforms, ecosystems, or topics.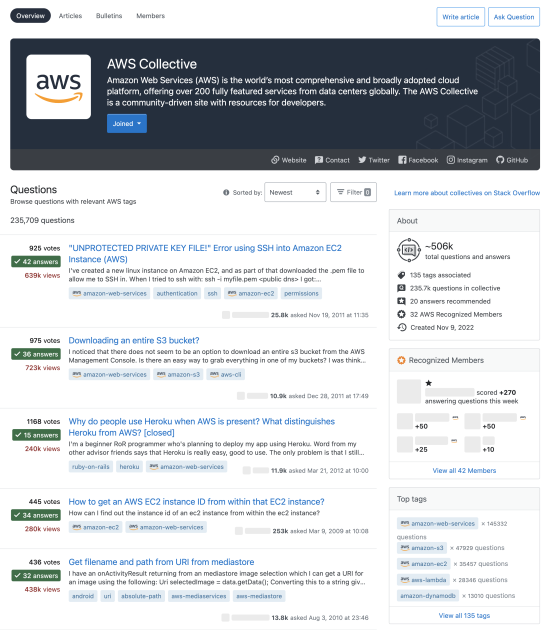 Sixty-two percent of respondents in our 2022 Stack Overflow Developer Survey told us they spend more than 30 minutes a day searching for answers or solutions to problems. This is time that could be spent learning or building. Through its Collective, AWS wants to engage with and support developers where they are most active, help simplify learning, and enable interactions among community members who are sharing solutions on Stack Overflow for hard-to-solve technical problems.
"Our aim isn't just to meet developers where they're at, but to take them where they're going by supplying a single place to look for AWS answers on the platform they already know and trust." says Emily Freeman, head of community engagement at AWS.
"We believe bringing together communities of practitioners, from beginners to experts, to share their knowledge and learn from each other is core to the technology experience," says Stack Overflow Chief Product Officer Teresa Dietrich. "We are so excited to have AWS support and empower the community of users on Stack Overflow."
Users who join the AWS Collective will find more than 230,000+ questions and other relevant content using 130+ tags, such as amazon-web-services, amazon-ec2, amazon-s3. These curated, centralized community resources will help users more easily discover the most up-to-date answers including those recommended or written by AWS subject matter experts, technical articles such as how-to guides, and Bulletins for upcoming events and releases. Members can keep tabs on where they rank on the leaderboard and be promoted to Recognized Member status based on their contributions. By bringing knowledge and users together, the AWS Collective will help the community continue to learn, share, and grow.
To learn more about Collectives, visit https://stackoverflow.com/collectives.
To join AWS's Collective, visit https://stackoverflow.com/collectives/aws
To review the 2022 Stack Overflow Developer Survey, visit https://survey.stackoverflow.co/2022