Cloud technologies are constantly evolving and modernization has become an always-on IT endeavor. Developers are central to this journey. As builders and innovators, they need tools to learn and keep their skills sharp as they help navigate their organization's digital transformation.
Cloud leaders, such as Microsoft Azure, understand the importance of empowering developer communities with the knowledge and resources they need to progress through these modernization workstreams. With today's launch of the Microsoft Azure Collective, there's now a destination on Stack Overflow for all things Azure.
This dedicated space builds upon an already robust set of Azure developer resources that make it easier to find what they need to build on their terms for on-premises, hybrid, multi-cloud, or edge environments, and with best-in-class tools, popular open-source frameworks and languages, and a platform that supports continuous collaboration and delivery.
Users who join the Microsoft Azure Collective will find more than 190,000+ questions and other relevant content using 350+ tags, such as azure-functions, azure-storage, azure-active-directory, azure-sql-database, and azure-cosmosdb. Developers and technologists can engage with subject matter experts on all Microsoft Azure products, including Compute, Containers, Identity & Security, Databases, Analytics, web, mobile, and more.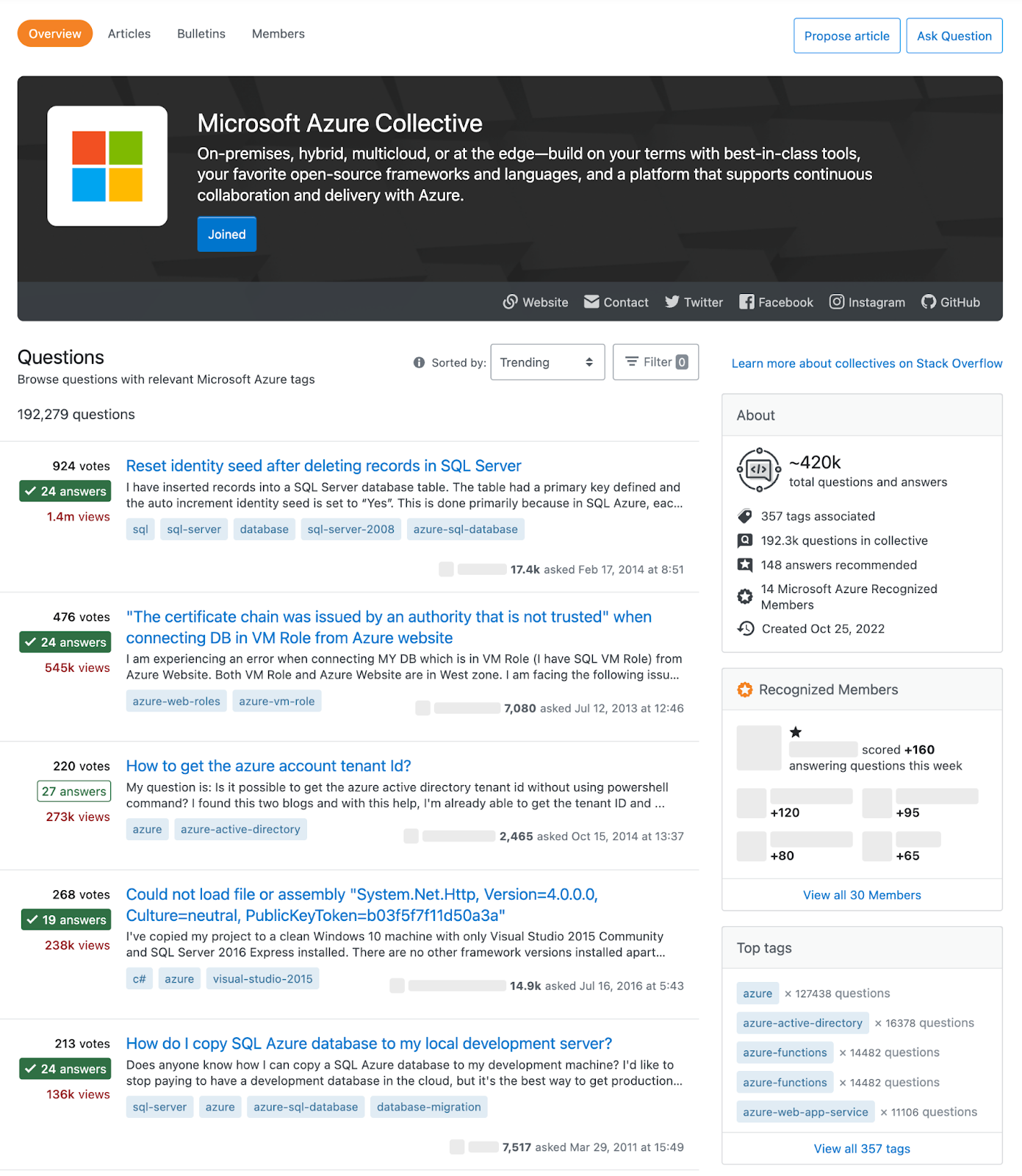 "At Microsoft, our mission is to empower every person and organization on the planet to achieve more. Stack Overflow is a trusted platform for developers where they share knowledge and learn from each other. We're committed to taking their experience to a whole new level by bringing Azure experts and developers together. We look forward to contributing even more to this vibrant community!" says Saloni Singh, General Manager - Azure Modern Support Experience.
"Collectives creates a community around specific areas of technical focus, where technologists of all skill levels can contribute, learn, and grow," says Stack Overflow Chief Product Officer Teresa Dietrich. "We're thrilled to have Microsoft engage and support the Stack Overflow community to help them build and innovate with its products and technology."
The curated, centralized community resources available through the new collective will help users discover the most up-to-date answers, including those recommended or written by Azure subject matter experts, technical articles such as how-to guides, and Bulletins for upcoming events and releases. Members can keep tabs on where they rank on the leaderboard, and they can be promoted to Recognized Member status based on their contributions. The Microsoft Azure Collective will help the community continue to learn, share, and grow by bringing knowledge and users together.
To join the Azure Collective as a member, visit https://stackoverflow.com/collectives/azure
To learn more about Collectives on Stack Overflow, visit https://stackoverflow.com/collectives
Take a tour of Collectives on Stack Overflow, check out https://stackoverflow.co/collectives