Today, technology is changing and evolving faster than ever. As a result, we are always looking for opportunities to learn a new skill or sharpen our existing skills. During my session at our first Flow State conference last September, I talked about the expanded direction for Stack Overflow. We want to evolve the platform to empower technical communities to learn, share, and grow together.
But learning something new isn't always easy or straightforward. Our research shows that the first, and often most difficult challenge in a learning journey is figuring out where to start, and then finding appropriate, trusted resources for your needs.
As we evolve the Stack Overflow experience , we want to make that process easier and more efficient by providing all the resources you need in one place. This may include helping you discover more trusted, quality content and resources; finding, building, and sharing learning paths; creating more focused, connected communities; and presenting you with opportunities for hands-on learning.
We are very excited about our evolution from collective knowledge to collective learning, but it will take time. You'll see us begin to introduce new capabilities on the platform for you to try, and we'll update you as we leverage community feedback and user research throughout. Today, we're pleased to introduce online course recommendations.
When you visit question pages on Stack Overflow, you may now see relevant course recommendations from two popular online learning platforms, Udemy® and Pluralsight®. These course recommendations will appear as an ad module on the right side of the page, where the job recommendations used to be, and won't impact the existing Q&A experience. Based on your cookie preferences, the courses you see will either be tailored to content you've visited on Stack Overflow, or courses selected based on the content of the page you're visiting, or will be trending courses.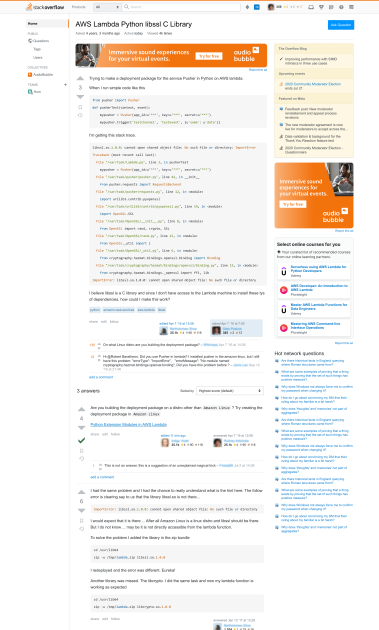 Through our most recent Annual Developer Survey, we learned that the Stack Overflow community is already turning to Udemy and Pluralsight for online learning. These companies are also committed to making trusted learning opportunities accessible to both professional and aspiring technologists, which aligns with our goal of empowering technical communities to learn, share, and grow together.
"We share in Stack Overflow's mission to empower developers and technologists through learning and skill development in the flow of work and look forward to helping the community take the next step in their educational journey," says Seth Hodgson, VP of Engineering at Udemy. "The new online course recommendation ad will help Stack Overflow users easily access specialized and relevant courses from our extensive catalog—right when they need them."
"Learning technical skills and keeping them sharp is critical for developers to build better and faster while also growing their careers," said Chris Tonas, Chief Technology Officer at Pluralsight. "We look forward to partnering with Stack Overflow to provide online course recommendations for our developer communities, so they can discover purpose-built and immersive learning experiences to develop the skills they need to thrive."
Online Course Recommendations is an additional step on our path to providing all the resources technologists need in one place, and we look forward to continuing to share new ways for users to learn and grow on Stack Overflow.