Today we are celebrating a decade and a half of Stack Overflow. Over the last 15 years our community has helped to create an incredible library of knowledge, with more than 58 million questions and answers. Before Stack Overflow, technologists looking for answers often had to pay for access in the form of books, classes, or paywalled websites. We're proud to have democratized access to so much incredible information and grateful to the community that helped us build this incredible knowledge base.
If the last few months have shown us anything, it's that Stack Overflow isn't sitting still. We recently announced the roadmap for OverflowAI, a new initiative that will leverage the power of generative AI to improve our products and platform. You can get involved through our Labs page, where you can also check out recent releases, like the Alpha version of our AI-enhanced search.
We're also continuing to expand the areas where users can go to learn and share ideas, like these recently launched new Collectives™ :
You can join these Collectives™ to chat with other folks who are passionate about these topics and meet experts who are eager to share their wisdom. Along with the usual Q&A, these spaces also offer the opportunity for more open-ended posts called Discussions.
To celebrate our 15-year milestone, we have created an infographic poster that highlights the technologies and touchpoints of the past decade and a half. These are free to download, print, or just set as a wallpaper on your favorite device. There's a portrait version (PDF) and a square version (PDF) available.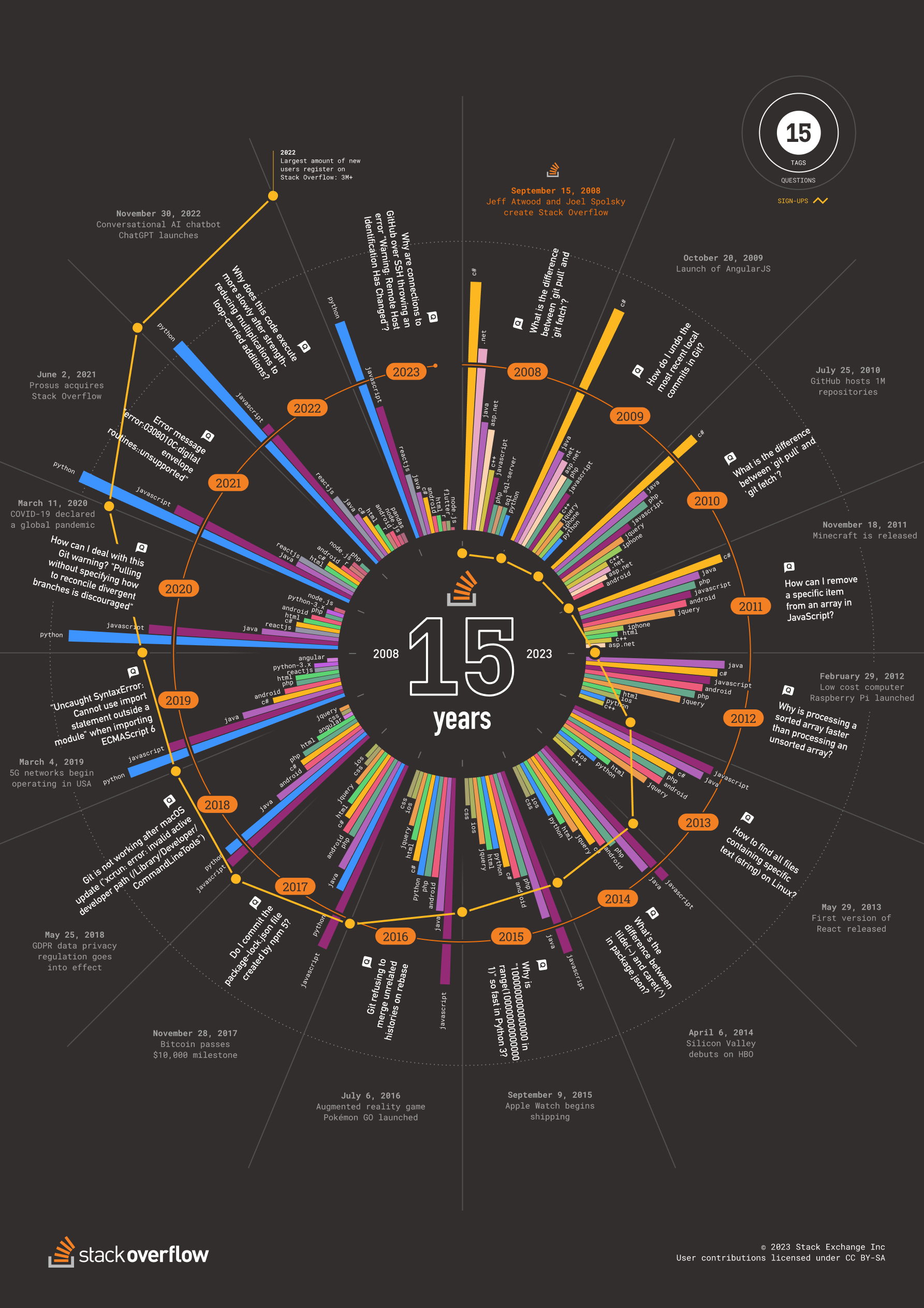 If you have a story about a time Stack Overflow helped you or a bit of history you want to highlight, share it in the comments or email us, podcast@stackoverflow.com, and we might publish your story on our editorial channels.