We've added a bunch of new features to Careers 2.0 profiles.
Based on popular demand, we have added CodePlex, Bitbucket, SourceForge and Google Code as open source hosts. (Plus an "other…" option for those we don't explicitly support.)

Already, over 2,500 people have added over 11,000 open source projects to their profiles!
Gateway drugs
We think that if you are active in open source, you deserve to be on Careers 2.0. So we've added "gateways" for GitHub and CodePlex – log in via those services, we'll take a look at your activity and (perhaps) auto-invite you to Careers 2.0 on the spot.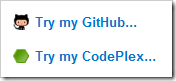 Real programmers ship
Also? A new section on your profile for Apps & Software – for all your other public projects that don't fall under open source. Something in an app store, bingo card software, a browser plugin…

Ramble on
And? A place for your writing, such as blog posts. Employers like to know that you are opinionated and articulate.

All these new features are driven by our (and your) ethos of show me. Try 'em out, and if you have suggestions, let us know!