Now that 2017 is really in swing and spring is on its way, maybe you're thinking about renewing your job search. At Stack Overflow, we have our finger on the pulse of the developer hiring scene, and we've put together some data on 2017 hiring trends to help you steer your search.
These are some of the trends we've seen in job posting and employer activity leading into 2017.
Changes in Demand
We looked at targeting options for employers on Stack Overflow Jobs that were used by at least 200 companies since the beginning of 2015. The fastest growing targets are ReactJS, Docker, Ansible, and Apache Spark, followed by System Administration and QA.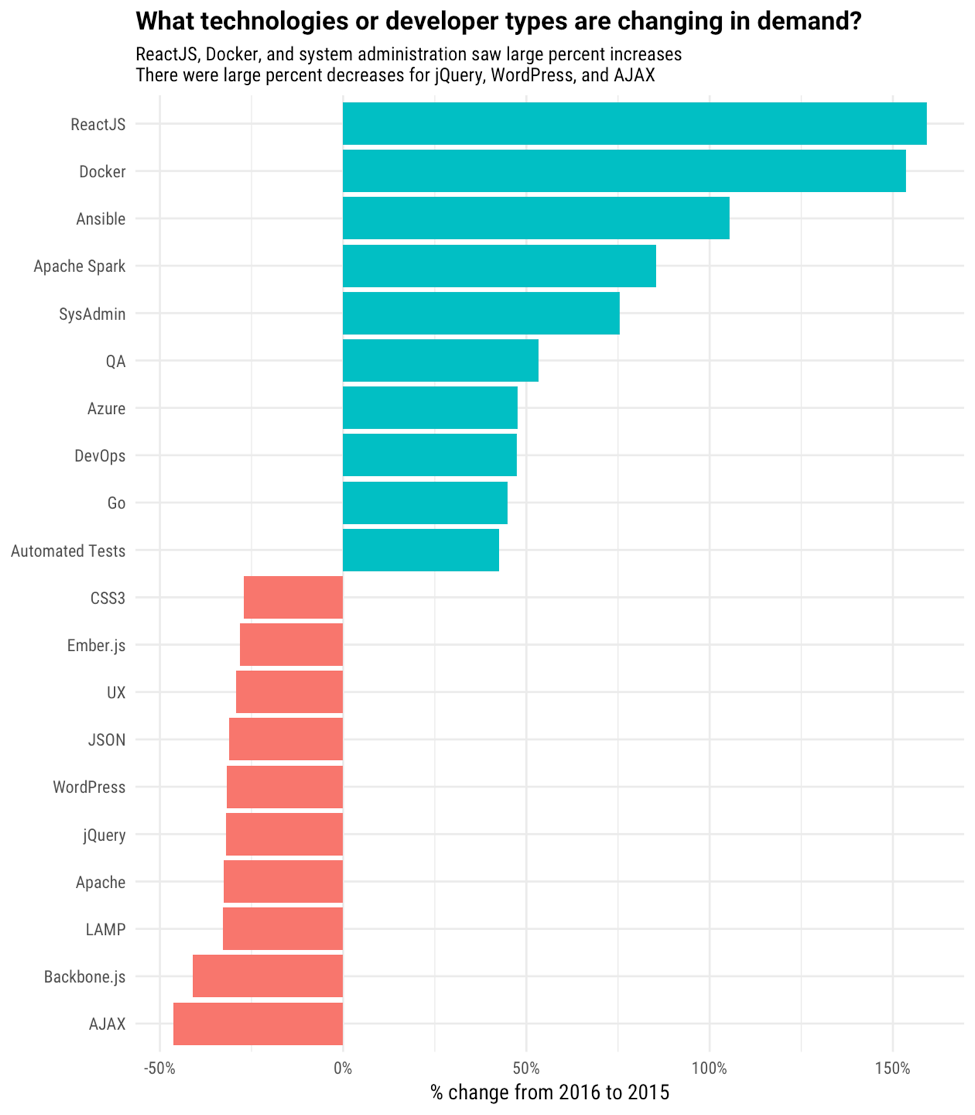 ReactJS
Jobs tagged with and targeted to ReactJS developers include such titles as Full Stack Web Developer, Front End Javascript Engineer, and Senior UX Developer. See all open ReactJS jobs here.
Docker
Current open positions tagged with Docker include Senior Development Automation Engineer, Senior Infrastructure Engineer, and DevOps Engineer. See them all here.
Ansible
Jobs targeted at Ansible developers include such titles as Data Team Manager, Cloud Ops Engineer, and Linux DevOps Engineer. You can explore more Ansible jobs here.
Apache Spark
Jobs tagged with Apache-Spark include Big Data Architect, Data Developer, and Director of Engineering. Look at them all here.
System Administration
If you identify as a System Administrator, you may be interested in jobs like Full Stack Infrastructure Engineer, Build/Release Engineer, or Cloud Engineer.
QA
Quality Assurance skills are in demand for jobs like Lead Test Engineer, Manual QA Tester, and Senior QA Automation Engineer.
Dwindling Demand
Our data also showed us which technologies are dwindling in demand. If you identify primarily with those technologies showing decreases—for example, Ajax, jQuery, and WordPress—and you're looking to advance in your career, it might be time to rebrand.
Low Supply, High Demand
The areas showing the highest demand relative to the number of developers available (in other words, the demand heavily outweighs the supply of qualified candidates in these fields) are backend web/cloud, iOS, Android, and DBA/SQL.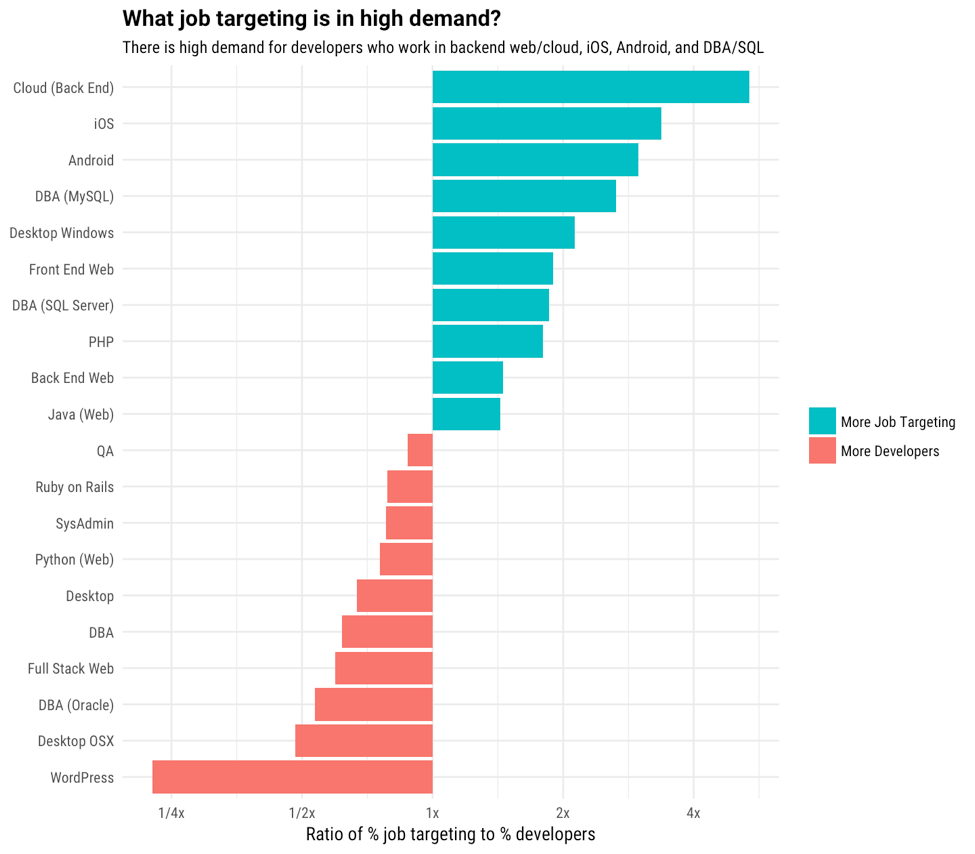 Backend web/cloud
Employers are looking for back end developers to fill such jobs as Quantitative Software Engineer, Backend Engineer (Python), and Enterprise Data Architect/Engineer.
iOS/Android
Both iOS and Android showed up on our high demand list, indicating a continued focus on mobile development. Often companies indicate a desire for candidates with knowledge and experience in both platforms. Atlassian, for example, is currently hiring both a Senior Android Developer (which lists knowledge of iOS as a plus), and a Senior iOS Developer (which lists familiarity with Android as a plus). Other examples include Mobile Developer (encompassing both iOS and Android); iOS Software Engineer, Mobile Applications; and Android Mobile Dev Engineer.
DBA/SQL
The demand for database administrators and developers is much higher than the current supply, as well, leading to lots of open positions: SQL Database Admin/SRE, Senior Oracle Database Administrator, and Database Developer, to name a few.
High Supply, Low Demand
The most oversaturated technologies include WordPress and Desktop OSX; if you are hoping to find a new position in these fields, it may be an uphill battle in 2017. Consider brushing up on some technologies that offer higher employer demand and less competition.
Putting these insights into action
A new year is a perfect time to reevaluate your Developer Story and update your experience to reflect your strengths in these high-demand areas. Even if you've never had the title of Android Developer, if you've had mobile experience, highlight it on your Developer Story. You can do this by adding side projects, showing the questions you've answered on Stack Overflow in these areas, or even recommending relevant reading material you found helpful. And if you have had job titles that reflect these technologies, now's the time to polish up those descriptions and show what you really did as an Android Developer or a System Administrator.
Remember: If you're interested in seeing open jobs in these fields, you can further customize your search by location, perks, and compensation using our search tool: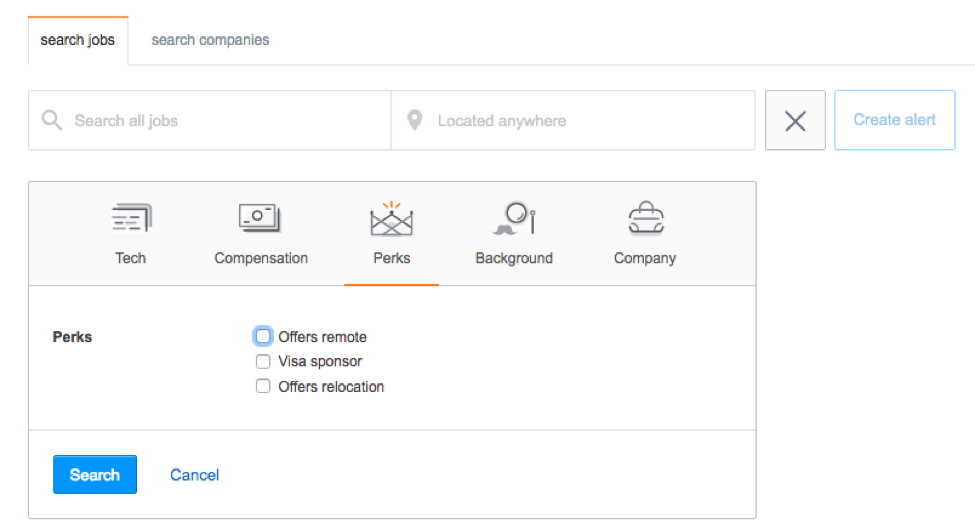 So what are you waiting for? Create or update your Developer Story now with these stats in mind to give yourself an edge, and then go see what kinds of jobs are out there that fit your requirements.