Today we're excited to announce a partnership with Pluralsight, the enterprise technology learning platform. Stack Overflow's mission has always been to the help the world's developers; whether it's helping them get answers to their coding problems through Q&A, or helping them build their career with Jobs. Pluralsight has many of the same goals—helping the tech community grow their skills, share their knowledge, and create progress through technology—making the partnership a win-win for all involved.
The Developer Learning Journey
How developers learn has grown over time. Years ago, developers would visit their university's bookstore, check out a book, and then read up on the software or programming language they were trying to learn. While this still may happen today, the majority of developers are learning through online courses, coding bootcamps, Pluralsight, and Stack Overflow. Our CEO Joel Spolsky says, "What [Pluralsight CEO] Aaron and I have in common is that we both wrote books for developers. Today's developers don't necessarily have time to read books—they need to learn three things today that they're going to use immediately. Pluralsight is all about building core skills that you're going to need later on, while Stack Overflow is how you fill in those gaps of knowledge, just-in-time."
How We're Improving It
This partnership is two-fold—it involves integrating Stack Overflow's Developer Story and Pluralsight's new product, Pluralsight IQ. Between the two platforms, developers have the most comprehensive data related to their learning journeys.

Developer Story was built to give developers a way to show off what they know and built. Incorporating things like open source projects, top questions, and articles or blog posts helps developers expand their story beyond the archaic resume elements, like education and work experience. But there's never been a standardized way for them to show their proficiency in a programming language, for example. That's where Pluralsight IQ comes in. This product allows developers to measure their skill level in about 5 minutes in dozens of technologies. Skill IQ is a quantifiable skill level based on a percentile rating for the skill area or technology. It also includes a date of verification which matches the date they completed the assessment.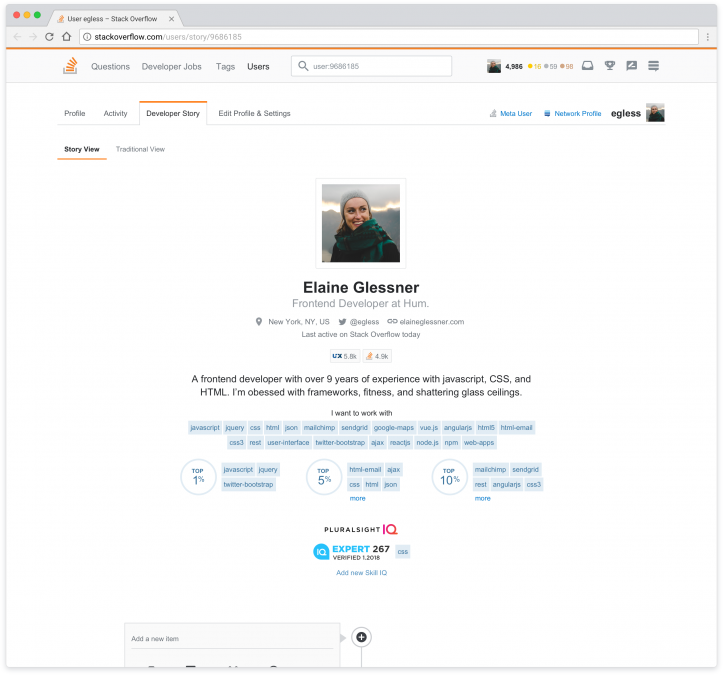 In the first phase of this partnership, developers who use both platforms will be able to share their Skill IQ on their Stack Overflow Developer Story page. Developers who add this feature to their Story will have instant third-party skills verification that allows them to showcase their knowledge.
How You Can Participate
Take an assessment, add it to your Developer Story, and let us know what you think!