Around the globe, we look forward to celebrating traditions that are unique to us, our families, and our communities. The season gives us a chance to reflect, makes us smile, and helps bring us all together.
This year is a special one for the Winter Bash tradition. A hectic end of the year (that included a company-wide Meetup and a ramped-up focus on delivering improvements across other parts of our Q&A experience) means this year's Winter Bash theme is the same as last year's. But don't despair, last year's theme was awesome!
We're continuing to bring the fun. Winter Bash 2019 showcases a wild retrospective of hats that have been featured over five years, from 2014 to 2018. You can upgrade your avatar with some of the favorite hats from the past, as well as discover a couple of changed triggers for secret ones. We wish you luck finding them all!
Join us December 9 through January 1 for Winter Bash 2019. Last year, we awarded more than 297,000 hats on Stack Overflow. This year could be the year that we hit 300K!

Whether you're new to Winter Bash or need a quick refresher, here's how it works:
Ask, answer, vote, edit, and chat to unlock fun hats and accessories you can wear on your avatar when you complete challenges on participating sites.
Once you complete a challenge, a hat will appear on your profile.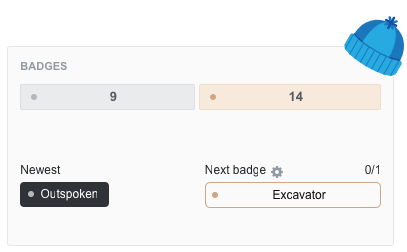 Click the hat and you'll be taken to your hat box.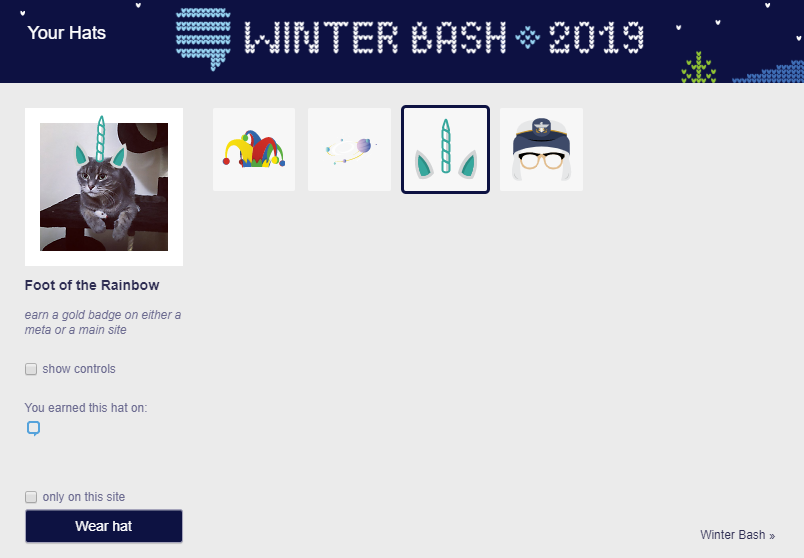 Select one of the hats you've earned, customize it to fit your avatar, and start sporting it around the site. Don't forget to change your hats. After all, nobody likes to be seen wearing the same thing twice!
Have questions? Check out our Winter Bash FAQ page for answers and more helpful information.
Ready, set, go find some hats!