Good artists copy. Great artists steal. Greatest artists copy, then paste.
Simplicity. Elegance. Form. Function.
Today marks a new beginning for programmers around the world. Stack Overflow is proud to unveil our first venture into hardware, The Key™.
They say good artists copy, but great artists steal. They were wrong. Great artists, developers, and engineers copy. Then they paste.
Every day, millions of innovators and creators across the globe move society and industry forward by copy-pasting code from Stack Overflow. But for too long, this process has been stuck in the past.
Say goodbye to cramped fingers, sore wrists, and wasted movement. Say hello to The Key™, a device built from the ground up to make copy-pasting code from Stack Overflow fast, painless, and fun.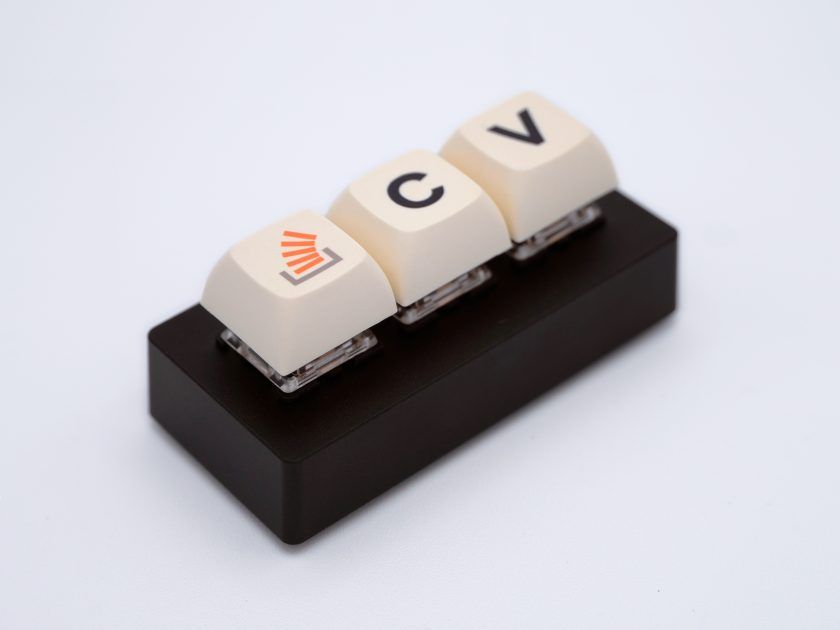 Our keyboard is made of 100% machine milled plastic sourced from the rarest polyurethane plants.
The switches underneath each keycap have been rigorously tested to ensure the optimal finger feel and smooth action.
What happens when you press a keyboard? It clicks. Every day you're working on a computer, you're hearing thousands of clicks. Millions of clicks shape your experience each year.
Our click's volume and tone were crafted by sampling the natural wonder of song bird chirps. We run that audio data through cutting edge deep learning systems to produce a sound that is optimized to improve productivity and mood.
Each key cap has been precisely etched using industrial grade lasers normally reserved for diamond cutting and quantum fusion drives.
The Key™ is compatible with virtually any computing device. From a Raspberry Pi to a high end gaming rig, cutting edge copy-paste is within your reach.
For now, The Key™ is a stand alone device, but in the future, it will unlock an ecosystem of creativity. Our R&D department is already at work on incorporating virtual, augmented, and uncanny reality into the roadmap.
The Key is available for pre-order now! Be the first to get yours.
UPDATE: There has been a lot of interest in purchasing a real life version of our prank. The good news is we anticipated this might happen and we've been working on something along these lines. Stay tuned for more!
UPDATE 2: The Key is actually, for real available for pre-order. Our original production line sold out in six hours, so please be patient.