Hello and welcome to Stack Overflow's first Pulse survey. As we explained in the launch post for this year's developer survey, we're expanding beyond our annual magnum opus and checking in with our community more frequently. We'll still be posting results from our Dev Survey each year, but we'll also be hosting a number of smaller, more focused surveys asking developer questions on one specific topic.
Given the recent IPO of Coinbase and the enormous amount of activity occurring around cryptocurrencies, NFTs, and DeFi, we decided to center our first pulse survey around blockchain technologies. The data below is based on responses from 693 software developers to a survey conducted from May 5th to May 17th of 2021.
The first thing we wanted to know was how they felt about the explosion of interest in this area.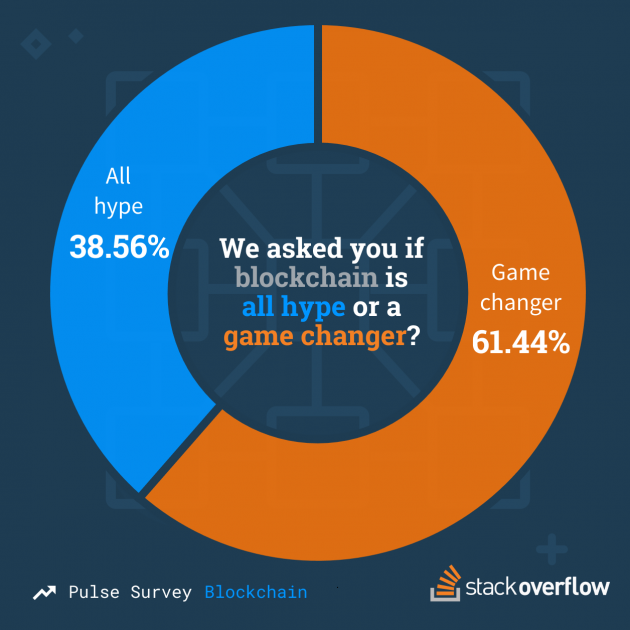 We presented respondents with a fairly binary choice here: game changer, all hype, or never heard of it. We'll try to learn from that, and going forward will look to present a more neutral option as well.
Interestingly, while the majority believe in this technology, less than a quarter had actually worked with it yet.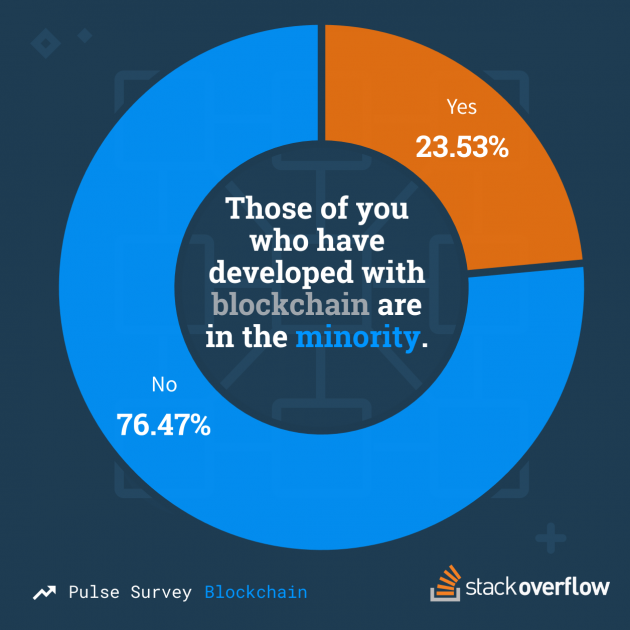 When we modify that question to ask who is excited to try working with this technology, we see a response that mirrors those who believe in its potential.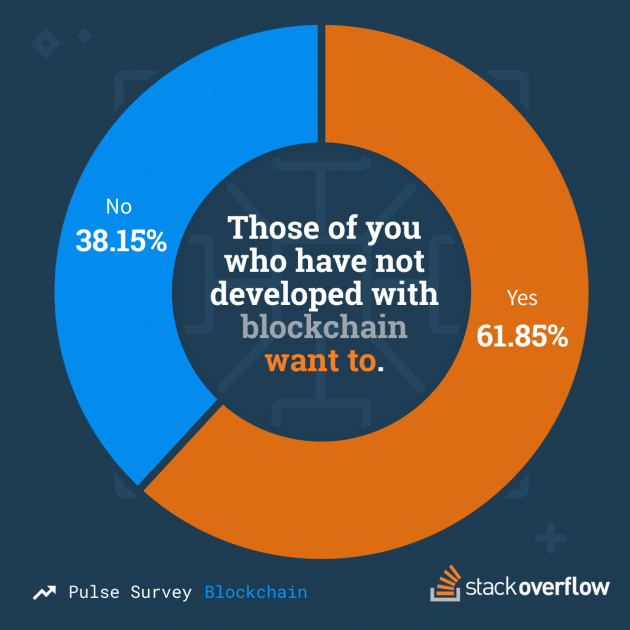 Getting hands on experience working with this technology didn't prove to be a turn off. Those who had built with it tended to be more optimistic on its potential.
It's clear that, among the developers we surveyed, this technology is still more common outside of work than it is on the job. Students and hobbyists outnumbered those who used blockchain at work by a nearly 2-1 margin.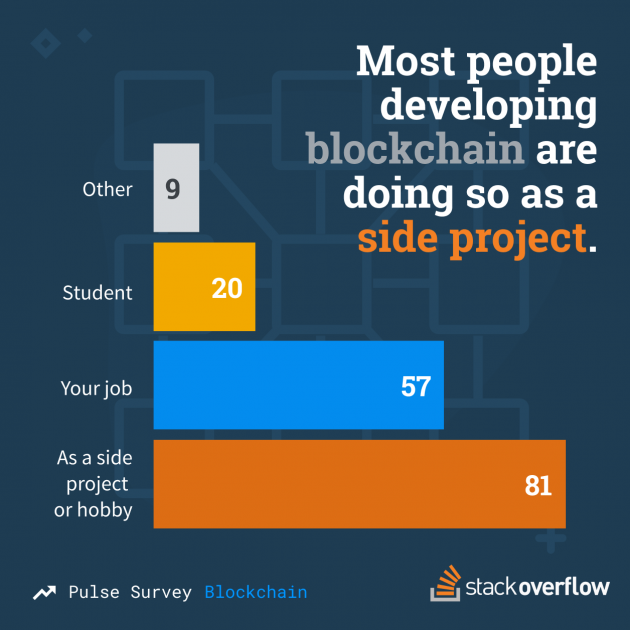 Ethereum is far and away the most popular technology among respondents who have worked with blockchains.
We can see this trend mirrored in data we collected around tags and questions. While Bitcoin arrived first, Ethereum related questions have become more prevalent since 2016.
When we look at tag data, we see the more expansive "blockchain" tag slightly ahead of ethereum, which holds the second place spot, ahead of hyperledger-fabric and bitcoin.
Top Blockchain related tags on Stackoverflow.com
Blockchain TagQuestions Askedblockchain 2,190ethereum 1,892hyperledger-fabric 1,536bitcoin 1,287solidity 1,062hyperledger 1,047smartcontracts 592hyperledger-composer 447cryptocurrency 439truffle 415
So, what's the takeaway from all this? There were three interesting observations made by my colleague David Gibson after reviewing the data.
Those who have developed in blockchain are the most excited about it.
The most popular languages are the foundations of blockchain. JS, Python, and Java are all old tech but are still the building blocks (see what i did there) for the technology of tomorrow.
Blockchain questions peak around major Bitcoin price milestones. See chart below.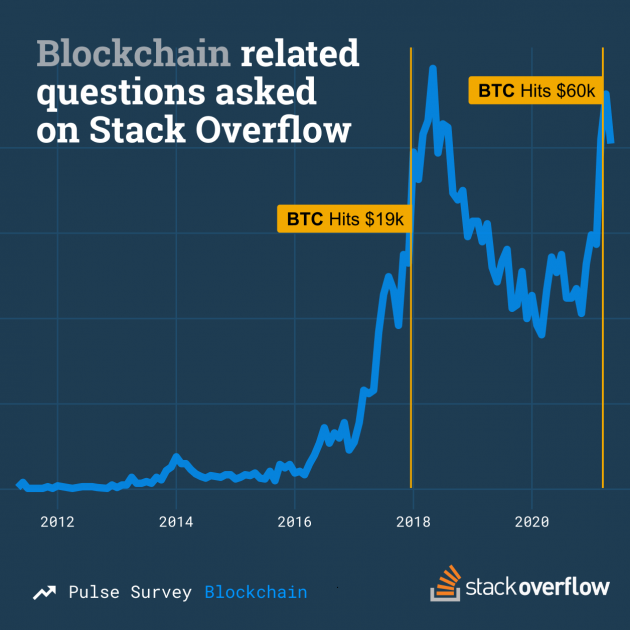 Have thoughts of your own on this topic? Feel free to weigh in (respectfully) in the comments, or shoot us ideas for blog posts and podcast episodes at pitches@stackoverflow.com, and make sure to review our pitch guide before hitting send.