Last month, Stack Overflow's Director of Technical Product Marketing Rebekah Dumouchelle and Senior Data Analyst David Gibson sat down with James Morgan and Michael "d00d" Parkins, co-leads of Progressive's Open Source Office, to talk about how Progressive is building a culture of collaboration and keeping cross-functional teams connected.
Progressive created its Open Source Office two years ago to support Agile transformation, break down silos, and empower employees to collaborate more effectively. To support business agility and performance goals, Progressive needed to understand how knowledge was flowing between teams, and what topics, questions, and concerns were driving different departments. Did people with questions know how to find answers? What about accessing critical knowledge that lived outside their teams?
That's where Stack Overflow for Teams came in. The platform helped the team shatter silos and open new lines of communication. Parkins recalls, "The immediate story that it told us, right after we made it go live, was that we were already breaking down the walls between our domains in terms of communication."
To understand how best to support its teams, Progressive used Stack Overflow for Team's flexible API to visualize how knowledge was flowing (or not flowing) between teams and to reveal deeper insights into trending topics, questions, and concerns. Morgan is a self-professed "big fan" of the API, which he calls "rock-solid" and "very easy to use, very intuitive."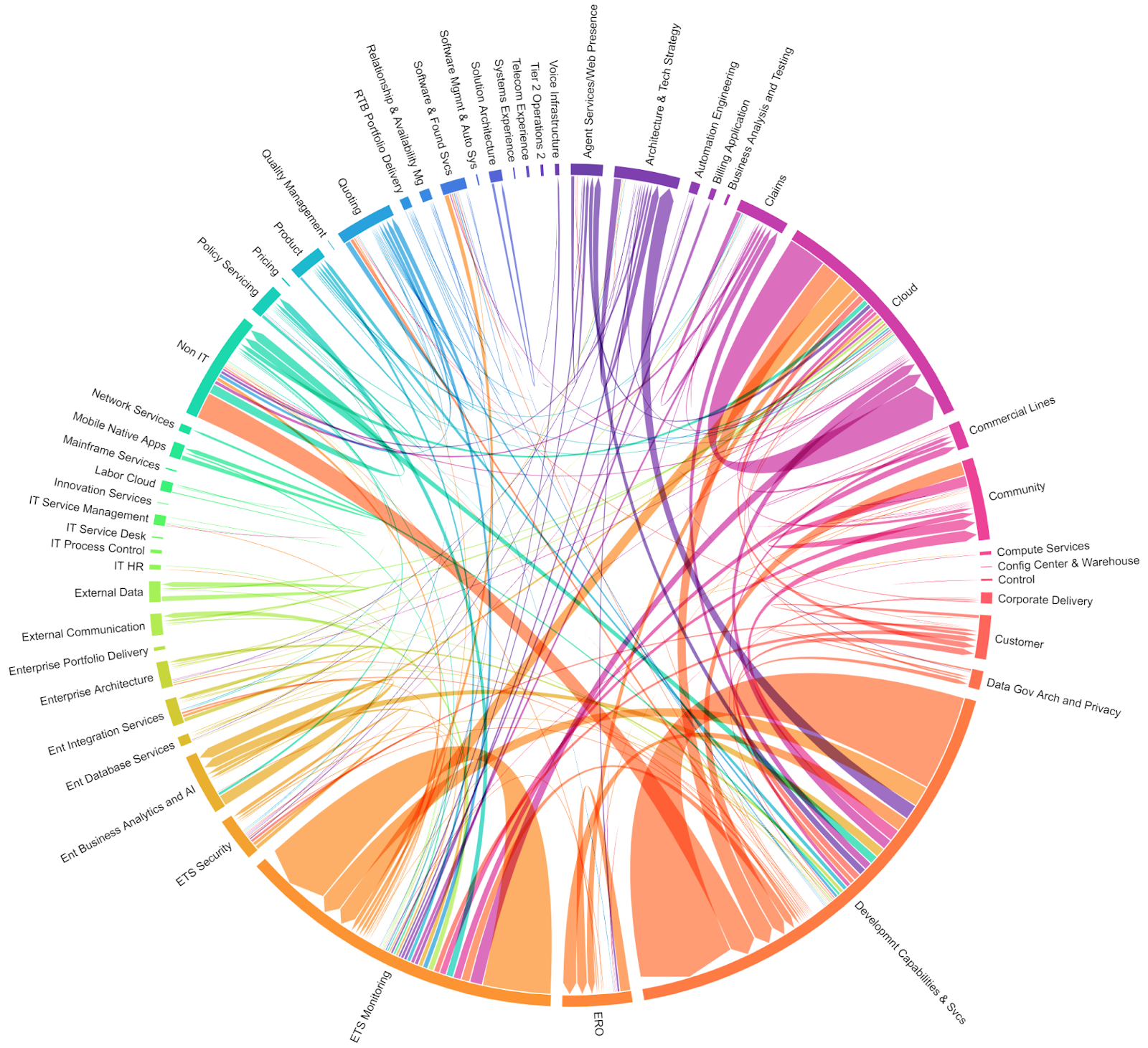 Critical to its value, says Parkins, is that "Stack Overflow allows our developers to self-serve the problems that they're running into." Developers can ask their questions of a large, knowledgeable community immediately, without worrying about tracking down an expert on another team or pestering a manager or mentor with a question they might already have asked. No more mass emails or endless searching through different chat rooms looking for the right subject matter expert. With Stack Overflow for Teams, Parkins says, "There's zero downtime there and it allows our developers to stay in the flow longer."
Progressive's dev community has already asked more than 1,100 questions (and counting) and offered more than 1,500 answers. Questions have been viewed an average of 60 times. "Overall it's a huge success in terms of adoption," says Parkins. And as Progressive, like so many organizations, has adapted to remote work over the last two years, the value of Stack Overflow for Teams has only increased. "As we've been sent into a remote working scenario, SO has helped open an additional communication channel that didn't exist before. It's absolutely been a benefit for us," says Parkins.
As Morgan says, "I think the only thing sometimes more intimidating than not knowing how to do something is not knowing who to ask for help. And Stack Overflow really helps with the second half of that problem."
Hear the whole conversation with Progressive to learn more.