With 2 in 5 tech workers showing high risk of burnout, the industry is facing a 'burnout crisis' according to a recent study. Burnout happens when we push ourselves to work and produce while ignoring the stress accumulating in the background.
As May is Mental Health Awareness Month, we wanted to see what developers are doing to decrease that stress and prioritize their own wellness. Earlier this year, we surveyed over 800 developers to see if they are happy at work and what they are doing to maintain or improve mental health.
Previously, we shared that roughly 70% of developers are happy at work right now, with over 90% saying it is important for them to be happy at work. India, the U.S., Germany, Spain, and the U.K. are the five happiest countries for developers. But what are developers doing when they get stressed and unhappy? How do they take breaks, maintain a healthy daily routine, and boost mental health? Let's get into it.
Happy developers have employers that encourage wellness
With so much dependence on happy and healthy developers, we wanted to know if our community's employers were concerned with their employees' health. We found that about 62% of respondents' employers encourage physical and mental wellness at work. Does simply encouraging it actually work? It's probably safe to say that encouraging it contributes to happiness. Exactly 75% of happy developers say their employers encourage physical and mental wellness at work. But that doesn't always mean the employees themselves will prioritize their own health—over 60% of developers say they have never taken a mental health day.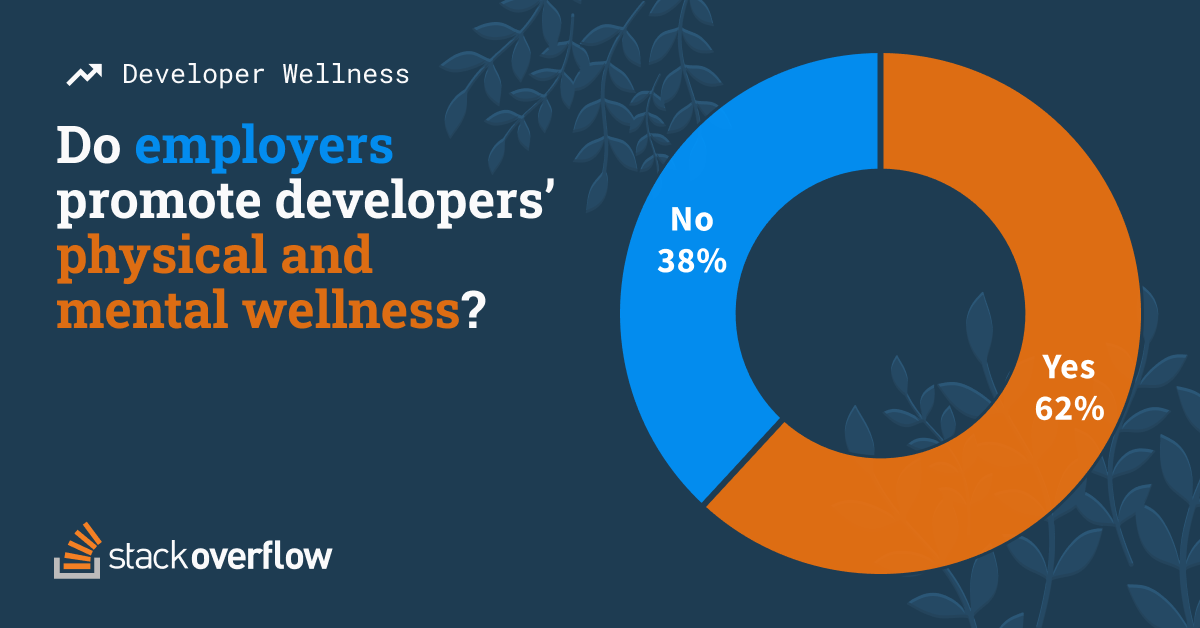 Taking breaks doesn't mean breaks from screen time
Research has found that one of the best ways to relieve stress is through physical exercise. Over 50% of developers say they go for a walk or do some kind of physical activity when they need a break, the most popular answer from respondents. That doesn't mean everyone is on their feet during breaks—most of the top five things developers do when they need a break involve screen time: listen to music (46%), visit Stack Overflow (41%), browse social media (37%), and watch videos (36%). Frequently when they need to step away from coding, developers aren't stepping away from a device.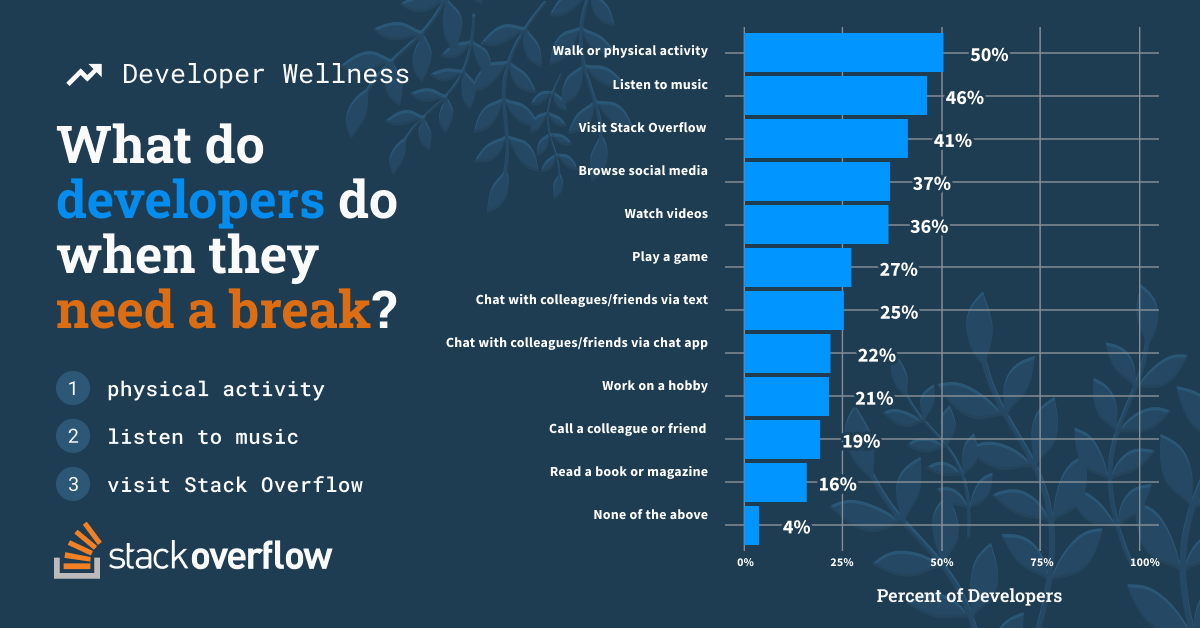 Improving wellness is all about changing habits
It's one thing for an employer to encourage wellness; it's another for people to actually change habits to achieve their own wellness. A resounding 88% are interested in improving physical wellness, and 83% are interested in improving mental wellness.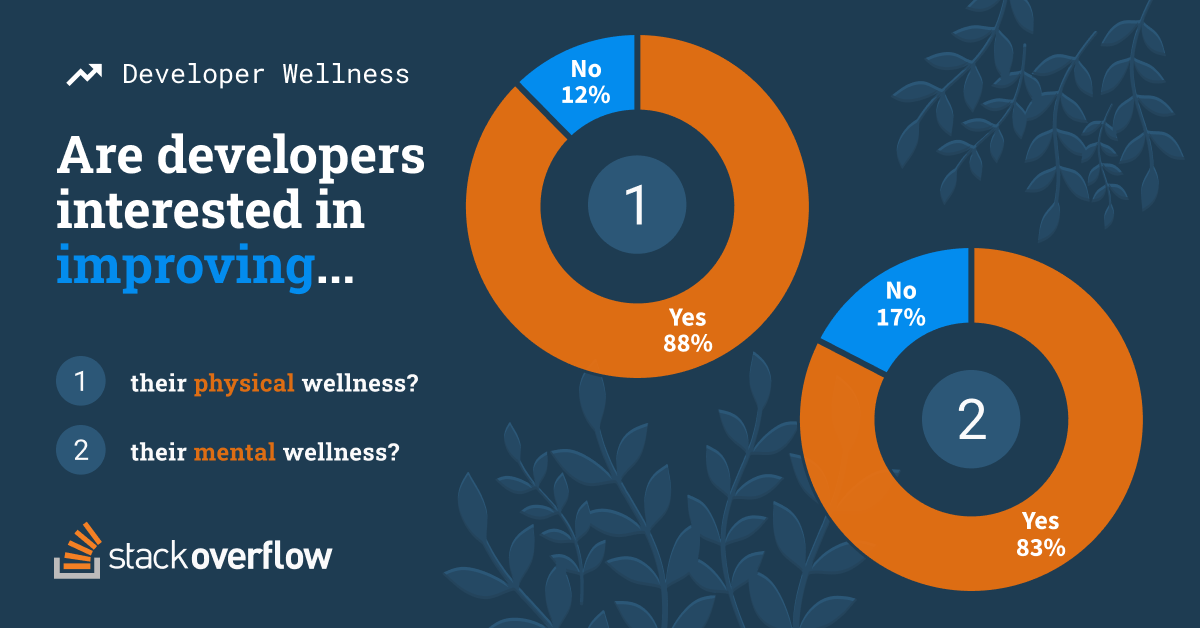 When asked what they are doing to improve their own wellness, developers said drinking more water (57%), eating a healthy diet (56%), prioritizing exercise (47%), making time for socializing with friends and family (43%), and reducing hours at work (25%). Finding balance begins with changing daily routines–adding some physical activity to the mix (less than 35% currently consider exercise part of their daily routine).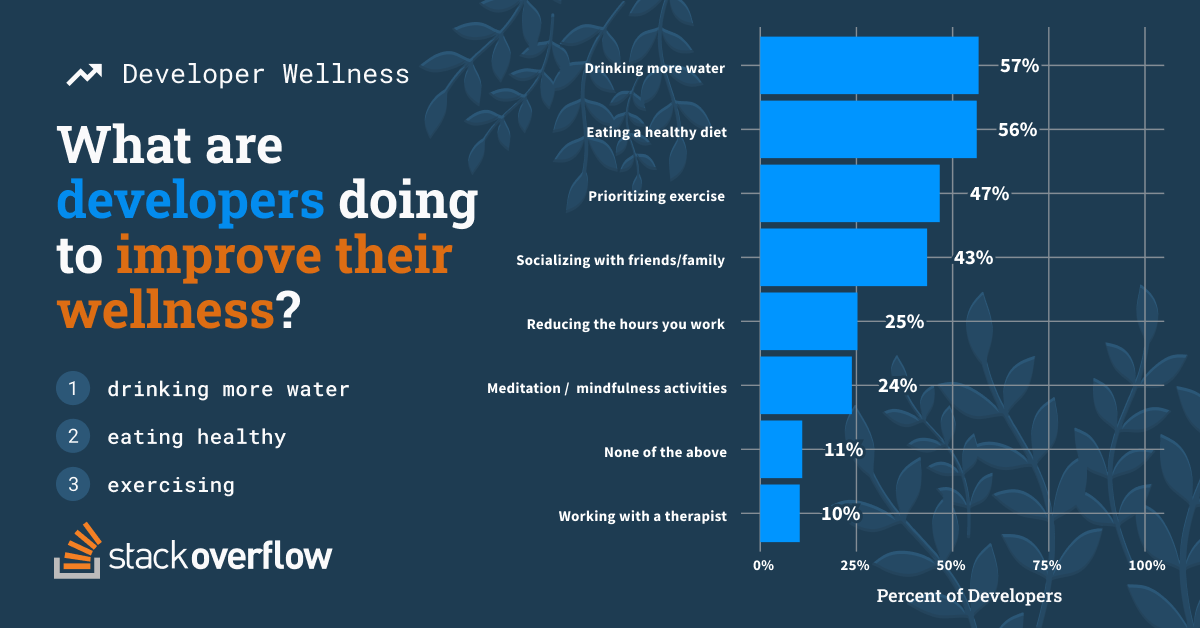 Conclusion
Preventing burnout in a fast-paced industry is always going to be challenging, but encouraging employees to take breaks and prioritize wellness is a good first step towards ensuring developers are happy at work. There's still a lot of work to be done. For example, are developers not reducing hours at work because they feel like they can't? Is wellness something employers can encourage more or is it more dependent on individual motivation? Are there factors that we overlooked entirely? We'll continue doing research in this area and share insights as we learn them. Ahem…Developer Survey coming soon…