Hello fellow Stack Overflow users! Our April Fools' gag for 2022 has come and gone, and we've had some time to analyze how people responded to it. Unlike last year, we aren't going to make a real product out of it (The Key V2 now available, BTW sold out!). At the moment, we have no plans to add filters back as permanent options, though you are always welcome to create your own userscripts. Still, the way users interact with our site, even as part of a joke, can teach us a lot.

April Fools' is usually a popular time for us, and this year was no different. Compared to an average Friday, we saw 6% more unique visitors to Stack Overflow. Plenty of you have been asking what the most popular filters were. Well, we're here with answers. We've also got some extra data around the prank, so let's dive in!
The good, the bad, the three-dimensional
For those who missed it, a quick recap of this year's prank: Users coming to the site during the prank window were subjected to one of eight themes randomly. Instagram has them, so we wanted to get hip to what the kids are into. The themes ranged from tech favorites (Windows 3.1 and Terminal) to nostalgic (Frisa Lank and MariOverflow) to illegible (Top Secret and 3D Glasses). Users could change the themes with a selector at the bottom.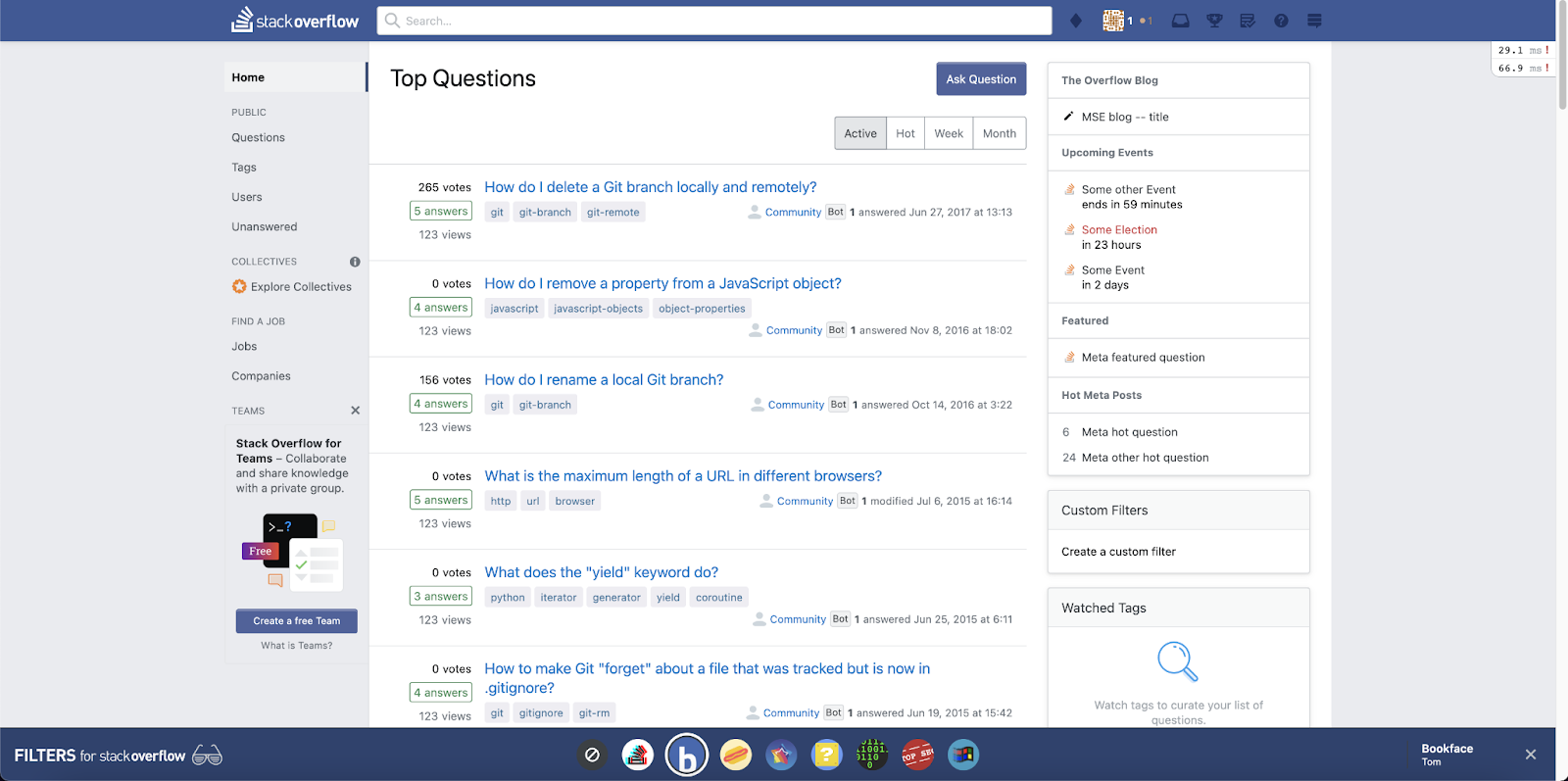 The themes were truly random. All of them except 3D Glasses were loaded about the same number of times (more on that later). Some users were happy with the theme they drew—96% of people who randomly drew either Bookface, Frisa Lank, MariOverflow or Windows 3.1 left that theme enabled. However, if they saw the 3D Glasses theme, only 67% of users kept it around.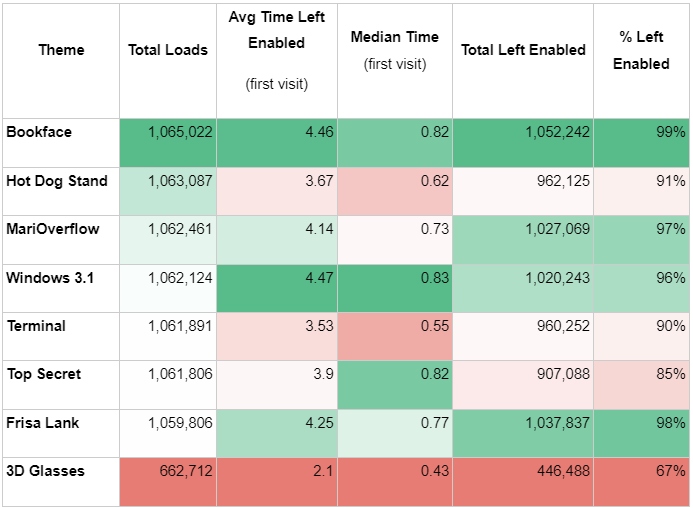 955,815 users changed their theme at least once. On average, users changed themes six times. Most people cycled through all of the new themes—median time per theme was between three and five seconds—before getting back to the classic Stack Overflow theme. Of those that picked a new theme, Bookface was the most popular, but people kept Windows 3.1 on the longest. Hot Dog Stand, a nostalgic take on the famously ugly Windows 3.1 theme of the same name, had the shortest average enabled time with 2.8 minutes. Only 5% of users left it on. Don't discount the power of the familiar.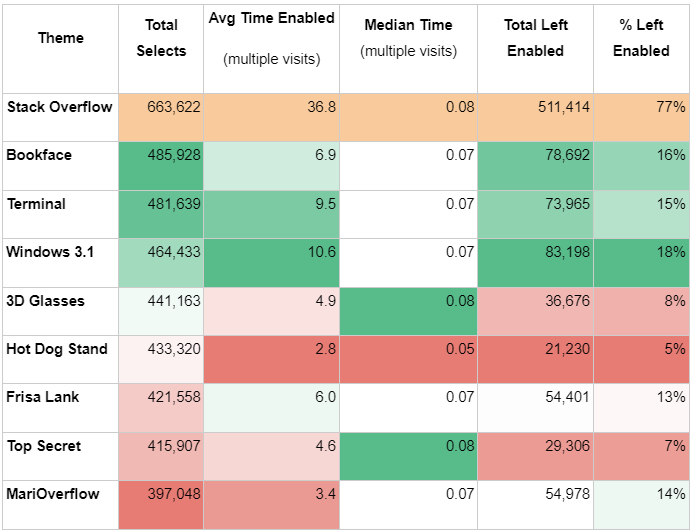 The Frisa Lank theme was an internal and fan favorite. The vast majority of the Stackers who voted in our very informal poll guessed that it would be the most popular overall and longest enabled. We were wrong on all accounts. The tech heads beat out the rainbow sticker crowd this time.
The 3D Glasses theme came in for scorn early and often. Users called it "nauseating" and "one of the dumbest things I've seen in a long time." The offset text gave some people a sense of vertigo, so we took it out of the randomized default rotation. For first-time visitors, it was enabled for the shortest amount of time and by the least number of people who drew it. But for people who had gone through other themes, it still beat out Hot Dog Stand and Top Secret on every metric we measured.
Bonus April Fools' in the source code
April Fools' jokes have the benefit of being temporary. All filters were coded outside the bounds of our normal code discipline, so there were a number of small jokes sprinkled in the source code. Most of them were light-hearted CSS class names, off-hand comments, or JavaScript jokes that ran the filter bar.
But there was an Easter egg in there for the curious code crawler. We left the following as a bit of bait:
Hello Dev! Welcome to our new Filter's bar. If you need direct access to our secret keys, please go to https://s.tk/StackOverflowSecrets. (DON'T SHARE OUTSIDE THE COMPANY)
The link was not some internal leak. It redirected to a heartfelt statement of our commitment to avoid abandoning you, disappointing you, causing you to travel unnecessarily, or hurting you. It's a bit of harmless fun, and we caught a few extra suckers with this one.
1,721 different users clicked on the link and found that they were no strangers to love. The peak click moment happened on April 1st (as expected). Don't feel bad; more than a few of our own engineers fell victim to this extra prank while we were testing the new code.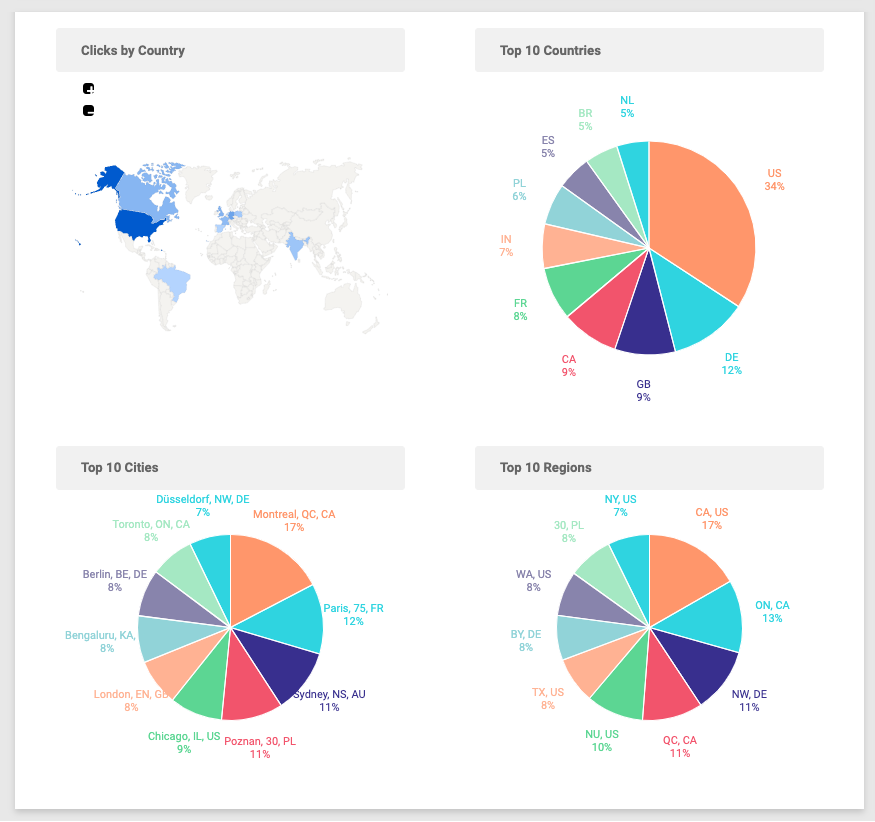 Our top three countries were the United States, Germany, and Canada. Our top three states were California (US), Ontario (CA), and North Rhine-Westphalia (DE). Our top three cities were Montreal (QC, CA), Paris (75, FR) and Sydney (NS, AU). Clearly, they know the rules.
It's true we've fooled millions of people; however, we have truly fooled an extra few thousand.