Over the last quarter, we've expanded our cloud and edtech partnerships, watched Stack Overflow for Teams become more and more embedded in the developer experience, and made great strides on our path to profitability. We've also had many internal discussions as a leadership team about ChatGPT and other generative AI tools as they've rapidly entered the mainstream. We're excited about the possibilities Generative AI may hold for the public platform as it matures, and we look forward to experimentation around it.
Overall, it was a busy and successful quarter, so although my first update of 2023 takes place in a fundamentally different environment than my first of 2022, my optimism for the future has not changed. It's simply joined by a dose of pragmatism.
Productivity and efficiency: Twin themes of the new year
In today's economic environment, productivity and efficiency are more important than ever. For many companies, these are the themes of the new year, and our goal is to provide productivity and efficiency to customers through Stack Overflow for Teams, to technologists through our public platform, and to our employees through smarter processes and ways of working.
At a recent dinner with senior technology executives in San Francisco, it was clear this focus on productivity is widely shared. Every CIO and CTO present spoke of their need to increase productivity, and most rightly view developer experience as a key lever in that effort.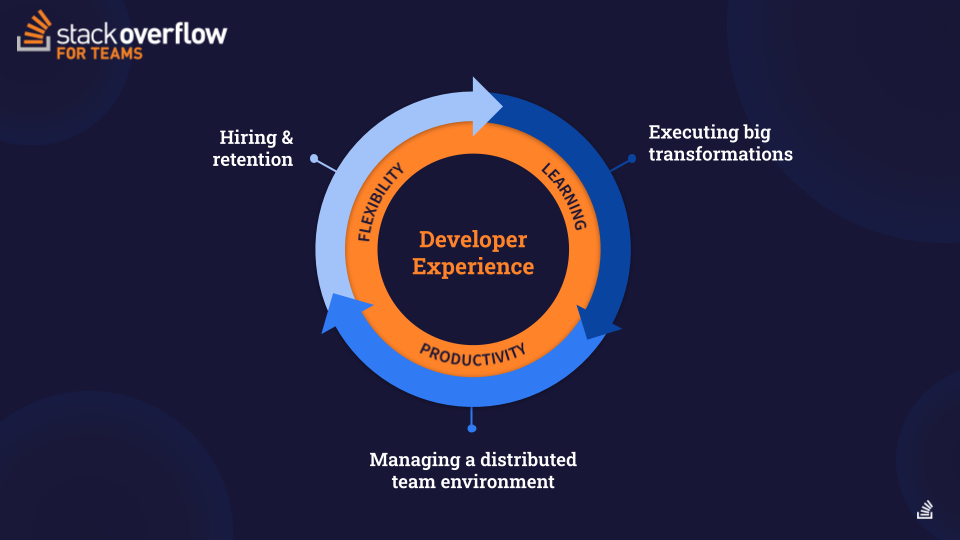 When it comes to dev experience, few initiatives are more impactful than those that encourage cross-org information sharing and reduce toil — the manual, repetitive administrative work that hampers creativity and innovation.
One Stack Overflow for Teams customer in the retail space, for example, estimates that its cloud team could free up 20-30% of its time by eliminating the need to answer duplicative questions. This customer recently went through a complex merger and said Stack Overflow for Teams connected employees from the less technologically transformed part of the organization with their new, more tech-savvy peers. Ultimately, more efficient knowledge reuse helped it save nearly 10,500 hours over the last 12 months and drove meaningful progress in unifying and codifying critical institutional knowledge.

That's an enormous boost to developer productivity, which we know drives developer happiness and retention in turn. In fact, happiness and productivity are inextricably linked; our data shows that feeling unproductive is the top driver of developer unhappiness at work — and currently, a team of 50 devs loses between 333 and 651 hours per week on average searching for answers and solutions.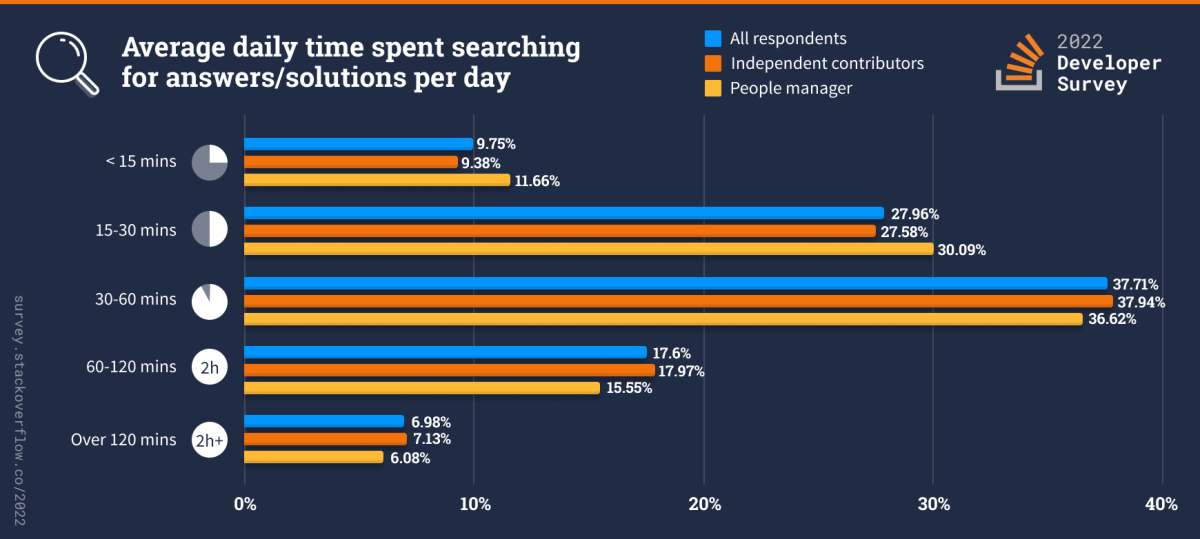 Stack Overflow for Teams — "A revolution to IT"
As I reflect on the quarter behind us and look forward to what's likely to be a volatile year ahead, I firmly believe developer experience is one of the most effective ways for organizations to accelerate tech modernization while dealing with tighter budgets, scarcer resources, and greater scrutiny on investments. Anecdotally, it seems technology leaders agree.
I am excited about this growing realization and about the many organizations who are using Stack Overflow for Teams as the basis of that experience. With Stack Overflow for Teams, companies are onboarding developers faster. Their employees are avoiding roadblocks by more efficiently finding the answers they need when they need them. And overall, companies that leverage Stack Overflow for Teams are reducing toil and driving innovation by minimizing interruptions and ensuring common problems only have to be solved once.
The importance of these attributes cannot be overstated. They're why Stack Overflow for Teams was recently recognized in G2's Winter 2023 report as a Leader in the Knowledge Management, Q&A Platforms, and Knowledge Base categories.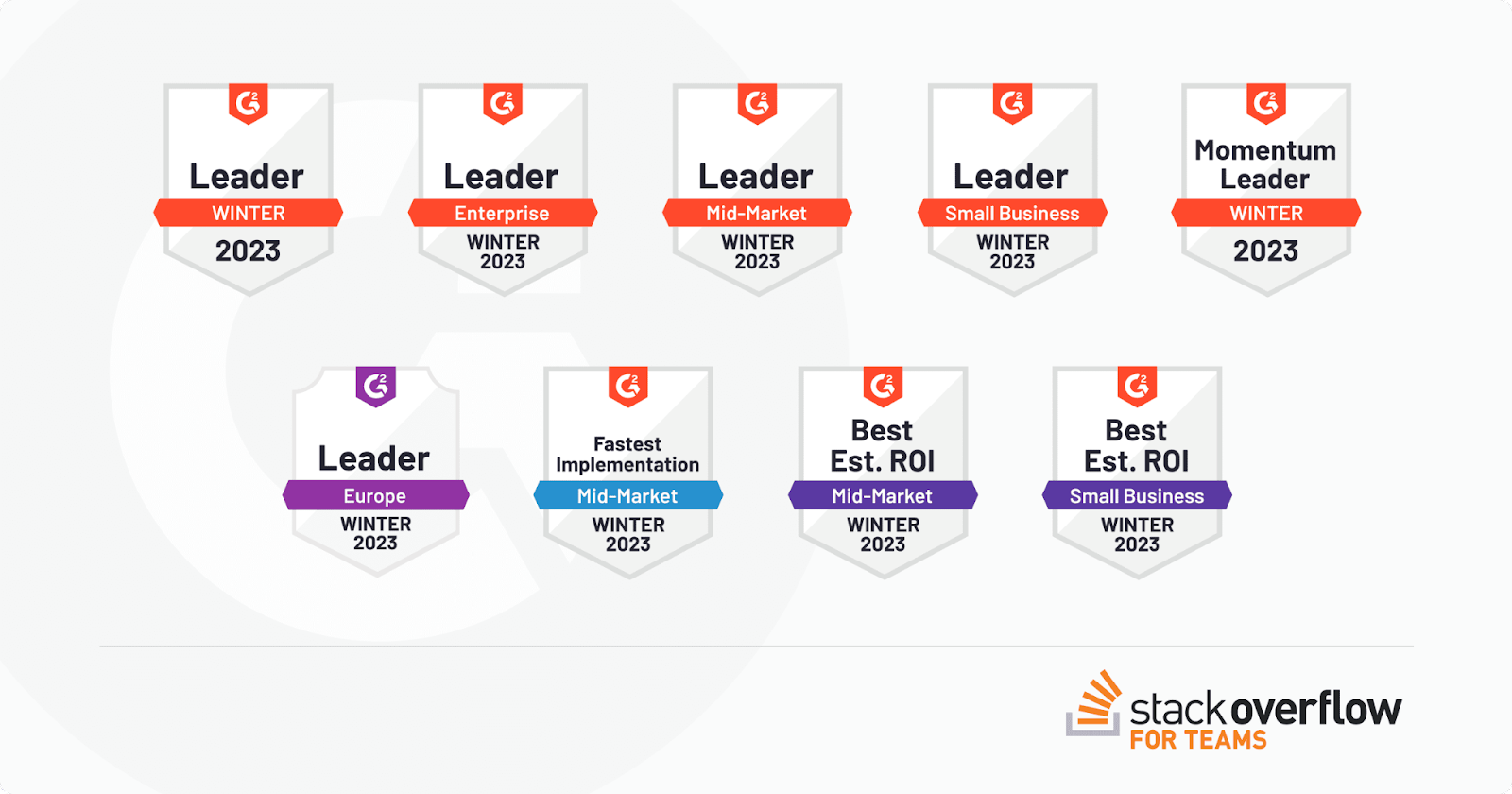 I'm proud of the Stack Overflow team for their continued impact and grateful they're being recognized for it. I especially love browsing our G2 review page and hearing from people like Mahbub who called Stack Overflow for Teams "a revolution to the IT world."
More efficiently find the cloud resources you need
Our work with Stack Overflow for Teams is one part of our overall vision to become the most valuable destination for the world's current and next generation of technologists. Our public platform is the other key piece of this vision. In the last quarter, we redoubled our efforts here, with a particular focus on bringing to life our core values of Learn, Share, Grow; Keep Community at Our Center; and Be Flexible and Inclusive.
First, we expanded our relationship with the big three cloud providers. Today, AWS, Microsoft Azure, and Google Cloud all have Collectives on Stack Overflow. This is an important step in our long-term evolution to allow users to self-select into smaller communities of practice that can more efficiently learn, share, and grow together.
It's an important moment for our customers, too. AWS, Azure, and Google Cloud (in addition to our other Collectives clients) can now meet their customers where they already are and build a trusted, bilateral connection through which to share accurate, cutting-edge information and updates. That includes announcing new releases, offering direct customer support, endorsing answers to user questions, and reviewing product feedback from the community.
Combined, Stack Overflow already has 1.6 million AWS, Azure, and Google Cloud related questions and answers. We're excited to see that number grow with the new Collectives.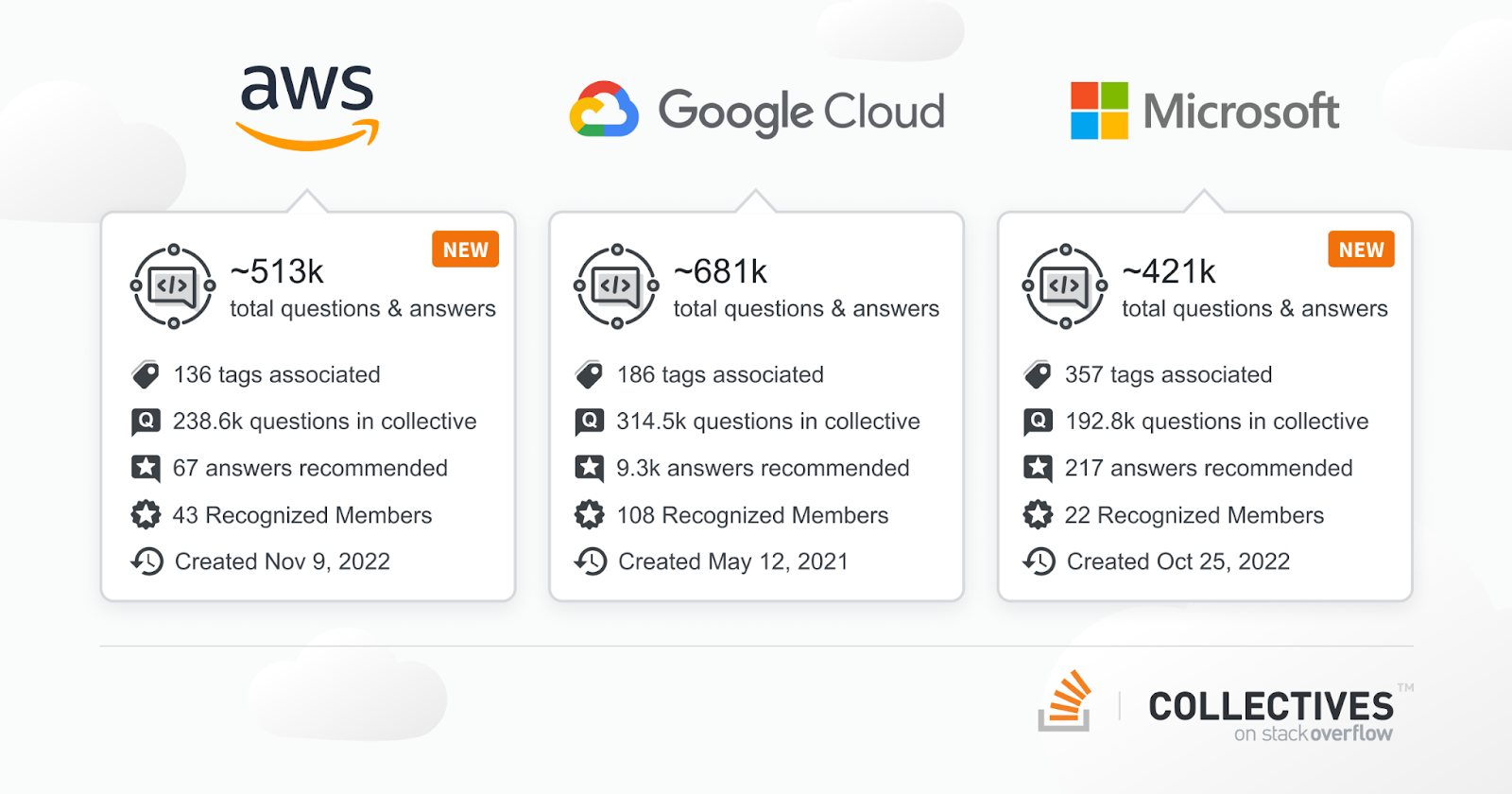 Learn and grow via Stack Overflow's new Online Learning partners
With Collectives, we're making it more efficient for users to find the support and knowledge they need. Today's launch of Online Course Recommendations has a similar goal.
Stack Overflow research found the first and often most difficult challenge in a technologist's learning journey is figuring out where to start. Our Chief Product Officer, Teresa Dietrich, spoke about this challenge in depth during her Flow State talk, and as Stack Overflow evolves the platform to empower technical communities to learn, share, and grow together, we wanted to prioritize this important community need.
"Everything moves so fast and the source of truth changes often and things that are old can just be actively bad to learn." Anonymous Developer, Stack Overflow qualitative research
With today's Online Course Recommendations launch, you'll begin to see relevant courses from two popular online learning platforms, Udemy® and Pluralsight®. These course recommendations will appear as an ad module on the right-hand side of question pages on Stack Overflow. We hope this makes it easier for technologists — 70% of whom are learning a new technology at least once a year — to find appropriate, trusted resources. Udemy and Pluralsight were chosen as launch partners for exactly this reason; our 2022 Developer Survey found many respondents are already turning to these providers for their online learning needs.

Online Course Recommendations and our new Collectives are additional steps on our path to providing all the resources you need in one place. In the future, we may expand on them by helping the communities on Stack Overflow and the Stack Exchange network discover more trusted quality content and resources; find, build, and share learning paths; create even more focused, connected communities; and have access to hands-on learning opportunities.
A year of continuous improvement
As we focus on driving productivity and efficiency with all our products, we are doing the same internally. The goal is continuous improvement in the year ahead, and we are constantly soliciting feedback across our public platform and paid products with that in mind. Based on user feedback and our own qualitative and quantitative research, we're investing in areas where there's a clear opportunity to solve developer and technology problems.
The Staging Ground is a great example. This new public platform feature (which will initially be found only on Stack Overflow) will allow new askers to receive guidance from more experienced community members before posting their first questions publicly.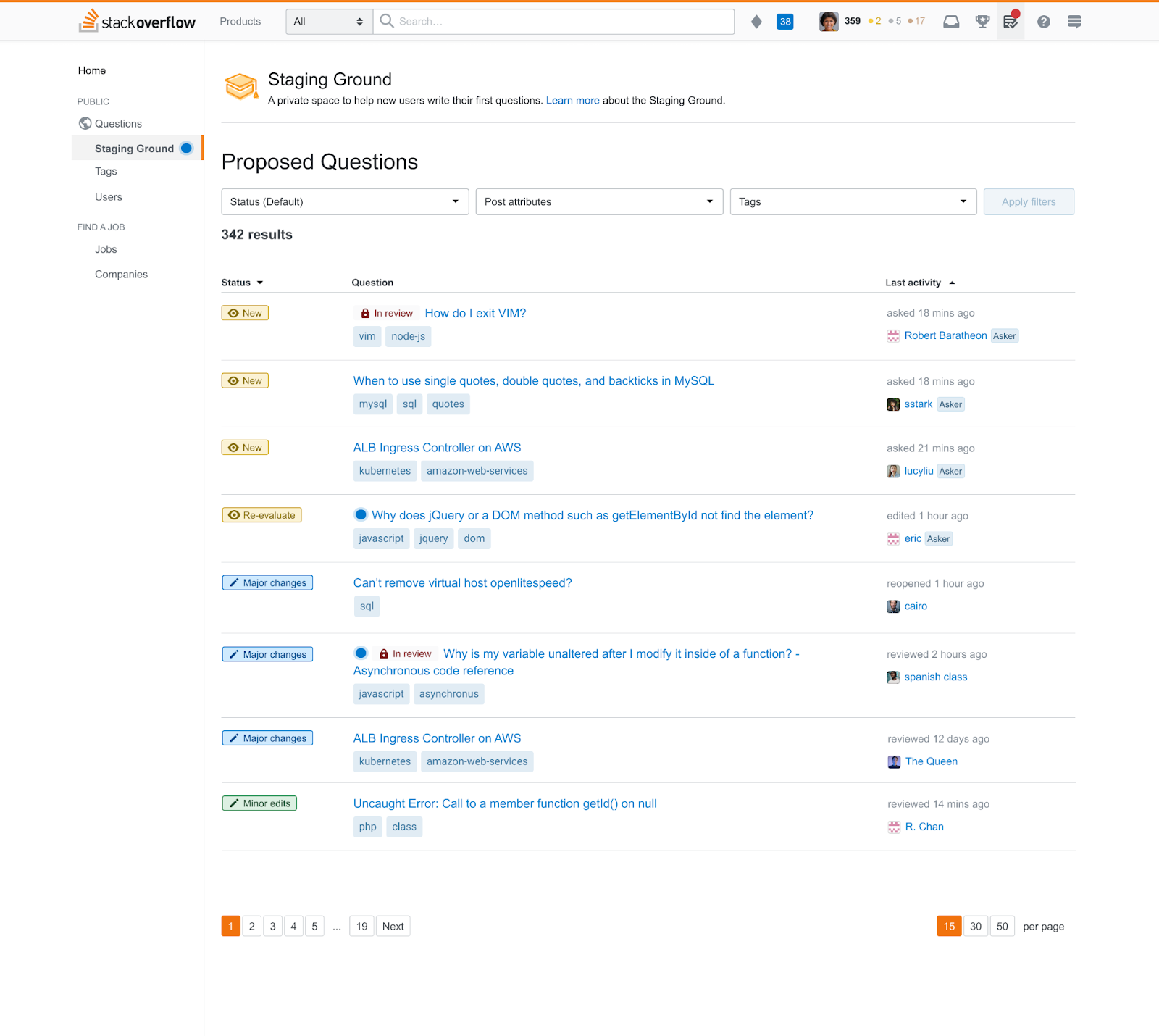 We believe Staging Ground will make our community more welcoming and inclusive by making it easier for first-timers to learn Stack Overflow's norms and best practices. An expanded beta is coming soon and an MVP later this calendar year.
In addition to Staging Ground, we're also closely monitoring ChatGPT and other generative AI tools, and we're thinking through their impact on the community and products. Generative AI is evolving rapidly, and new use cases and risks appear each day. The community is certainly engaged on the issue; we saw a 20% year-over-year spike in questions and answers with AI-related tags following ChatGPT's release, which reversed an overall AI-related tag decline of 12% YoY.
We share the community and world's excitement about the potential of generative AI. Our Product and Engineering teams are exploring all possibilities, and as usual, we will update and find opportunities to bring you into the conversation whenever possible.
Stack Overflow has always been built by the community for the world. I want to take a moment to highlight the critical role of our moderators on big issues like ChatGPT and on countless smaller day-to-day occurrences. In 2022, our ten most active moderators (out of 600 total) responded to over 440,000 content flags (requests for moderator action) — and our most active moderator of that group dealt with 104,000 flags alone.
Stack Overflow's success is in a large part due to their tireless contributions, and in this year's edition of Stack Gives Back, we are pleased to donate over $54,000 on behalf of our moderators to Doctors Without Borders, the Electronic Frontier Foundation, Girls Who Code, the International Rescue Committee, and UNICEF.
Our path to profitability
The next 12 months will inevitably bring more surprises and disruptive innovations. However, we are well-positioned for FY2024 regardless of what happens in the world around us. The community is strong and growing; our Stack Overflow for Teams product is increasingly mission critical; our company surpassed 500 Stackers for the very first time; and our path to profitability is clear.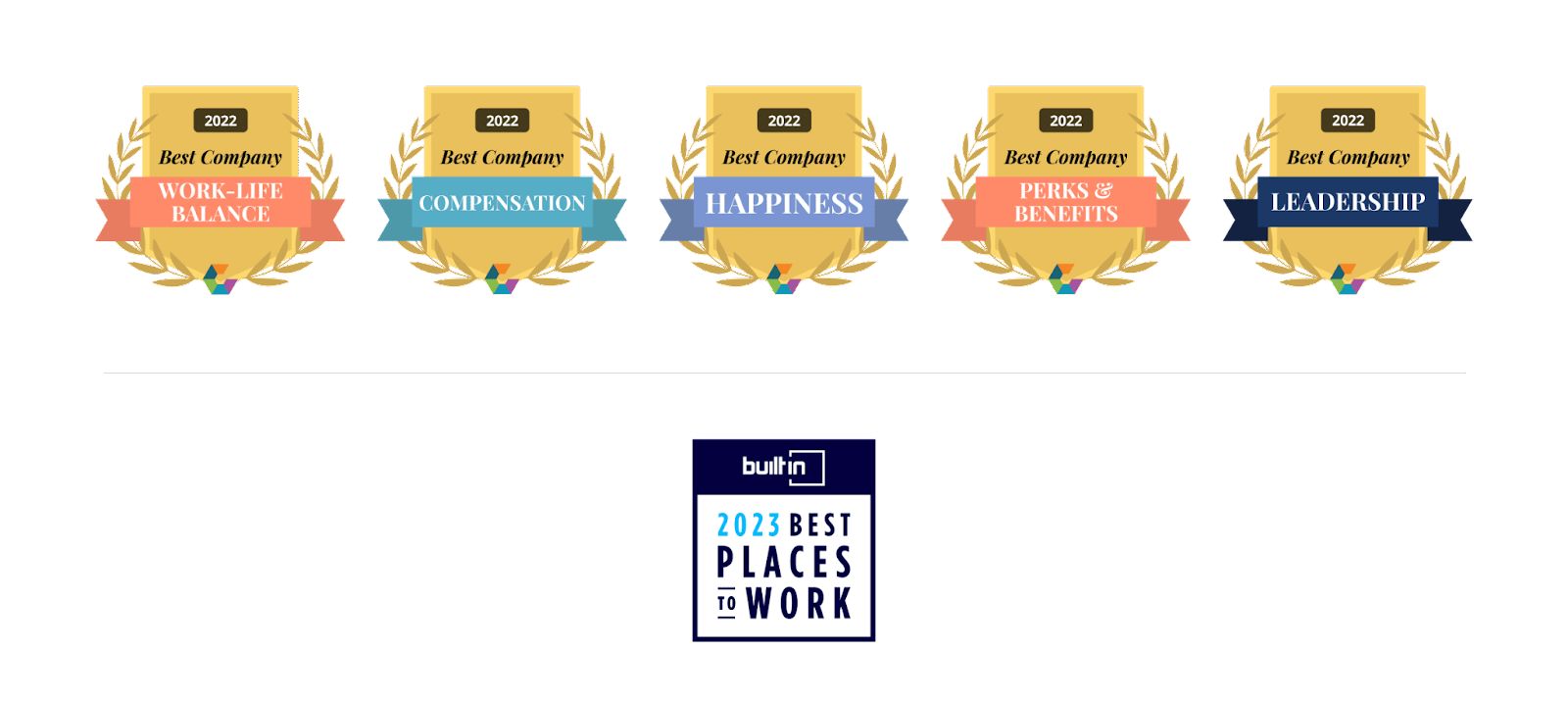 In fact, at the Prosus and Naspers Capital Markets Day in December, I walked through that path and highlighted the key role of Stack Overflow for Teams on it. That's not to say our Ads and Employee Branding businesses aren't important. Rather, it's a sign of how strong Stack Overflow for Teams' performance has been.
In the first half of FY23, more than 50% of Stack Overflow revenue came from Stack Overflow for Teams — a SaaS product that only launched in 2018. We believe Stack Overflow for Teams is a powerful, sustainable, and all-weather growth engine for this company.
2022 was about investing in that engine and in the company as a whole. 2023 is about the pivot from growth towards becoming profitable again — just as we were in 2018, 2019, and 2020.
Despite the economic volatility around us, there will always be a market for organizations who help customers succeed in their technology transformations. We look forward to driving productivity, efficiency, and transformation for our customers and users in the year ahead.