We've officially entered the last quarter of 2021. The three months since my last update have been some of the most momentous since I joined the company as CEO two years ago. We completed the Prosus acquisition, welcomed our highest volume of new customers for both Stack Overflow for Teams and Advertising, launched a new Collective on the public platform, and announced Matt Gallatin as our new Chief Financial Officer.
The past two years have been an incredible journey, 80% of which I've spent as a fully-remote CEO. When I reflect on the most important moments, I think about our Stackers and Community—I'm truly inspired by their resilience. Given many concurrent issues—the ongoing pandemic, polarized political environments, and challenging social issues—there's a lot going on in people's lives. Over the past year in particular, we've gotten glimpses into each other's homes, supported each other through illness and loss, pushed ourselves to have uncomfortable conversations, learned from our failures, and celebrated wins.
One of my biggest learnings is that organizations and leaders have a responsibility to ensure people are heard, to build high levels of trust and enable them to show up authentically— all so they can do their best work. I'm a firm believer in the idea that building connections strengthens teams and empowers people to be successful in their roles. I've learned that while work connects us, a true team is a living, breathing entity. We must feed and nurture it to build high-trust connections. No one can bring only part of themselves to work and be their best. Companies play a critical role creating an environment that's supportive. I'm grateful for the resilience of our Stackers and Community through these dynamic times. It's a true privilege to be entrusted to lead such a passionate team and the community we're building together.
Public Platform and Community
As our environments change, so does the community's approach to technology. We did deep dives into two topics that saw incredible growth of late: cloud computing and cybersecurity. We learned that nearly 90% of surveyed developers say their organization increased usage of the cloud over the last year. On the public platform, we saw about four years worth of average annual growth of cloud questions in the span of just three months at the start of lockdown last year.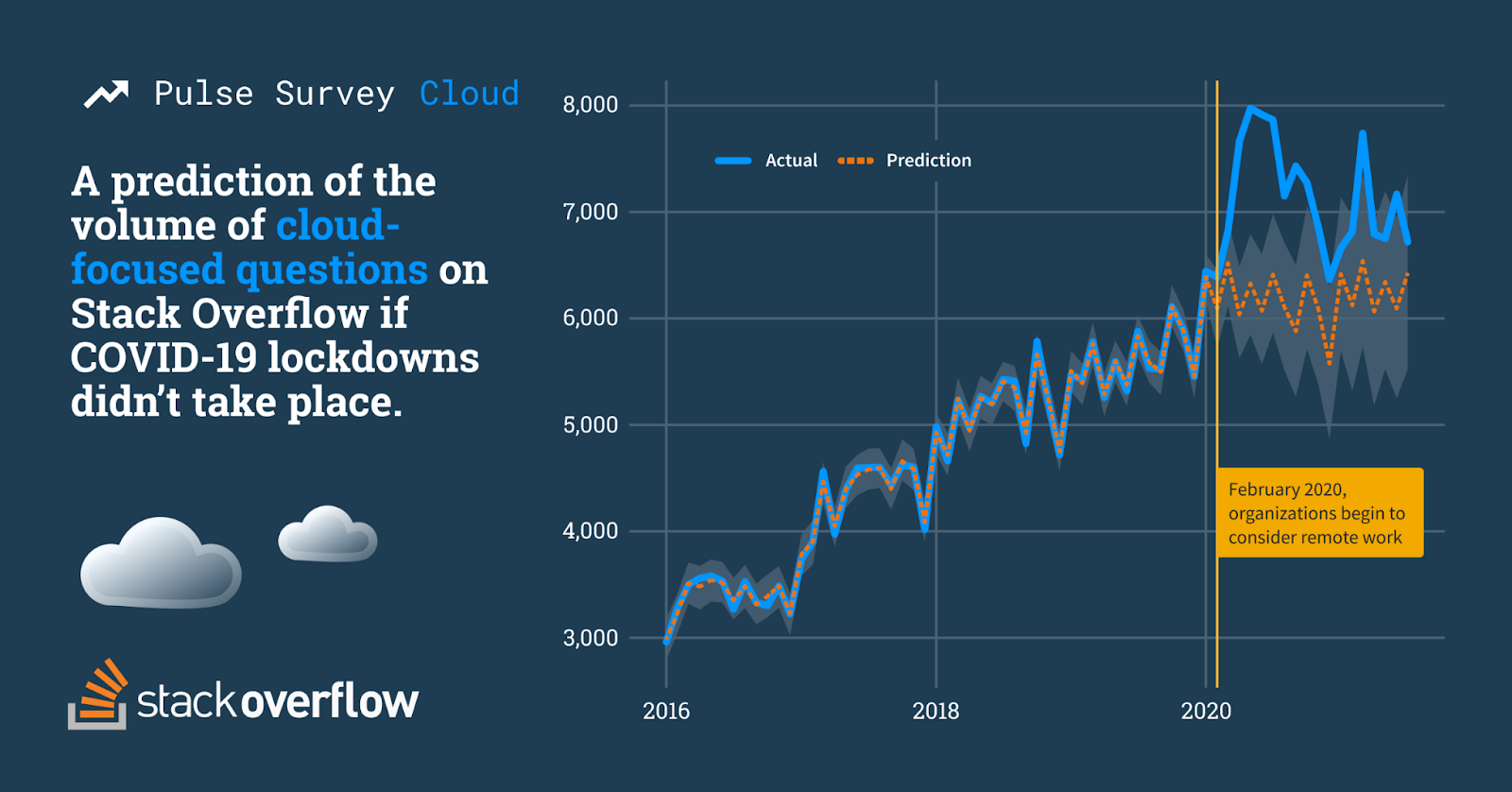 The pandemic had a similar impact on cybersecurity questions. Our recent research showed that security-related activity across the public platform appeared to be tied to major breaches. That is, until recently. The volume of security-related questions on Stack Overflow at the start of lockdown exceeded that of any year in our history.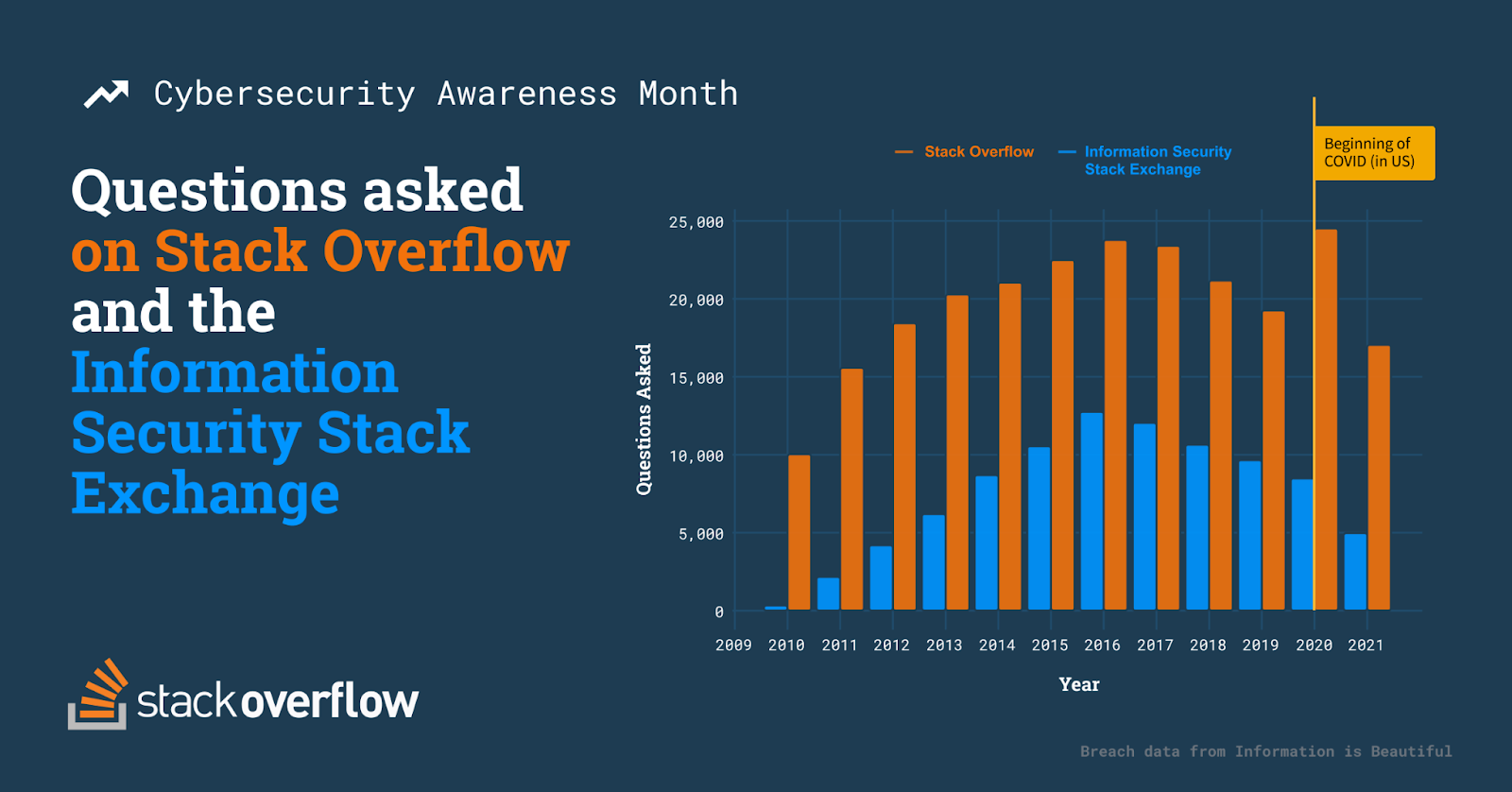 We also saw exceptional growth in three core areas when it comes to the public platform community. Monthly active users are up 7% over last year at this time, and we're seeing monthly sign ups tracking ahead of our plan with an increase of 44% over this time last year. Lastly, we're continuing to invest in improving our moderator experience, and we're starting to see it pay off. While we continue to focus on making the public platform a welcoming place for all, this is a promising indicator that we're making impactful decisions.
From a product perspective, we updated our Privacy Policy, made changes to Review Queues, and introduced high-contrast mode for people who need a bit more contrast. These are all aligned with our goal of making Stack Overflow a more inclusive community. We also completed our annual Community-A-Thon, where our employees dedicate time to increasing their engagement with the community on the public platform.
Finally, we launched our first-ever physical product. It started as an April Fool's joke. We told everyone that tried to copy and paste on Stack Overflow that their copying and pasting was limited unless they purchased The Key. Panic set in for the 1 out of every 4 users who copies something within five minutes of hitting Stack Overflow. Once people caught on to the joke, we were flooded with requests to actually purchase The Key. The joke is officially over. The Key is real, and it sold out in six hours! We opened pre-orders and nearly 9,000 units have been sold to-date, with the remaining shipping later this year. All our proceeds are going to digitalundivided, a non-profit that leverages data, programs, and advocacy to catalyze economic growth for Black and Latinx women entrepreneurs in tech. It's amazing to see this impact from our community.
Product update
We're also seeing a shift within organizations as teams solidify their remote or hybrid work strategies. We're hearing from technology leaders more and more that agile transformation is becoming a top priority and onboarding continues to be a challenge as they scale their teams. On top of that, a recent survey also revealed that nearly 70% of U.S. workers said their level of burnout has worsened throughout the pandemic. All of these challenges compounded are creating more urgency for Stack Overflow for Teams. We welcomed our highest volume of new customers for both Stack Overflow for Teams and Advertising in the last quarter. We also had our highest ever gross revenue retention (GRR) for Teams in our mid-market segment last quarter.
"Technical teams typically face an adoption hurdle," said Tzach Zohar, a systems architect at Skai. "But because Stack Overflow is already second-nature for developers, the transition to Stack Overflow for Teams was easy."

As customers onboard, they continue to share their experiences with their peers, earning us recognition on G2 across nearly every segment for the 11th consecutive quarter.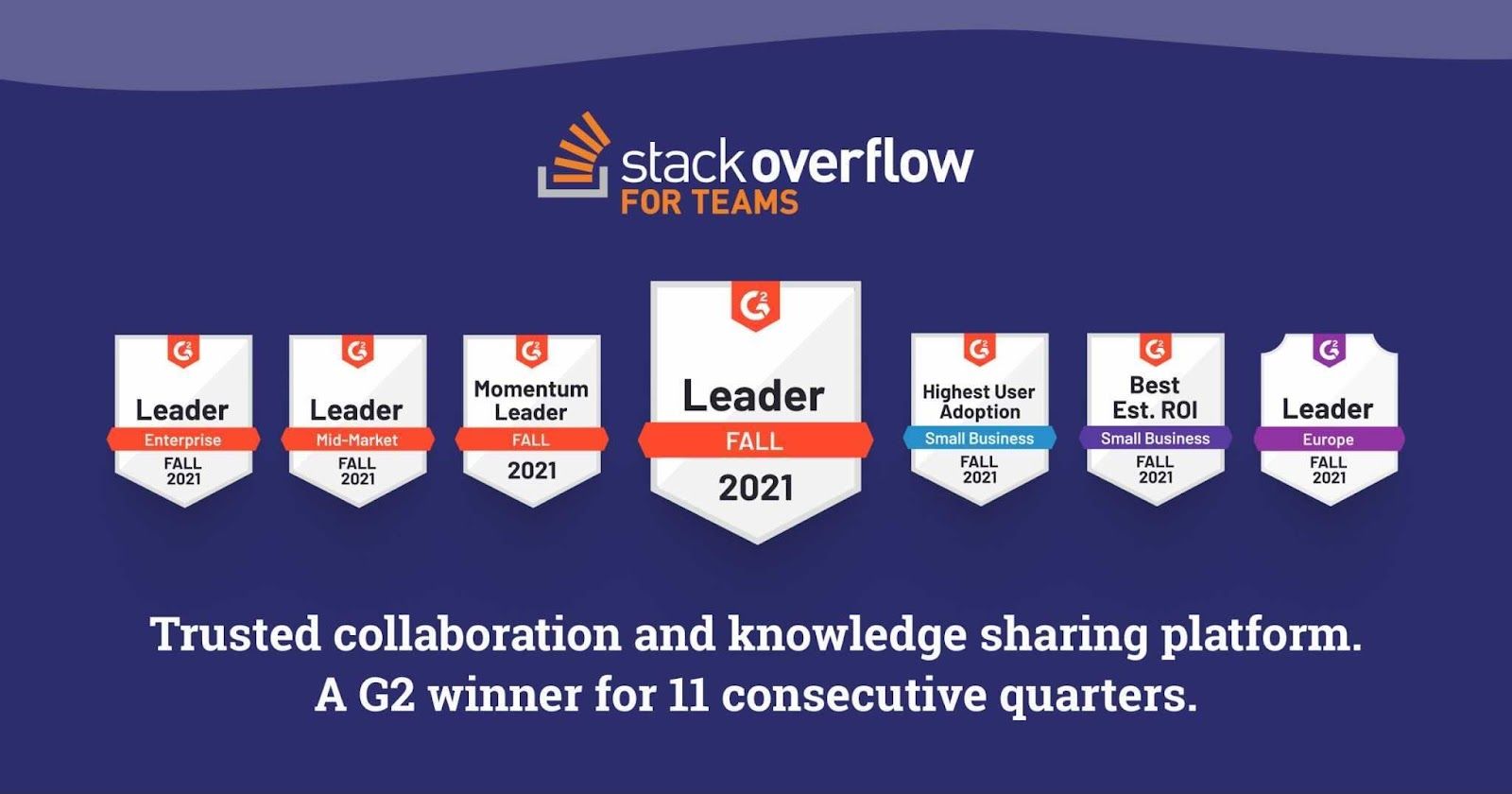 We're continuing to work with customers to build communities on Stack Overflow through our Reach & Relevance products, which consists of banner ads, tag sponsorships, podcast, the newsletter, and blog sponsorships, and finally Collectives™ on Stack Overflow. We launched a new Collective—GitLab—and surpassed 20,000 members across all Collectives. Collectives on Stack Overflow are communities where developers can directly engage with technology organizations and find resources they need when they need them in one place.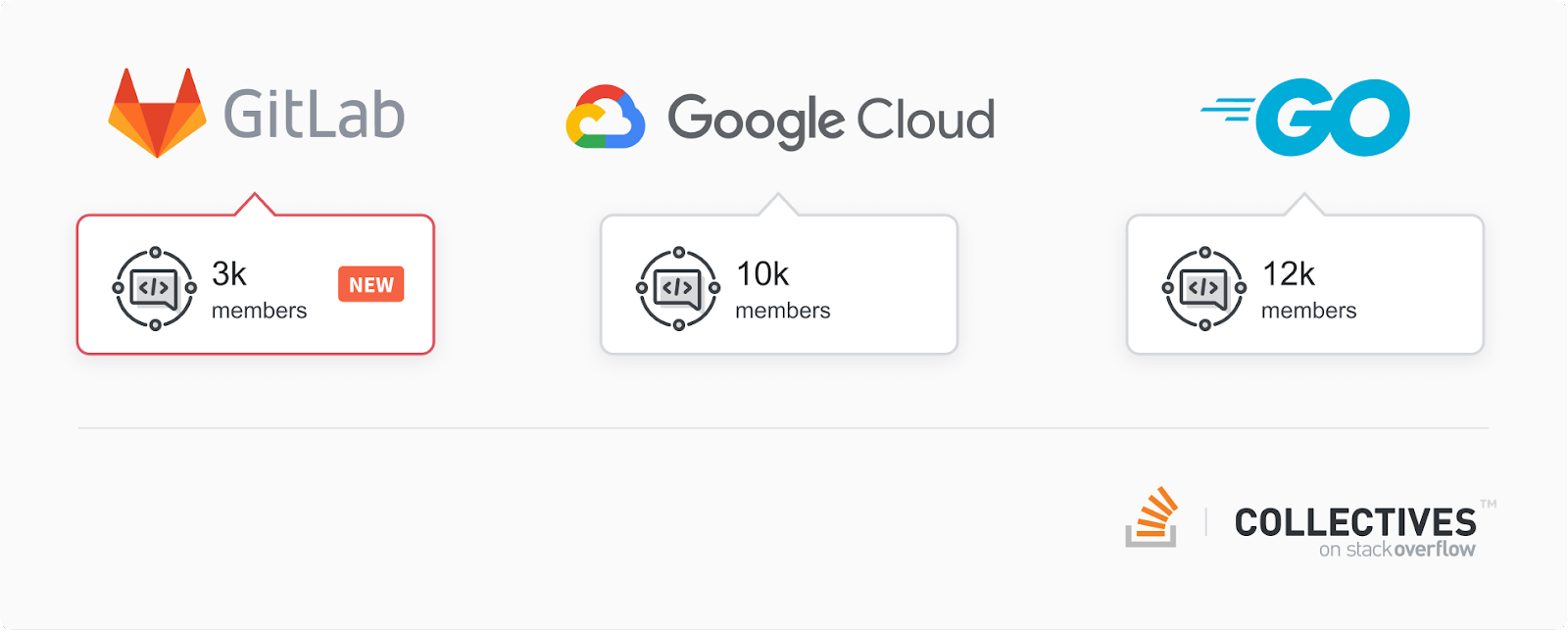 Our goal is to give developers direct access to the resources they and subject matter experts that can help them find answers when they need them. Our customers can also get deeper insights into who is interacting and engaging with their content and technologies on Stack Overflow. For every technology vendor we work with to launch a Collective, our goal is to do the same with an open source partner.
Diversity, Equity, & Inclusion
We've rolled out a few new initiatives internally over the last few months, including our first DEIB-dedicated (Diversity, Equity, Inclusion, and Belonging) quarterly newsletter, a calendar of important days with educational materials, and new tools to help us measure DEI metrics within Stack Overflow, and DEI-related competencies for our performance reviews framework to help hold us accountable. We're ramping up regular programming to help scale and replicate the success of the Asian and Pacific Islander and LGBTQ+ panels we hosted last quarter. There's always work to be done, but we're making steady progress towards a more diverse and inclusive Stack Overflow within our organization and across our platform.
Looking ahead
With the Prosus acquisition complete, we're excited to accelerate our plans for international growth and expansion. We're cautiously moving forward with optional return to office plans in New York City and London and continuing to hire remote employees all over the globe.
This month, Comparably named Stack Overflow as one of the highest-rated companies for overall happiness, compensation, and perks and benefits. We've already filled over 180 roles in 2021 thus far and are currently recruiting for over 70 open roles (and more being added daily) across nearly every department and time zone. With more than 80% of Stackers permanently remote, we're also finding creative ways to stay supportive and connected long-term.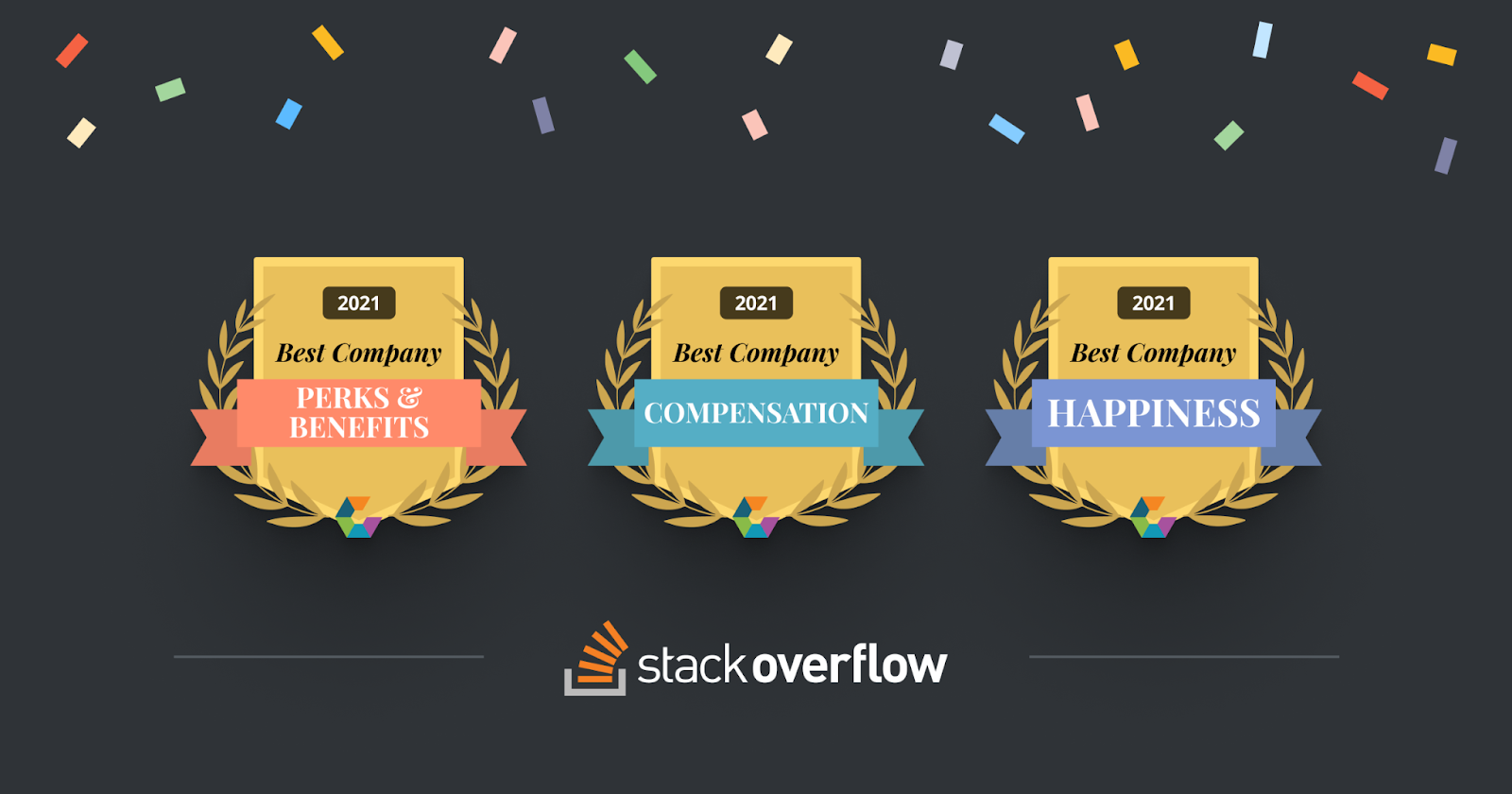 As we sprint towards the end of 2021, we're focusing on the foundational priorities that got us here: operational scale and repeatability, Stacker growth and development, and community health and growth. The Prosus acquisition is allowing us the flexibility and resources to scale our team faster so that we can reinforce our foundation, serve our community at scale, and prepare for takeoff in the year ahead.