It's awards season and since none of the awards shows recognize a film or TV show for "most accurate portrayal of developer," we decided to invent our own little circuit. There's been no shortage of developer appearances and portrayals of coding on the silver screen over the years. Whether it's a hoodie-adorned teenager coding in a basement or a supermodel hacker who coincidentally also works for MI6, Hollywood loves to stereotype. The coding whiz is a classic character, but has anyone ever captured an accurate depiction of developers on the big screen? We asked, and over 350 developers answered. Here's what we found.
Best depiction of a developer in a TV series goes to…
Silicon Valley. If you haven't watched, the HBO series follows the awkward and ambitious developer Richard Hendricks and his friends as they navigate their way through the world of tech-startups. The satirical comedy takes them through hyper growth, hyper crash, investment woes and booms, and the ultimate face off with the industry giant that brought the group together in the first place.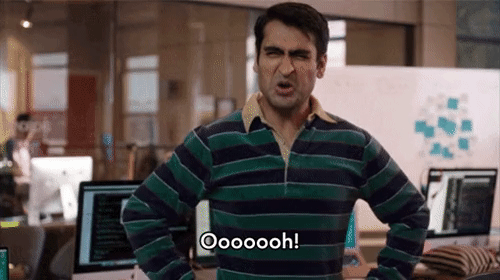 The show is said to be partially inspired by co-creator Mike Judge's experience as a software engineer in the 1980s. That may explain why developers voted Silicon Valley as the most accurate depiction of developers by a landslide (40%) across movies and TV shows. The dark drama Mr. Robot (15%) came in second and British sitcom The IT Crowd (14%) was a close third.
Best depiction of a developer in a motion picture goes to…
The Social Network (40% across all movies and TV shows). From Harvard to Silicon Valley, the movie follows the founders through the creation and rise of social networking giant Facebook, including the fight for ownership along the way. The narrative is said to use a lot of real life events as its foundation, then dramatizes for Hollywood and casts a 90s pop icon as a co-founder, obviously. The Matrix (6%) and Hackers (4%) deserve honorable mentions, albeit a rather distant second and third place.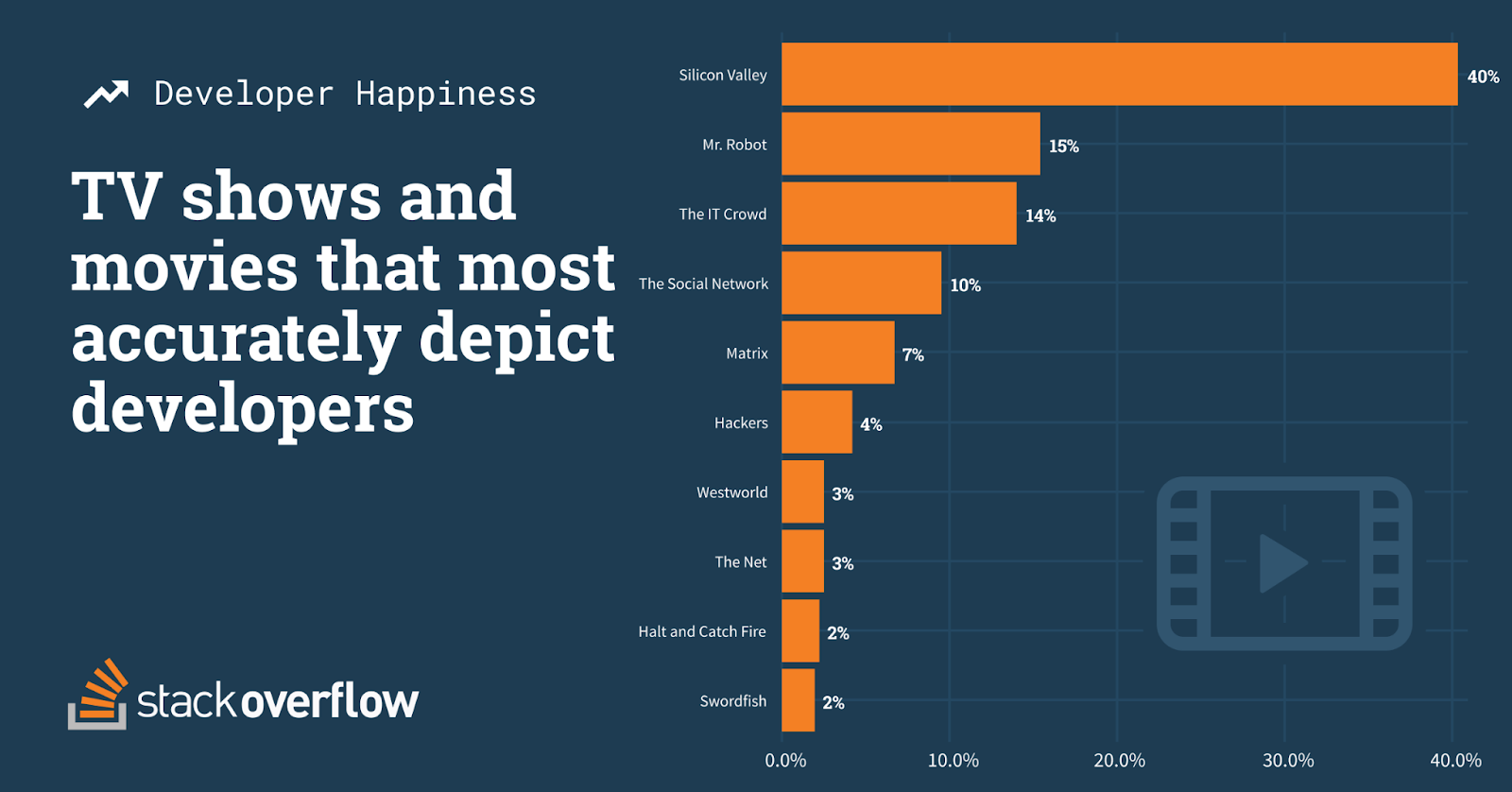 Best coding music is everything and nothing.
There's no Silicon Valley of coding soundtracks. We asked developers what their favorite music to code to is, and it's all over the place. Perhaps too close to declare a clear winner. Rock (32%), electronic/dance (27%), classical (25%), pop (23%), lo-fi (22%), hip hop (20%), metal (18%), and jazz (17%) all cracked the top 10. So did silence (19%).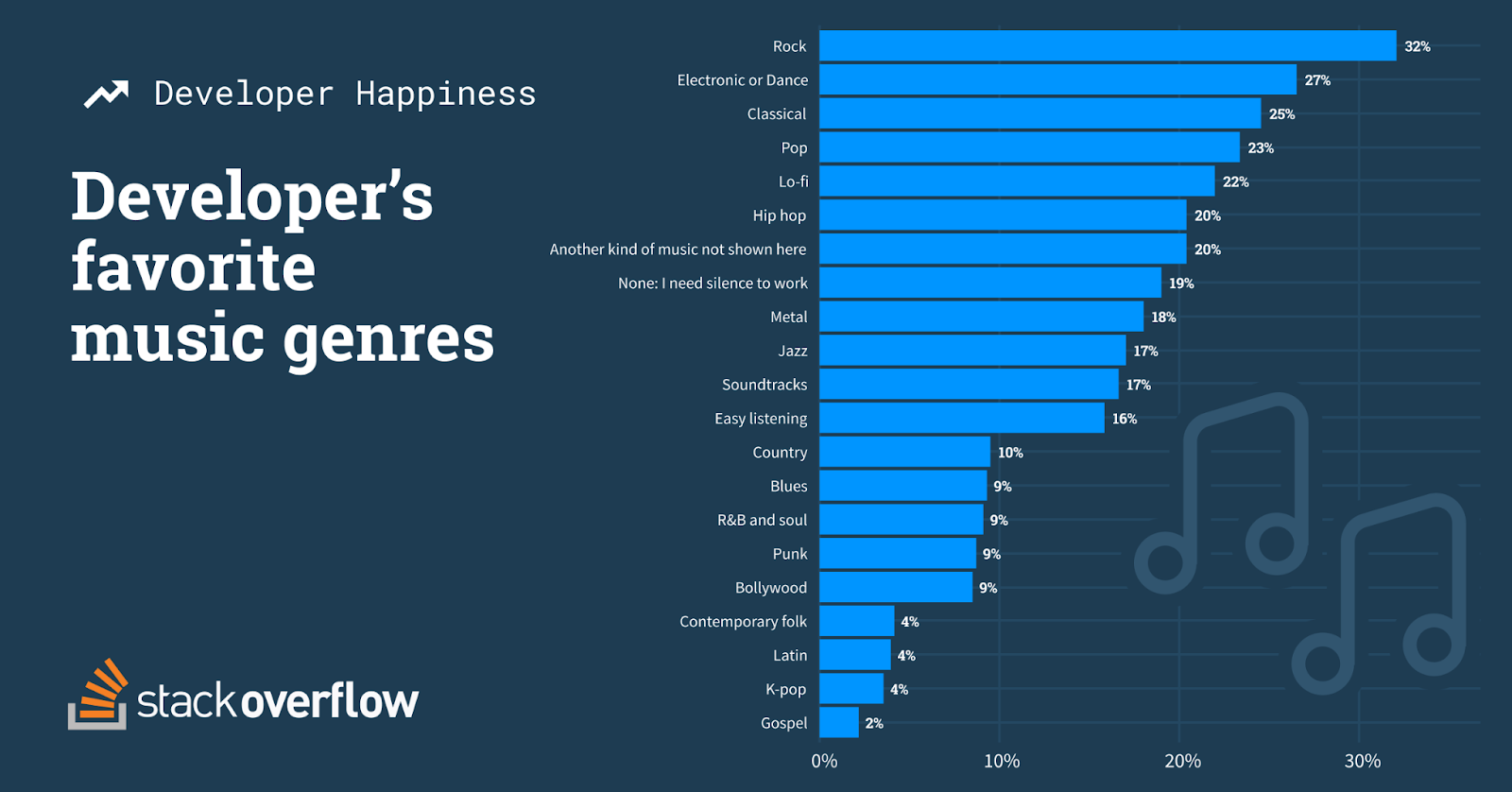 Interestingly enough, just under 17% said soundtracks are their favorite music to code to—perhaps one of these. For a deeper dive, take a look at more data around what folks listen to when they code from our Developer Survey a couple years back.
If you want to add to a playlist that makes you feel like a hacker, check this one out from our post, Tips to stay focused and finish your hobby project.
Conclusion
What's abundantly clear is that developers relate to TV shows and movies that are born from true life experiences. Translating that to the big screen isn't an easy task, no matter how big the budget or stars. How did Silicon Valley and The Social Network get it right? Their origin stories.
When it comes to music, don't put developers in a box. Preferences are all over the map. Literally. Coding music preferences were diverse even when we examined data by country or region. We like what we like, am I right?
We hope you enjoyed this edition of Stack Overflow Knows as much as we enjoyed digging into the data. Keep an eye out for our next edition of Stack Overflow Knows coming in April. What are we tackling next? Here's a hint—it might be our most polarizing topic yet.