This is my fourth in a series of quarterly CEO blog posts. As I reflect on my first year at the company, I'm more excited than ever about our path ahead and the transformation that is underway at our company to realize our full potential and mission.
I came across an interesting question on MathOverflow recently. It asked for examples of mathematical models to explain the structure of spider webs. One of the key properties of these beautiful creations is that they can avoid concentrations of stress, even when some of the threads are broken. Spider webs are a remarkable example of resilience.
This month marks my one year anniversary since joining Stack Overflow as CEO. When I left Texas in October and spent months working from our headquarters in New York, I never could have imagined the road ahead; for myself, for this company, and for the entire world. Our office in New York is empty today, our global team is working remotely, and I'm back in Texas. But our mission continues. Through all the challenges, one of the things I have observed with admiration is just how adaptable and resilient we can be as an organization and as a community. To our employees, our customers, and our community, I want to give my thanks for your perseverance.
There is a lot for our company to be proud of and we have some exciting work ahead of us. We completed an important round of fundraising while navigating an ongoing pandemic. We have seen significant growth in our Stack Overflow for Teams business as remote, asynchronous work becomes more critical to success, and we enter Q4 with record amounts of interest in the product. We've found that our customers want to be able to create a Team quickly, which is why we've now enabled a self-serve option for our Business plan of Teams. Starting this week, you can create a new Team, invite folks, and start sharing information within minutes.
During my first quarter with the company, we all met up in Austin, Texas to connect and plan for the upcoming year. This year, we held a company-wide virtual meetup to lay out our 2021 strategic goals and unified product strategy and vision. We have followed a unique path and approach, one that started with establishing a community, coalesced around a brand, and is now focused on building products based on what we have learnt from our users to make their lives more efficient and productive. Below is a slide I shared with the entire company during our virtual meetup that highlights our two strategic priorities and three foundational pillars for 2021.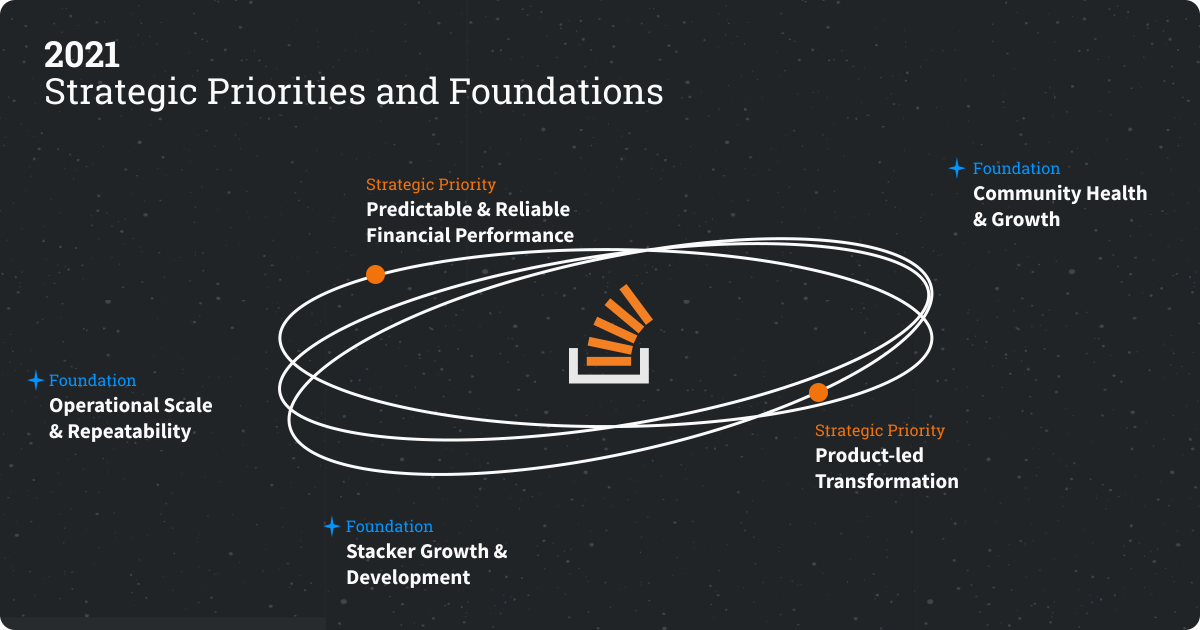 As I look ahead to my second year at the company, my team and I are focused on helping our global community of users and customers build and maintain connections. At Stack Overflow we are focused on creating platforms and products that help users and customers to share information, build their knowledge, and collaborate more efficiently. Whether it's Stack Overflow, our technical Stack Exchange sites or Stack Overflow for Teams inside organizations, we are in the business of building digital communities, and the connections one finds in these groups are more essential in this increasingly remote world than ever.
Building Bridges in the Community
The challenges we face today as a result of the pandemic are acutely felt by students and recent graduates who are trying to complete their education or find a start to their careers. We know from our Developer Survey and social media that our public site is utilized actively by students learning to code, and we wanted to learn from them as well. New York City's Summer Youth Employment Program (SYEP) is the nation's largest youth employment program, historically connecting NYC youth between the ages of 14 and 24 with career exploration opportunities and paid work experience each summer. Stack Overflow recently took part in SYEP's Summer Bridge 2020, helping a cohort of young learners to get first-hand experience with the tech industry.
Many of these young learners have visited our sites when they needed help with a technical problem, but not as many had taken the next step of contributing their own questions and answers. We asked them to form groups and present us with ideas for how to increase participation. We are considering their suggestions for educational content and working to make the rules of our communities more transparent and accessible.
We continue to focus on improving our working relationship with the community and to address long standing issues. We have read the letters, meta posts, and comment threads from passionate users who sincerely want to help improve our sites and to make this a place where everyone feels safe and welcome to contribute.
Our users had also been asking for us to move our editor over to highlight.js. It's open source and actively maintained, so we thought it would be a better bet for the long term than Prettify, which was discontinued in April. This is a nice example of work from our Stack Overflow for Teams group migrating over and making a difference on our public Stack Overflow website. You'll see more interplay and mutual benefit between these two products in the future.
Our community team also put tremendous effort into a Ticket Smash event, working our way through a backlog of requests, bugs, and fixes. We made it through all 631 tickets in those two weeks. The team worked on issues that our moderators escalated and got a much better understanding of what our moderators face every day. Their tireless work on behalf of the network is always awe inspiring.
We are also working hard to make our community more diverse and inclusive, and that means prioritizing racial equity efforts and taking steps to help fight racism in the tech community and beyond. On that front, our leadership team has continued to make good progress in close partnership with the company's Black and Brown Affinity Group (BnB). The BnB group has identified a short list of companies with which we hope to partner in order to assist them in their work through in-kind contributions of our products. Internally, we are making more resources available to our employees, and we recently published a formal Diversity, Equity, and Inclusion Policy that includes an update to the company's hiring policy. Look out for more updates in these quarterly CEO blog posts and across all of our channels.
Investing in Stack Overflow for Teams and Transforming into a Product-led SaaS Company
What does it mean to be a product-led company? To us, it means focusing on solving users' problems to drive adoption and engagement, creating viral growth for our products. Rather than relying heavily on sales and marketing, we deliver value to our users and provide natural avenues for them to expand their interaction with our products, in a self-serve manner. We've been user focused as a company since our public platform was launched over a decade ago, so this is an extension of that thinking into our product portfolio.
Being product-led means solving real problems for our users within the product and allowing data on product usage to guide our next steps on our roadmap. Putting the user journey front and center lets us leverage the strength we have as an organization - learning and feedback from our public community. We want to push the solution closer to the user, giving them the choice and allowing them to decide when it's time to level up and add more features.
One of the best ways to understand where you can improve your products is by working to adopt them into your own daily use. Since my last quarterly blog post, we have rolled out a new powerful feature in Stack Overflow for Teams called Articles. The goal is to provide a new content type—long form prose (with Stack Overflow's familiar principles) — that can sit side by side with shorter Q&A for developers and technologists to share policies, how-to guides, product launch retrospectives, and more. Teams can then organize Articles and Q&A into Collections, providing a single source for all knowledge on certain topics. This combination of Q&A and longer form content is a powerful mechanism for efficiently sharing comprehensive technical knowledge within organizations. You can check out these features for yourself on the new Stack Overflow for Teams Tour page for our Business tier.
Within our company, our teams have been working to migrate information from wikis, FAQs, and other forms of documentation into our own instance of Articles. It's given us a new perspective on how we can be most efficient and supportive when onboarding new employees, drive distributed teams to collaborate and engage employees irrespective of their location or function ---- and how that process can actually result in high value documentation that helps the entire team be more connected and aligned, asynchronously.
For example, Josh Duffney, a site reliability engineer, joined the company in June of this year and began asking lots of questions on our internal instance of Stack Overflow for Teams. Through this process, something that in the past might have been done with shoulder taps, lunchtime chats, email threads, or casual messages in a work chat, he was transforming something intangible into digital artifacts that everyone on the team could use and improve. "A lot of what I have been learning and committing to Stack Overflow for Teams is institutional knowledge. A good example is how to test our Terraform modules. I can ask that question, record the answers, and then bring a bunch of Q&A together to create an Article that documents the difference between my assumptions and the reality." Our clients have created hundreds of Articles, and the feedback we have been getting from them will be invaluable as we work on the next version of this product.
We are especially excited for what's to come. Our Series E investment means a large investment in our Stack Overflow for Teams product, so it can be more useful to current users and much more widely adopted. We have many exciting product innovations and announcements to come through the end of the year and into 2021, like a deeper partnership with Slack that was teased a bit at Slack Frontiers earlier this month. We are partnering with them on their Org-Wide app, which is available now for select enterprise-level customers and will be rolling out more widely soon. We are excited to continue deepening the integration between our workplace toolkits. The combination of leading synchronous collaboration tools like Slack with leading asynchronous collaboration tools like Stack Overflow is a powerful efficiency driver for developers and technologists.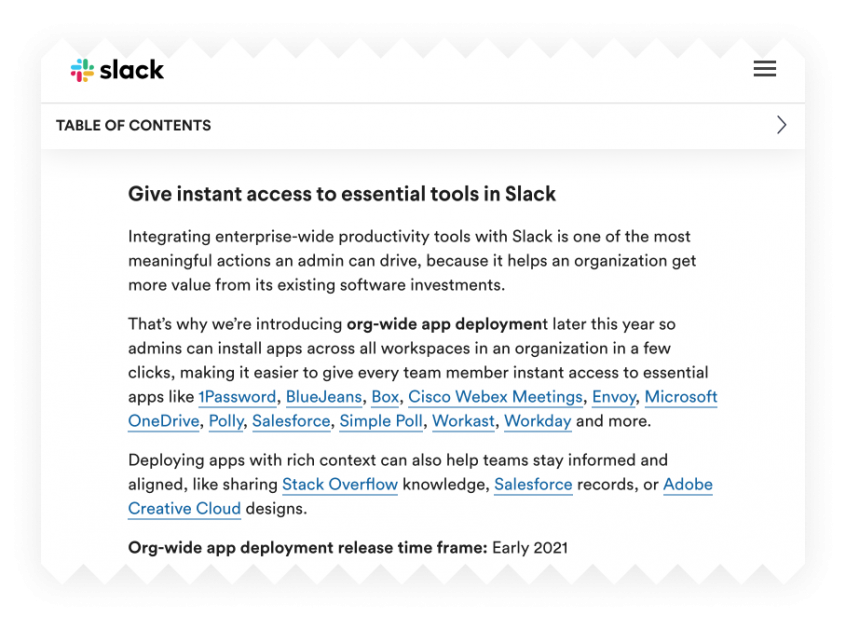 At the beginning of October, we also announced the completion of our SOC 2 Type II audit for our Enterprise tier of Stack Overflow for Teams. This reinforces that the controls we put in place match trusted requirements, including international security, and that our Enterprise customers using Stack Overflow for Teams have their data well guarded.
Finally, we released Enterprise 2020.2 for Stack Overflow for Teams (Enterprise tier) which included a power-packed set of features for our Enterprise customers including Articles, Collections, User Groups, Dark Mode and Question Following.
Advertising and Talent
The third quarter saw the highest number of ads transactions on our platform in the company's history. One of our clients during this period was Twilio, which used our Direct to Developer program to get their technical blog posts in front of programmers searching for similar topics on Stack Overflow. Following the launch of their campaign, traffic to many of these articles doubled or tripled, with the monthly readership in some cases increasing by a factor of ten. "There is tons of content that before wasn't really getting much attention and now we see a lot of traction," says Troy Blanchard, a senior manager on Twilio's marketing campaign.
With Stack Overflow, Twilio was able to reach developers on their second screen, the knowledge base visited by over 100 million developers and technologists each month, many of whom visit the site multiple times a week to find help with coding questions. "It's been this smooth journey from looking up a question on Stack Overflow to finding interesting content to learning more about Twilio. It's hitting home with the developer audience."
I think one of the reasons Twilio's campaign worked so well on Stack Overflow is that we share the same values when it comes to advertising. Stack Overflow ads continue to be simple. You won't find animated GIFs, videos, or pop-ups. But for Twilio, that's not the point. Relevance, reach, and respect for the audience are the keys to success when trying to reach programmers. The key is to have share of mind on the site most developers visit multiple times a week. "Our chief product officer asked me, are we doing stuff on Stack Overflow?" explains Blanchard. "As the product officer, he's not asking to see a Twilio billboard every time he goes to the airport. He's thinking, I want people to see Twilio when they are in the act of building something with code."
Regarding our Talent business, while there is still uncertainty around companies hiring in the midst of the pandemic, we have been seeing consistent and steady month-over-month growth from our low point in March. The volume of interest is increasing, a strong early indicator that the market is improving. Our team continues to find new ways to adapt to our changing market conditions. We added new features to our reporting toolkit so Talent customers can track their follower growth and new products so that companies without immediate hiring needs can continue to invest in building overall awareness and mind share for their brand among developers. And new features, like Company Awareness, allows brands to stay top of mind with developers and strengthen their candidate pipeline even when they aren't directly listing openings.
When I think about what's happening with workplaces these days, it's becoming increasingly clear that office life for most knowledge workers is unlikely to return until the summer of 2021, and even then, many big tech companies have declared that workers who have moved remote during this period can continue to operate far from cities or campuses. A recent piece in the New York Times found that a growing number of companies are delaying the reopening of their offices or allowing employees to remain remote indefinitely. According to a recent study, 73% of U.S. employees fear that returning to an office would pose a significant risk to their health.
Our senior staff have been contributing to the blog, sharing advice on hiring, communication, and professional development for a distributed workforce in a remote world, sharing our own experience with these tectonic shifts across industry and labor. Luckily we have experience building communities online. The New York Times cited us as a place to learn, network, and search for new employment opportunities. And speaking of jobs, we have a new Careers page up and lots of open positions we are hiring for here at Stack Overflow.
Looking to the Future
Stack has always been about enabling asynchronous collaboration, and the visitors who rely on us for answers come from every corner of the world. That approach is becoming increasingly valuable in a time when so many offices are closed and colleagues are working remotely from home. We have seen the move to remote reflected in usage of our sites, with many companies expanding their use of cloud services and remote deployments.
For example, May, June, and July saw the highest number of new questions being asked for AWS, Microsoft Azure, and Google Cloud Platform, with some months reaching as high as 50% more questions than the same time last year. I am also so excited to see the interest in transformational technologies continuing to accelerate on Stack on sites like Quantum Computing Stack Exchange, Artificial Intelligence Stack Exchange and Open Source Stack Exchange.
Our public site has now reached a tremendous milestone, with over 20 million questions asked and answered on Stack Overflow alone. It was designed from the ground up to enable users from anywhere in the world to collaborate asynchronously in order to build a powerful repository of information.
With Stack Overflow for Teams, companies like Bloomberg, Box, and Microsoft are building incredible knowledge bases within their own organizations. I'm excited about our ongoing research into creating new meaningful and thoughtful ways for developers and technologists to connect with each other and more directly with technology companies that are building sub-communities on Stack Overflow. We have seen companies like Snowflake and Sencha move developer support from internally developed forums to Stack Overflow, an effort to meet programmers in their workflow, at the place they already visit several times a week.
There is a lot more potential we can explore when it comes to helping companies support their platforms and technology by connecting their experts with the users seeking information on our sites. Since Snowflake switched their technical Q&A to Stack Overflow in 2019, questions with its tags have grown substantially.
Traditionally, a company would start with a product, build a brand around that, and see a community form around the use of their product or the spirit of their brand. At Stack Overflow, we have done just the opposite. We began with a community and a mission to democratize access to information on code. Over time, collaboration and knowledge sharing became the core of our brand. Last but not least, we built products that grew out of the foundation our community had created and out of what we learned from crafting great Q&A systems for them to use. When people ask what our story is these days, I tell them it's quite simple: we are in the business of building great technology communities. As developers and technologists increasingly find themselves sharing knowledge and collaborating in a remote and asynchronous environment, our mission has become more important than ever. Thank you for continuing to support it.
We are happy to hear your comment below or in our discussion post on Meta Stack Exchange.