The last year has been a time of re-evaluation and opportunity for technology professionals. The rise of remote work, the Great Resignation/Reshuffle, and "quiet quitting" all demonstrate how fast the workplace is changing, especially amidst recent economic uncertainty and layoffs in the tech sector. In October 2022, we surveyed 2,600+ tech professionals to learn more about the wants, needs, and expectations of developers when it comes to the companies they work for and the work they are doing worldwide.
Most technologists would take a new job, especially young tech talent
While not everyone is actively searching for a new job, most are open to considering new roles. 74% of technologists are actively looking for a job now or are open to new opportunities, which is consistent with last year's survey (also 74%).
Younger developers are more likely to be actively looking for their next role. We see the highest percentage of active job seekers with the 20-24 year-old cohort (27%), 21% for 25-34 year olds, 17% for 35-44 year olds, and only 12% for 45-54 year olds. Additionally, the percentage of young developers actively searching for their next role increased nine points year over year (22% in 2022 versus 13% in 2021). This rise in young job applicants, combined with two-thirds of 20-24 year olds indicating they were either working in their first job or have not started their professional career yet, suggests a wave of new tech talent is ready to enter the workforce. What's more, the 20-24 age group is succeeding at finding new jobs: 27% have obtained as many roles as the average person in the 25-34 age group (3 or 4 professional jobs under their belt). Younger people are accepting new jobs more frequently, and the data shows they are hungry for more.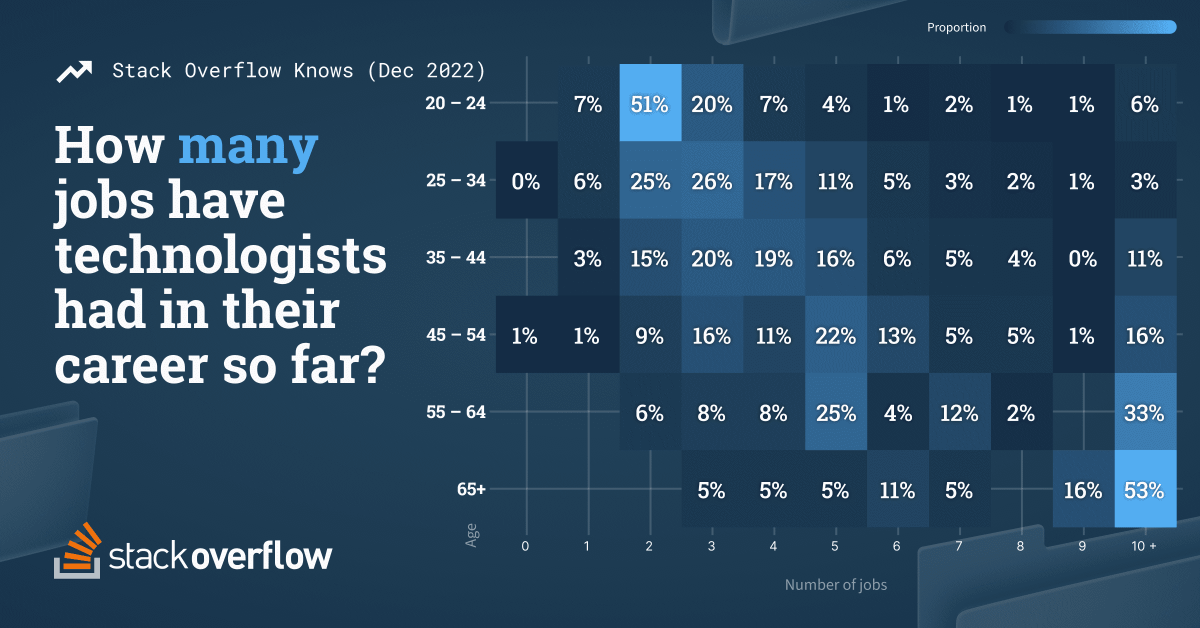 Money can't buy you love, but it's a good reason to job hop
There are many reasons developers may be actively looking or open to new job opportunities, and there can also be compelling reasons to stay in their current role (cue "Should I Stay or Should I Go" by The Clash). Over half of respondents agreed a better salary is still the largest motivator when considering a new opportunity (54%). Our data also shows that experienced developers are more concerned with better pay than growth and leadership opportunities (57% vs. 37% of 35-44 year olds and 62% vs. 38% of 25-34 year olds). Across different team roles, better salary is a top motivator, as well (61% for individual contributors and 58% of people managers).
While salary remains a primary motivator for developers in the United Kingdom, European Union, and Latin America, the desire to work with new technologies came in second as a reason to leave a role. In fact, the number of Latin American respondents ranking working with new technologies as a motivator increased from 44% to 59%, while less respondents from the EU and UK listed new technology as a motivator, dropping from 55% in 2021 to 43% this year. Additionally, 38% of EU/UK respondents are not interested in new job opportunities this year, which is an increase from last year (27%). This uptick could be related to the economic downturn much of the world and Europe is experiencing and may indicate a growing desire on the part of European workers for stability and familiarity.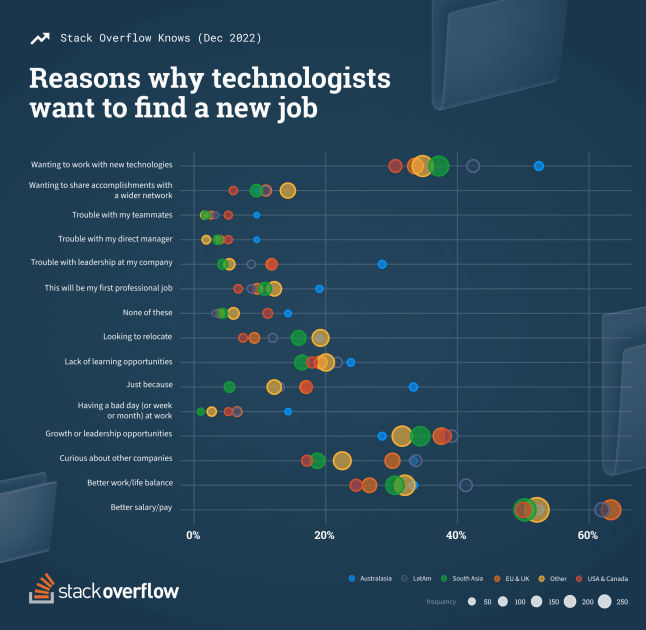 Developers do their (job) research
For those looking, finding new job opportunities and researching potential employers can be a daunting task. With more jobs and job-seekers than ever before, how are companies standing out amongst the competition for tech talent?
Developers most frequently discover companies they may want to work for in the future through word of mouth, with 46% of all respondents using their personal network. Across all age groups and among independent contributors vs. people managers, this number is consistently high. For the cohort with the highest ratio of job seekers—25-34 year olds—the most popular resources to find out about future employers behind their personal network are company reviews (41%), other media (34%), and company media (33%).
Finding a job is not a linear process, so it makes sense that job seekers check review sites (like Glassdoor or Blind) because they are evaluating a company's reputation before they put effort into applications and cover letters. When the rubber hits the road and it's time to start submitting applications, all age groups highly rate using company reviews from third-party sites (55%), which is higher than those who did so while considering future employers (34%).
While employers would be wise to note these trends amongst job-seekers, let's not forget the interview process. Respondents revealed that many stop pursuing a job when they get another offer (31%), when there is a lengthy hiring process (25%), or the interview is disorganized (34%). 19% of respondents cited not being able to find enough information about what it is like to work for a company as their reason to stop pursuing a job, and our highly-active 25-34 age group cited this reason most (22%). Perhaps the reason why review sites are so popular for researching an employer when actively searching is due to the fact that the information applicants want is hard to find.
What keeps tech professionals from looking?
We've looked a lot at the technologists who are considering leaving their jobs—what factors convince them to stay in their current role? Flexibility (58%), salary (54%), and learning opportunities (54%) prevent developers from checking job boards. Not surprisingly these qualities are all rated higher by independent contributors than people managers, with people managers valuing leadership opportunities moreso (37% vs. 27%). Regionally, respondents in the USA & Canada rate salary the highest (62%), and EU/UK respondents rate flexibility the highest (68%) in their current jobs but rate salary the highest for new jobs (72%) among all cohorts.
Respondents cite a focus on the developer experience (42%), the product or solution the company is selling (35%), and learning from individuals outside of their team (34%) as the top factors that make a company more appealing to work for now or in the future. The 25-34 year old age group, whom we know are more likely to be looking for new roles, rate developer experience (47%) and the product the company is selling (39%) higher than their older and younger peers. This is particularly noteworthy given that this group turns to company-owned or news media to research employers, supporting the idea that attracting talent goes beyond a job posting and into deeper questions of the business and employee experience as a whole.
We specifically asked our users about their experience at work. More respondents (53%) agree/strongly agree that "waiting on answers to questions often causes interruptions and disrupts my workflow." Most disagree that knowledge silos are preventing them from getting their work done (26%) but also agree that they often answer the same questions repeatedly (46%). Interruptions and waiting for answers add up over time, creating a dissatisfying work experience for developers.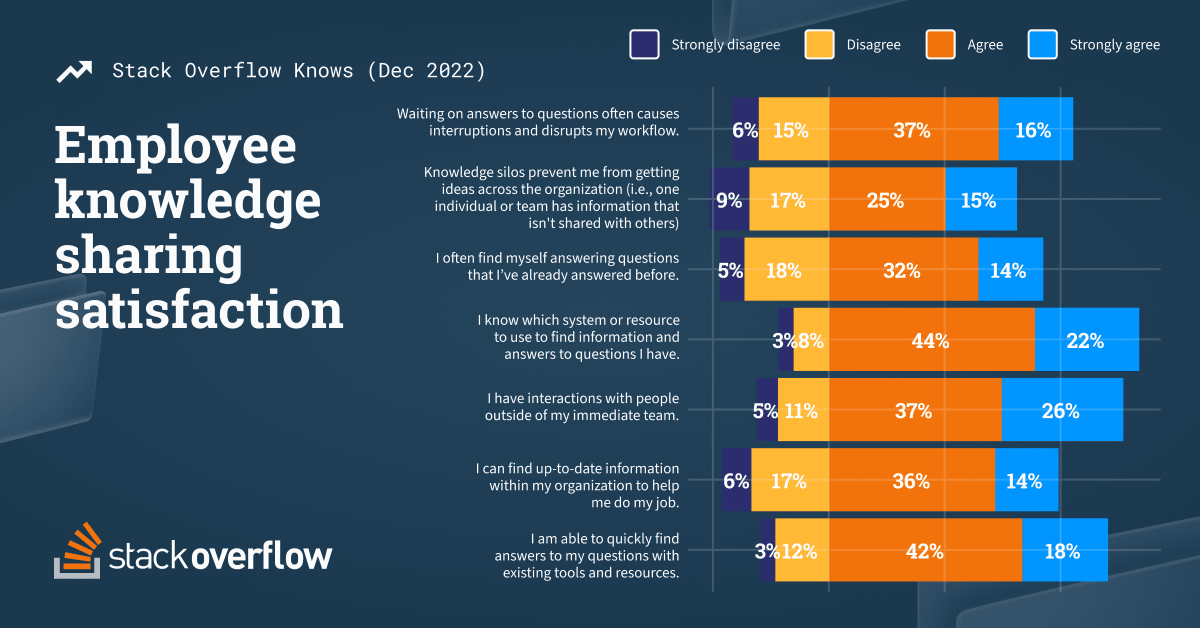 Complementing the benefits and perks of a job, technologists say starting/ending the day at a precise time (46%), being expected to work from an office (44%), and lacking the resources to be confident in their work (43%) are the top drawbacks from their current roles. Flexibility and lack thereof has been a consistent theme in this survey's results, and a lack of resources and accurate answers is a notable addition to the tools developers cite as important.
The workplace continues to change with the influx of new and experienced tech talent and companies adjusting to trends we've noted here about on-the-job experience. Young tech talent, in particular, will be reshaping the way companies attract and retain employees in the new year. Organizations will need to focus on how to adequately inform developers about their products and workplace culture not only in the job description but in the ever-evolving technology conversation happening in the news, on review sites and in other media.