It's hard to believe we're already four weeks into the New Year, especially as everything we have to celebrate from 2021 is still fresh in my mind. 2021 was a momentous year—not just for Stack Overflow, but for the tech industry at large. We welcomed over 250 Stackers to the company, added over 750,000 new members to the Stack Overflow community over the last quarter, and our business finished the calendar year by overachieving on our annual sales target with a record number of new logos for Stack Overflow for Teams. We even saw record engagement through our annual Winter Bash (or Summer Bash depending on your hemisphere), which is our end-of-year tradition that rewards users for engaging across the public platform. It was a great year for the company and the community, and we are so grateful to everyone who joined us and for those who continue to contribute to collective learning across the platform.
From an industry perspective, the transition to a new year is a common time for folks to reflect on the year they are leaving behind and their hopes for the year ahead. "The Great Resignation" led to some developers seeking new jobs, especially while a record number of companies raised funding and went public, prompting major growth industry-wide.
There are over 70,000 technical jobs open while roughly 80% of developers are not actively looking for a new job. At Stack Overflow, we hired over 250 team members in 2021 and are planning to hire close to the same number in the year ahead (check out the roles currently open). Naturally, we turned to the community to see what's most important when evaluating current and future employers to inform our own recruiting efforts and how we serve the community and our industry at large.
Developers are craving flexibility and opportunities to learn at work. If they aren't getting it, they are looking elsewhere. Developers often set the tone for the rest of the tech industry. As we dive into 2022, all employers need to prioritize flexibility and opportunities to learn. The future of work is the future of continuous learning.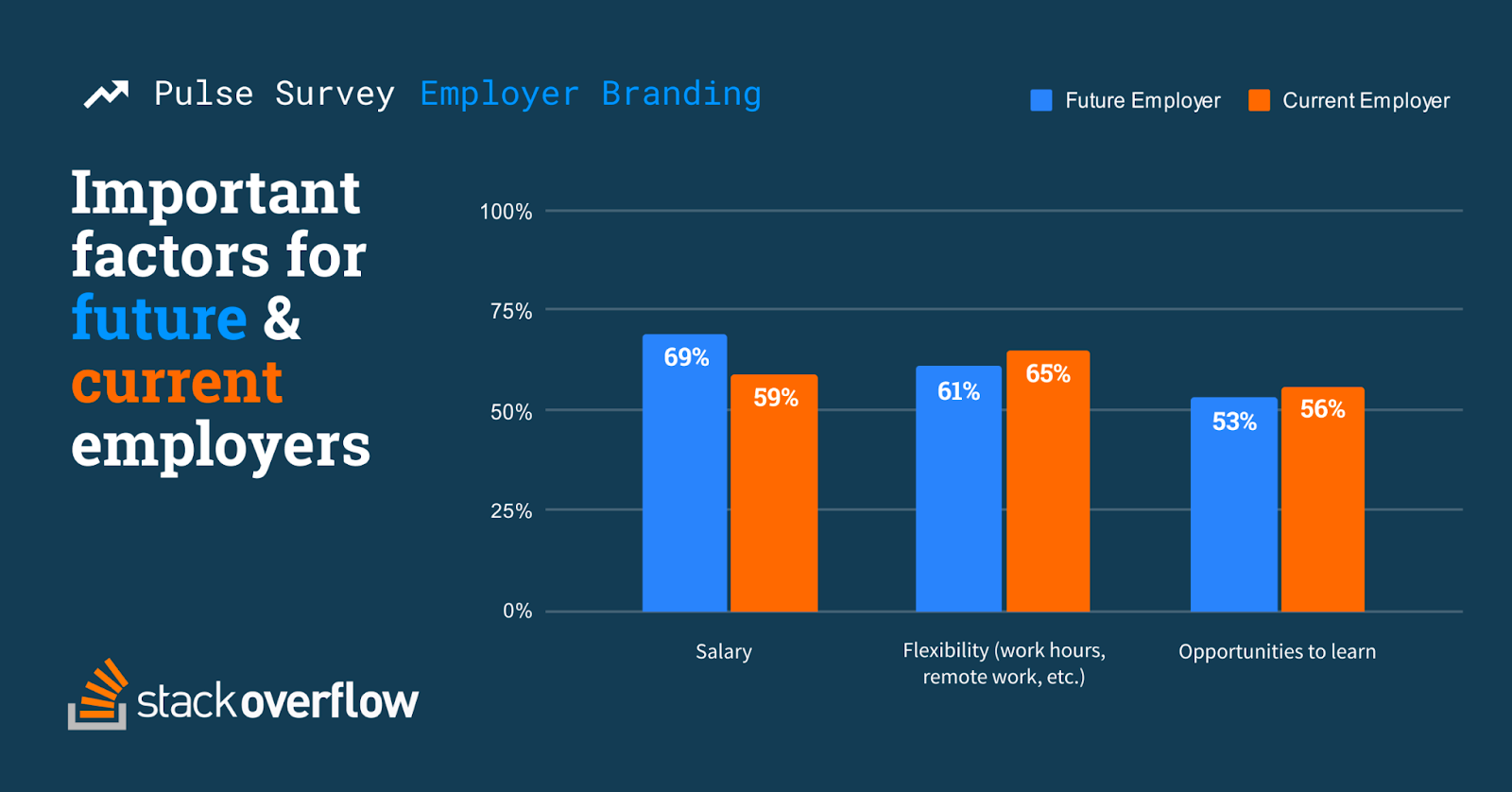 We're living in challenging times, and creativity is required to succeed. Whether it's addressing pressing problems like employer branding, getting a tricky implementation to work, or simply figuring out who to go to for context, our goal is always to get people the answers they need, when they need them. That means having the solution at the right time where someone is looking for it. That was our guiding light through 2021 and will continue to be our guiding light for the public platform, Stack Overflow for Teams, Advertising, Employer Branding, and Collectives™ on Stack Overflow.
Powering the community by empowering the community
Stack Overflow was built by the community, for the community. Investing in community health and growth continues to be our number-one priority. In addition to welcoming more than 750,000 registered users over the last three months, the team awarded almost a million virtual hats for engagement across Stack Overflow and Stack Exchange sites during our traditional end-of-year Winter (or Summer) Bash. Special shoutouts to the language communities, which were some of the most active this year. Following Stack Overflow, the next three highest-ranked sites during Winter Bash were the Spanish, Portuguese, and Russian sites.
At the same time, 59 Stack Exchange sites graduated out of beta—one of our biggest graduating classes yet—making it easier than ever for people to find communities covering everything from DevOps to AI. Thank you to everyone who participated in Winter Bash and for all those who continue to contribute to the Stack Exchange network!
In mid-2021, we launched Collectives™ to connect the community with creators of the world's most popular technologies. Collectives continued to grow with the addition of the Intel Collective late last year and nearly 40,000 members joining across Google Cloud, the Go language, GitLab, and Intel communities. We also introduced Article Proposals this month—a brand-new feature that allows users to propose and contribute to Articles. This is the first feature that allows users to contribute long-form content on Stack Overflow.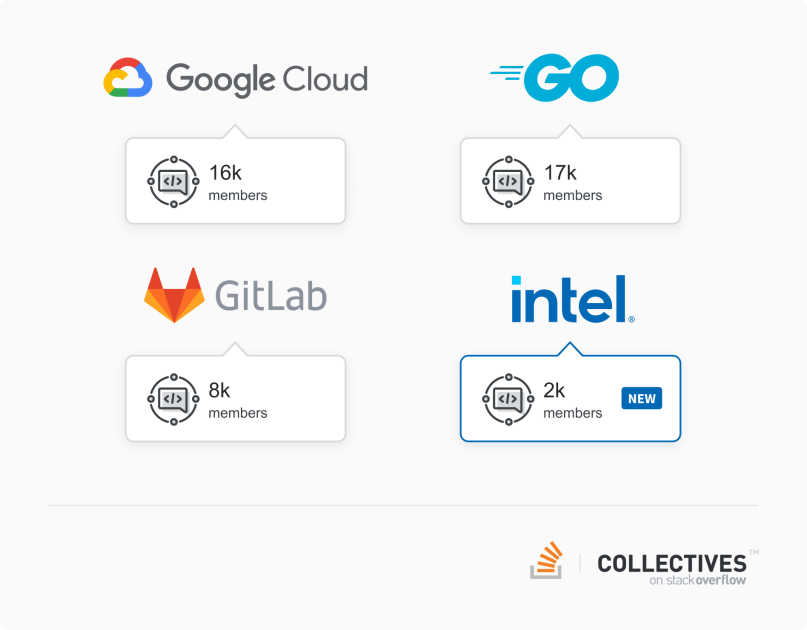 Fueling agility by driving the developer experience
It was hard to even engage in a conversation about enterprise tech over the last two years without discussing digital transformation (now an arguably overused phrase). Organizations across the globe were propelled into a world where they had to evaluate how their tech stack would adapt to remote work in the face of a pandemic. In 2021, organizations geared up to return to offices, then didn't, then did halfway, then returned home once again. The last year taught us that agility solves fragility. Nearly every customer I speak with mentions agile transformation as a top priority in the year ahead, particularly when it comes to enabling cross-functional, hybrid teams to accelerate their businesses.
We're doing everything we can to keep developers in their flow state, meaning we're dedicated to helping teams remove blockers or disruptions and solve problems in real time. We see this with organizations that struggle with scattered systems and channels, distributed subject matter experts (SMEs), undocumented institutional knowledge, or simply preventing disruptions. Insurance giant Progressive shared in a recent webinar how they keep knowledge flowing across teams, leveraging Stack Overflow for Teams' flexible API to visualize progress and reveal deeper insights into trending topics, questions, and concerns. Similarly, retail analytics powerhouse 84.51° faced a distributed team and a complicated post-acquisition period that made it challenging for their team to find SMEs across the organization.
"Stack Overflow broke down the barriers to be a recognized SME as much as it broke down barriers to learn from them." - Chris Wones, Engineering Lead for Merch Analytics and Operations, 84.51°
Shared resources and contextual knowledge at scale fuel highly agile environments. In many cases that means creating a centralized place for teams to ask questions, share institutional knowledge, and collaborate. In 2021, we welcomed more Stack Overflow for Teams customers than any year in our history.

It's incredibly rewarding to hear directly from customers how Stack Overflow for Teams is helping them scale, optimize workflows, and increase agility and innovation. We also made it easier than ever this year to help customers keep content up-to-date and work asynchronously without disrupting workflows. We introduced Content Health, an easy way to identify stale answers and build confidence in the content within Stack Overflow for Teams. Additionally, we released an expanded Microsoft Teams integration to make it even easier to ask questions, search for answers, and solve problems without context switching.
Getting recognition for our efforts is the icing on the cake. Thanks to our customer reviews, G2 ranked Stack Overflow for Teams as a leader for the 12th consecutive quarter! And it wasn't only our products that won awards last year: our company—and the Stackers who power it—was recognized as a great place to work by Built In's list of Best Remote-First Companies to Work and Comparably's list of companies with the Best Company Culture.
Looking ahead
Impactful organizations and healthy communities are successful because they exist in the right place at the right time. Stack Overflow is in the middle of the technology ecosystem, where significant transformation is underway and where technologists and developers are front and center. Our mission is meeting the challenges of this moment as we continue to work hard to empower the world to develop technology through collective knowledge.
Our financial growth this past year enabled us to dedicate more resources across the public platform and beyond, contributing to higher moderator and site satisfaction scores. 2021's hyper growth also means we're able to continue making significant investments in the community, the tech stack that supports it, and all our products in the year ahead. As an example, our recently hired head of Diversity, Equity, Inclusion, and Belonging (DEIB) will serve in an advisory capacity to our community and product teams as we continue to build and roll out features in the spirit of fostering an inclusive community.
I'm looking forward to this next chapter in Stack Overflow history when we will keep community at our center and welcome the next generation of technologists to Stack.