This time of year is always a special one. It is a time to celebrate with family and friends as another year passes by, reflecting on both positive memories as well as making resolutions for areas of improvement in the year ahead.
Here at Stack Overflow, it is no different, looking across the calendar year and seeing how much our team has accomplished and where we need to double down on efforts in the months ahead. In the spring, the world was (and still is) dealing with a variety of macroeconomic pressures—but we were determined to stay focused on our vision of what "Community + AI" could mean for the larger developer space. The launch of our annual Developer Survey only solidified that vision as more than 90,000 developers confirmed for us that there is no shortage of how you can leverage AI, however, there is one core deterrent in its adoption—trust in the accuracy of AI-generated content. 77% of developers are favorable of AI tools, but only 42% trust the accuracy of those tools. To address this, Stack Overflow's been determined to develop AI offerings that are highly trusted and attributed in the knowledge base of 58 million asked and answered questions on the platform and proprietary knowledge within Stack Overflow for Teams.
Stack Overflow's vision for community and AI coming together is the inevitable next phase of growth in GenAI's trajectory. Stack Overflow continues to be the go-to site for accurate, technical data that the future of GenAI will rely on. From the keynote stage of WeAreDevelopers World Congress in Berlin, we showcased early previews of six new capabilities and features of our OverflowAI offerings. Powering solutions from within both the Stack Overflow public platform and our market-leading SaaS product, Stack Overflow for Teams, these AI/ML solutions offer users new capabilities that will ensure they get to solutions faster within their workflow.
We also acknowledged a huge milestone as the company celebrated 15 years of Stack Overflow. With more than 58 million questions and answers across our site, we're proud to have democratized access to so much incredible information and grateful to the community that continues to help us build this incredible knowledge base and help us in solidifying the tools and features that will define the future of the technology landscape.
In terms of self reflection, this year we did scale back our go-to-market team to focus on our core products and engineering efforts. This effort is not only part of our path to profitability, but a reinforcement of Stack Overflow commitment to the long-term success of our customers and to our public platform community. As part of the effort to cement the success of our product team, we've recently added Ryan Polk to our executive leadership team as Chief Product Officer responsible for evolving Stack Overflow's product suite in order to drive growth across the Stack Overflow public platform and Stack Overflow for Teams in an AI era. Ryan brings nearly 30 years of executive leadership experience from brands like VMWare/Carbon Black, CA Technologies, Rally Software, among others.
The road we take together over the coming months will help us prioritize the continued growth of Stack Overflow for Teams accelerated by our GenAI offering—OverflowAI—the addition of valuable new experiences on our Stack Overflow public platform through OverflowAI, and the expansion of our strategic partnerships. The technology sector is constantly evolving with new topics, techniques, tools, and technologies are constantly introduced to the landscape. There is only one place technologists go for reliable feedback on what is real and what is hype: Stack Overflow. The Stack Overflow community provides real-time, accurate, and sourced responses. Without that, it is garbage in and garbage out for the AI era. Expect to hear more from us across each of these areas in the coming months.
OverflowAI continues to gain alpha momentum
As I mentioned earlier, this summer we launched OverflowAI, and overnight tens of thousands of developers signed up to learn more about the product. Updates announced ranged from Enhanced Search to Enterprise Knowledge Ingestion, to Slack Integrations, to a Visual Studio Code Extension (IDE).
Of these alpha rollouts, one that people are most excited about is the advancements being made to search—both for Stack Overflow for Teams and the Public Platform. Currently you have to do the work of finding and piecing together your solutions or get to the stage where you know enough to know how to ask the community for help. Searching and parsing through all of that information can be time consuming. We envision a new way where GenAI technology reduces the time it takes you to articulate your question or problem and then find a relevant solution.
As we are opening up the Alpha to thousands of new users every month, please keep in mind that your feedback during this time can still influence the final product. Ultimately, we hope to help our users find answers to their questions in a quicker and more efficient way and reduce a lot of the friction they are currently experiencing.
Stack Overflow for Teams growing to meet customer demand
Our flagship product, Stack Overflow for Teams continues to be the go to resource for more than 15K organizations around the world. Although I'm always proud to see how our work impacts global customers like National Instruments and Bloomberg or hear how the likes of Shell join our podcast and discuss how they are innovating the energy sector, none of that is possible if our product does not continue to innovate and evolve to meet the growing needs of developers and technologists.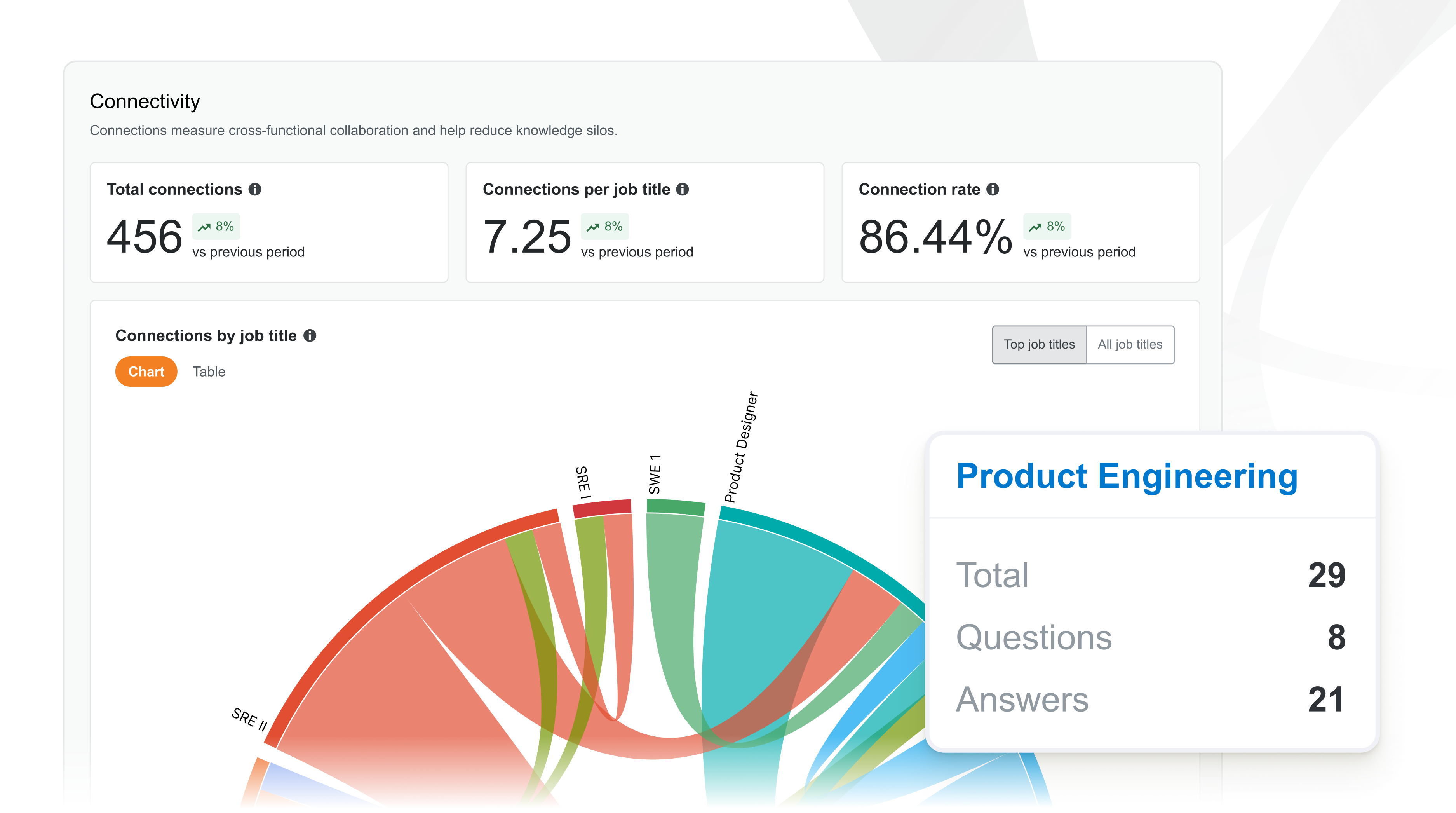 This year, we've already added several new features, but most recently we introduced Connectivity, a new feature in the Stack Overflow for Teams Enterprise Dashboard that gives our customers visibility into how cross-functional collaboration is happening within their organizations. By looking at each user's department and job title, we can measure whether the organization is successfully breaking down knowledge silos. Connectivity provides both data visualization through an interactive chord diagram and reporting through table and CSV download options to let customers view their connection data in the way they need it.
We also invested heavily in Stack Overflow for Teams to ensure stability, flexibility, and security. The past two years have been an exciting time at Stack Overflow migrating Stack Overflow for Teams to Microsoft Azure. In addition to all the benefits you would imagine with cloud infrastructure, a key strength is the ability to maintain security compliance frameworks such as SOC2. Azure makes this a lot easier: their data centers maintain multiple compliance attestations and certifications, and their tooling helps keep our resources compliant. Stack Overflow for Teams running without any dependencies on the on-premises datacenter makes it a lot easier to spin up additional ephemeral environments where we can test new features and infrastructure changes without disrupting other developers.
Reach & Relevance showcasing our partners to millions of developers
Stack Overflow continues to be a go-to destination with more than 58 million questions and answers. Millions of the world's most active developers and technologists visit to ask questions, learn, and share technical knowledge, making it one of the most popular websites in the world.
As much as we may share updates from efforts from OverflowAI or new features for Stack Overflow for Teams, we'd be remiss to not mention all the efforts being made by this group. From the targeted new ads site highlighting the types of insights we can share, to our ongoing employer brand research that recently found that of 1,000 developers 79% are at least considering new job opportunities (if not actively looking). These types of data points can be universally helpful to companies in their missions to retain talent and acquire new customers.
We also announced a number of new features and updates to Stack Overflow Collectives, including the 'All Discussion' page for Collectives on Stack Overflows. This new page groups together all Discussions taking place on collectives. With Discussions, a brand new space and format on Stack Overflow, developers now have new dedicated space for unbiased, technical resources and responses from experts. In August 2023, we released Collections in all collectives. A collection is a list of content from Stack Overflow (questions, answers, and articles) gathered around a specific theme. Collections are designed to help collective members easily discover and collaboratively build upon high-quality content about a specific subject area.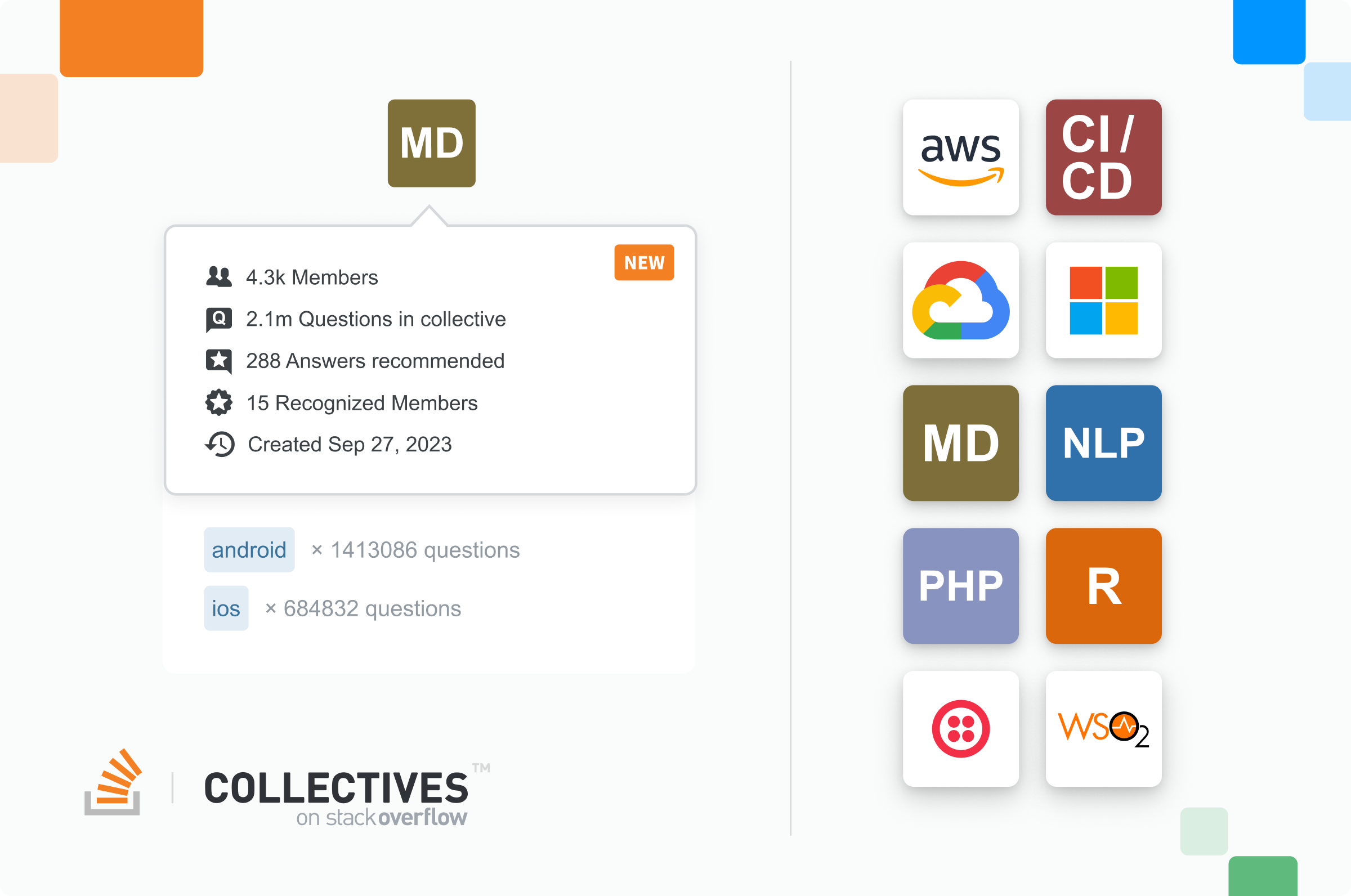 Last, but certainly not least—we also added a brand new Collective focused on mobile for developers who want to share their knowledge and learn more about mobile development practices and platforms. This concentrated practice joins a growing list of interest areas ranging across AWS, Google Cloud, Twilio, CI/CD, NLP, and more.
Thankful for this global community
As we finish this fiscal year and move into the next phase of the company, a phase in which we will need to be leaner, more agile, and even more focused on investing in our product in the evolving AI era—we do it all for you, our users. Earlier this year we asked the question "Can Stack Overflow save the day?" The responses continue to motivate us to create new features and evolve both our platform and Stack Overflow for Teams to ensure we continue to be there for you when you need us. A small snapshot of some of what you all shared:
"One of the critical problems that Stack Overflow for Teams solves is the issue of knowledge silos. Without a centralized knowledge base, important information can get trapped in the heads of individual team members, making it difficult for others to access that knowledge when needed. By providing a platform where team members can share their experiences, Stack Overflow for Teams ensures that knowledge is shared more effectively across the organization."
"There was a specific time I can remember, our team was a skeleton crew that day due to a few folks being on PTO. Our Slack channels were exploding with questions about a tool we supported. We didn't want to ignore our internal customers but there wasn't enough time to provide a solid explanation for every question that day, so, we used Stack Overflow for Teams by tagging low priority questions that may require a more in depth explanation with the Slack command to request that the user creates a new question. This allowed us to focus on the more time sensitive issues and let our internal customers know we were on top of their question and we would provide a more in depth explanation shortly but also allowing them to know they were heard."
"I was working on a complex data analysis project with a tight deadline and was stuck on a difficult SQL query. After hours of frustration, I turned to Stack Overflow and was amazed at the level of support and expertise the community provided. They not only solved my problem but also taught me several new SQL tricks that saved me time and impressed my boss. Stack Overflow has since become my go-to resource for any coding problem that stumps me."
"I coded mainframes (think assembler, COBOL) for 15 years' I left the industry burnt out and decided to teach for 10 years. After enough of that, I decided to return to the industry. However, the industry had changed. I got a job coding PHP, JavaScript, CSS, etc. - all things that weren't really around the last time I coded. While I understood the concepts, without Stack Overflow open ALL DAY to teach me ALL NEW SYNTAX, I wouldn't have been able to make the transition so successfully. So successfully, it gave me the skills and confidence to get an even better job (in a whole new language, C#) where I continue to use Stack Overflow every day to expand and enhance my knowledge!"
With the tech landscape changing rapidly and almost daily, we may not always be able to predict what the future holds for the Internet, but we do know that the Stack Overflow community will be at the forefront of its innovation and evolution. Thank you for all your contributions and we hope that you will find the updates we share over the coming months as exciting as we do.